Britannia Colourange Drops in Price - A Bespoke Britannia for Less
Britannia have revealed that from March 2014 their excellent Colourange service, which allows you to specify your cooker in a colour of your own choosing, is now much more affordable than it has been in the past. If you have always wanted a range cooker in Barbie pink, duck egg blue or canary yellow, due to much improved production costs you can now have a gorgeous custom Britannia for £845 extra - almost half the previous premium.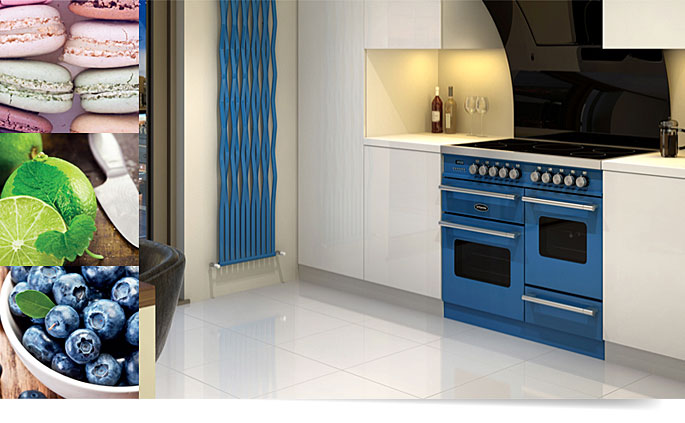 Extra Special Range Cookers
Colour aside, Britannia range cookers have enjoyed a strong reputation for quality and refinement amongst enthusiastic UK cooks for many years. Their current product range is stunning, with four style variants in 90, 100, 110 and 120cm widths.
Delphi and Fleet
models offer top-of-the-range specifications and extra features, with
Q-Line and Wyre
models offering the same cooking credentials and quality, but a slightly simpler feature-list and lower price-point. All models can be specified as Colourange, and prices range from
£1895
to
£4695
*, plus the
£845
Colourange supplement.
The Matching Set
If you want to match your Britannia cooker hood and fridge freezer, no problem. Colourange can be added too these too, for
£425
extra for
Britannia hoods
or
£845
for Britannia's fabulous American style
Montana fridge freezer
.
Start the Process
All you need to do to get your Colourange Britannia under way is add it to you order from the Related Products area, or get in touch with us here at Rangecookers.co.uk, then:
• Send a sample of your ideal colour, whether this is a Dulux colour card, a wall tile, a bottle of nail varnish or a swatch of fabric.
• Britannia will match the colour and send you a swatch of the paint finish.
• Once you are happy, Britannia will custom-paint your chosen range cooker and deliver it to your home.
The process obviously takes a little longer, and you should allow 8 to 9 weeks for the delivery, but you will have a cooker to die for and be the envy of everyone.
Whichever Britannia range you choose, Colourange is a great opportunity to make an already special cooker into something unique to you and your home. As Britannia used to say, Taste is Everything, and whilst everyone's taste is different, choosing a Britannia as your starting point is a great ingredient in the recipe for a very beautiful kitchen.
to browse the whole Britannia collection
*Prices correct as of March 2014