Re-styled Bertazzoni Heritage Series - 21st Century Elegance
Revised versions of Bertazzoni's characterful Heritage Series range cookers have been announced, and there are two new 100cm models to add to the line-up, which should broaden the appeal of these already rather intriguing and very handsome cookers.
The new Bertazzoni Heritage 100 XG has three ovens and a powerful six burner hob
Thoroughbred Pedigree
Based on the same platform as the impressive Professional Series, behind the attractive appearance is a robust and capable cooking machine with a fine and historic pedigree. Built by one of Italy's foremost cooker brands, in the Emilia Romagna region famous for food culture and engineering excellence, Bertazzoni range cookers and other cooking appliances are world renowned for their quality and integrity. The Professional and Heritage series are Bertazzoni's flagship products, and a great investment for anyone serious about cooking, quality and style.
Build quality is everything, and the Bertazzoni Heritage Series does not disappoint, with triple glazed doors fabricated from stainless steel and mounted on soft-close anti-slam drop down hinges. Behind the doors the heavy duty oven shelves are a reassuring presence, and there is one pair of telescopic runners in each oven. High quality heavy-gauge stainless steel is used throughout, and the subtly detailed control knobs and handle details are cast in solid metal. Every model has a useful storage drawer mounted on telescopic runners and with a lovely soft-close action. Beautiful to behold and to touch, this is a range cooker which will make a striking impression in any kitchen and which will back this up with unerring performance.
Beautifully tactile shapes and subtle use of finishes makes the Heritage Series a real head-turner, at home in any setting
Unfussy Elegance
The Heritage style is not for everyone, but if you like a bit more character and period detail in your home then you will love this more traditional approach to cooker design, which manages to achieve the desired result whilst still delivering a thoroughly up-to-date product. Harking back to Bertazzoni's historic early 20th century origins making wood burning stoves, the Heritage series celebrates its history with period references of rounded but not over-fussy finials and control knobs, arched windows and a well-judged use of brass detailing which really adds warmth and solidity to the overall look and feel. The brass components extend to the hotplate, too, with brass gas burner rings and delightfully detailed burner caps on the main burners showing Bertazzoni's rather lovely logo, which echoes the larger medallion on the door. This circular motif is repeated in the shape of another thoughtful and pleasing detail - a temperature gauge on the control panel which allows you to see how your main oven is doing. The subtle addition of a slim metal trim around the nicely arched oven windows really sets the doors off nicely, and is reminiscent of the cast iron doors originally used.
Bertazzoni Heritage 90 Single - Cooking Specs
For purists who love the simplicity of a single cavity oven, the entry-level model is a great asset in the kitchen. Its capacious 103 litre multifunction oven is A-rated (as are all Bertazzoni ovens), has a fast pre-heat function and is very able to cope with anything you throw at it. Its five burner gas hob includes a brilliant 0.48 to 5kW dual control wok burner, which gives you incredible versatility all in one place. The Heritage series comes as dual fuel only, so there are no induction models in the range (see
Professional Series
).
Bertazzoni Heritage 90 Twin - Cooking Specs
The 90cm format has a 60/30 oven split, with a versatile 69 litre multifunction main oven and a 38 litre non-fanned multifunction auxiliary oven with rotisserie. A five burner gas hob features an excellent dual control wok burner, allowing you to control the inner and outer rings independently or together to give you an amazing range, from a super-gentle 0.48 to a very powerful 5kW, reducing the need to move the pan to another burner.
New Bertazzoni Heritage 100 Twin - Cooking Specs
A welcome new format, the Heritage 100 Twin gains some oven space with a 60/40 oven split and a new 54 litre auxiliary oven with grill and rotisserie, in addition to the main 69 litre multifunction cavity. Another amazing addition is a six burner gas hob with TWO of the rather special 5kW dual control burners - plenty of cooking power and controllability at your fingertips.
New Bertazzoni Heritage 100 XG - Cooking Specs
With its "Extra Grill" making a total of three grills the 100 XG should prove a hit with many UK cooks who prefer a separate grill cavity. Even better, this cavity is also a 29 litre third oven, ideal for quick snacks or as an extra bit of versatility when in full dinner party mode. The same 69 and 54 litre ovens and six burner hotplate are used as on the 100 Twin, plus a small storage drawer, all adding up to a fantastically specified range cooker for the even the most ambitious home chef.
Bertazzoni Heritage 120 Twin - Cooking Specs
If you are lucky enough to have the space you will do well to consider the wonderful and pleasingly symmetrical Heritage 120. With two spacious 69 litre fully multifunction ovens you have bags of cooking capacity, and the six burner hotplate features a dual control wok burner plus a dedicated 1100W electric plancha area, a thick and sturdy stainless steel plate complete with stainless steel cover and integrated drip tray. Incredibly useful for cooking steaks, fish, stir fries or full English breakfasts this can also double as a handy standing area for pots or spoons when not in use, which although it lifts out is easy to clean in-situ. This top-notch range cooker really does set a benchmark, and is all the cooker you could wish for.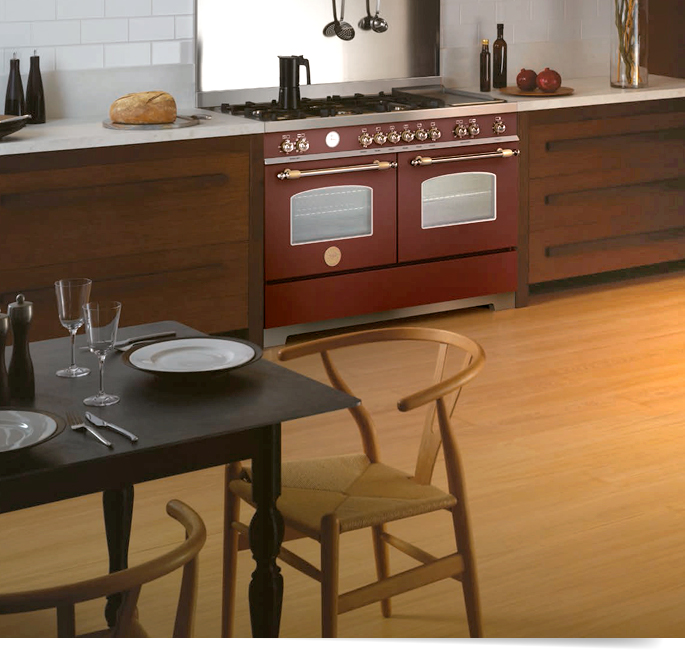 The Bertazzoni Heritage 120 in Matt Burgundy
Colours
You can also choose from three matt finishes - Black, Burgundy or Cream, all applied at the same paint plant used by Ferrari motors nearby. All come with the nicely balanced combination of chrome and brass trim.
All models now feature soft-close storage drawers on glide-out telescopic runners
Pricing and Availability
Available to order from Rangecookers.co.uk in late
April 2015
, with deliveries scheduled from early June, prices have yet to be confirmed but should start at around
£3000
* and stretch to around
£5500
* for the Heritage 120. Call us on
01244 402975
for further information.
Bertazzoni have done a great job with the new styling of the Heritage Series, which previously looked a little too richly Italian for the UK market. We love the finesse employed throughout the new design, and the creative use of the brass finish in combination with chrome is a real success. The resulting design can work equally well as a focal point in a contemporary kitchen or in a more classic or rustic setting, and is sure to bring pleasure to anyone who uses it or simply enjoys the gastronomic bounty it yields.
to see ALL current Bertazzoni range cookers
*Estimated prices correct as of April 2015