Bertazzoni Professional Series Revised for 2015
Premium Italian brand Bertazzoni have launched new versions of their excellent Professional series range cookers. There are some great revisions to all models, plus the introduction of a completely new 100cm wide format - uncharted territory for Bertazzoni, who up to now have only produced 90cm and 120cm models.
Cook Like a Pro
Bertazzoni has some amazing heritage and really is one of the best cooking brands on the market. Their Professional series epitomises the company's stylishly solid and straightforward approach - crisp and clear detailing combined with superior components make these cookers something quite special, and a dream come true for serious cooks. Heavy duty oven furniture, telescopic shelves and rotisserie are standard, as are metal controls and triple glazed doors, and some new touches promise to make the experience of owning a Bertazzoni even more of a pleasure. The following changes will apply to all revised 90 and 120 models, as well as the new Bertazzoni 100 Pro.
Pro series features fabulous solid brass detailing and two dual control 5kW wok burners
Revised Controls, Handles and Badge
Some subtle cosmetic changes (e.g. the tab detail on the control knob is less pronounced) add a touch more elegance whilst maintaining characteristic functionality. The rather lovely "Fratelli Bertazzoni" badge has been made a little smaller but still boldly sets off the product, and is a typically characterful detail.
Clock and Programmer
Previously there has been no timer at all on the Pro series, but the addition of a wonderfully clear display will be a welcome feature for some users, and is tied in to the even more welcome addition of a meat probe (see below). Even better, there is no confusing array of buttons to worry about, just an intuitive touch control panel with bold graphics to allow you to quickly see or adjust what is going on. An innovative touch which echoes the company's amazing built-in collection.
Meat Probe
The main oven includes a brilliantly useful and practical new feature, a meat probe which allows you to cook joints and poultry to perfection by setting a target temperature on the control panel rather than relying on time as a guide. Once the temperature is reached an alarm sounds and you know that your meat will be just right.
New meat probe feature cooks to perfection every time. Note heavy gauge shelf detail
Soft Close Doors
All doors now have an impressive soft-close action - a real point of difference for Bertazzoni - and are of a fully stainless steel triple glazed construction.
Soft Close Drawer
Previous versions have featured a storage compartment with a drop-down door flap - perfectly adequate but a little disappointing at this price-point - but the 2015 models now include a storage drawer with telescopic runners and a soft-close action.
Brass Burners
Gas hobs now feature brass rings on all burners, with cast brass caps featuring the Bertazzoni logo on the powerful dual control main burners. A nice touch which reminds users of the quality of manufacture and attention to detail.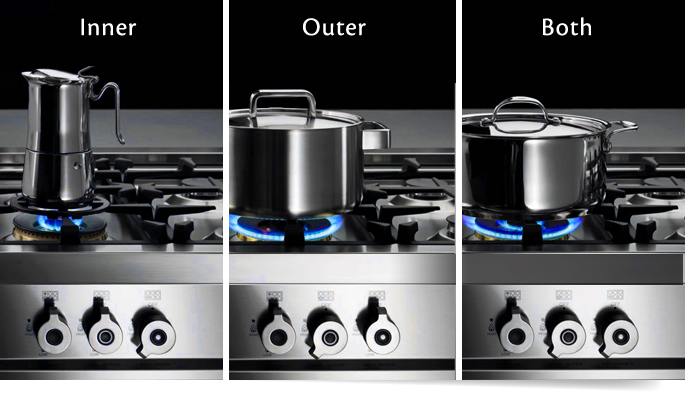 Dual control burners give you amazing 0.48 to 5kW flexibility without moving the pan. Control graphics are laser-etched for longevity.
Colours
Famously painted in the same spray plant as Ferrari motor cars (their factory is nearby), there are six colours to choose from, in addition to the ever-popular stainless steel. The previously available but unpopular-in-the-UK Blue and Green have been dropped, and a strident new Orange shade introduced, and it does look terrific.
Revised badge still looks great and refers to the historic company's origins
New Bertazzoni Professional 100 Twin
| | |
| --- | --- |
| With a more practical 60/40cm oven split, the new 100 Pro is a highly promising prospect for Bertazzoni. A 52 litre fanned multifunction main oven and 42 litre static multifunction second oven offer great cooking versatility, and a full width soft-close storage drawer give you plenty of space for all the accoutrements you may need. The new 100cm models proudly feature a superb six burner gas hob featuring TWO front-mounted 5kW dual function burners with enough power to very rapidly bring pots to the boil or get a great sizzle going with a wok (a cast iron wok support is also included), but with the ability to separately control the inner and outer rings and become a 0.48kW simmer burner - perfect for delicate sauces. Five zone induction models are also available should you prefer. | |
New Bertazzoni Professional 100 XG
A brand new 100cm chassis aimed squarely at the UK market includes the key feature of a separate grill cavity containing a variable electric grill and glide-out grill tray. Additional grills in the two ovens mean you have some amazing cooking flexibility, but a separate grill still seems to be a vital factor for many UK cooks, and it is great to see Bertazzoni responding to this need. The same six burner hob found on the 100 Twin is featured (or a five zone induction hob), as is a multifunction main oven giving you great versatility, with fanned oven and grill functions as well as conventional top and bottom elements for blind baking or browning when required. The second oven is non-fanned and contains a grill and rotisserie, and there is a useful soft-close storage drawer beneath for a few trays and accessories.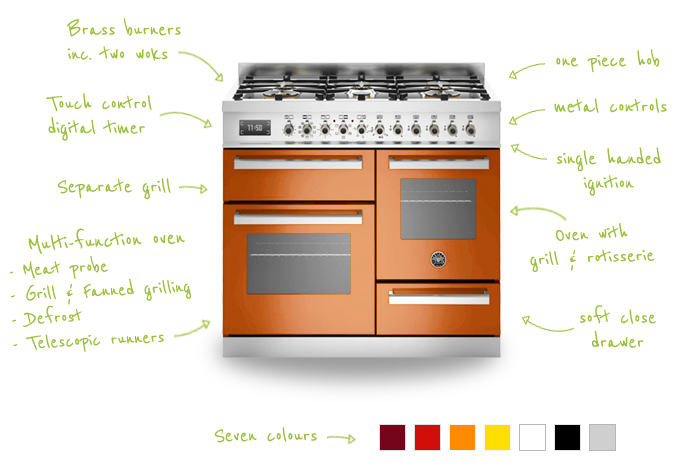 Revised Bertazzoni Professional 120
| | |
| --- | --- |
| Up to now the 120cm model has had a 90/30 oven split, with an off-puttingly small auxiliary oven. The new version goes for a more sensible 60/60 symmetrical arrangement which gives users TWO 69 litre fully multifunctional ovens - a much more appealing prospect which should get considerably more attention from potential customers and do wonders for sales. All other revisions are included, including the meat probe, touch control programmer and soft close doors and storage drawer. The Pro 120 is available in dual fuel format only, with no induction model planned. | |
Pricing and Availability
The revised collection will be available to order from Rangecookers.co.uk toward the end of
April 2015
, with prices yet to be confirmed but expected to range from around
£2200
* for 90cm single cavity models, up to around
£4500
* for dual fuel 100 XG and 120cm. A beautiful and compact
Bertazzoni 60cm collection
is also available from
£1595
*.
With the general improvements and the new Bertazzoni Professional 100 Twin and 100 XG this looks like being an exciting step forward for Betazzoni in the UK. Discerning consumers have always been drawn to the brand for its appealing character and its utter credibility as a serious cooking brand, and have recognised the merit of paying a little more to get the values this iconic brand represents into their kitchen. We love it too, and do not see this changing any time soon.
to see ALL current Bertazzoni range cookers
*Estimated prices correct as of April 2015