New Rangemaster Hi-LITE Range Announced
It is not often that Rangemaster launches a new addition to their model line-up, but we are pleased to announce the imminent arrival of the
Rangemaster Hi-LITE
, a contemporary range cooker with some nice details, great finishes and a special feature in the form of its illuminated control panel.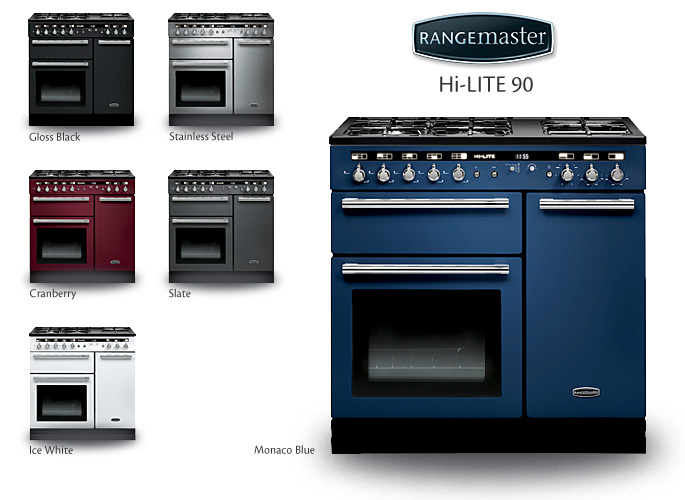 A new colour for Rangemaster, Monaco Blue has a matt finish, suits the Hi-LITE perfectly and is likely to generate much interest
Sharp New Look
Described by Rangemaster as "Crisp, fresh and modern" the Rangemaster Hi-LITE looks like being right on target for consumers wanting the visual impact and ample cooking capacity of a range for their stylish modern kitchen. Initially available in 90cm and 110cm dual fuel formats, with Induction and Ceramic models to follow, the Hi-LITE will be a vehicle for two stunning new Rangemaster colours in a matt finish - Slate Grey and Monaco Blue - in addition to Gloss Black, White and Cranberry, plus Stainless Steel. The new aesthetic also features a new set of chrome door handles and pleasingly straightforward bevelled control knobs similar to those used on other Rangemaster models. The large window aperture is similar to that of the Rangemaster Professional series, but the overall look is more restrained and conservative than the rather brasher Professional, a role the ageing Toledo has successfully played for years, and the Hi-LITE is playing very much to the same audience.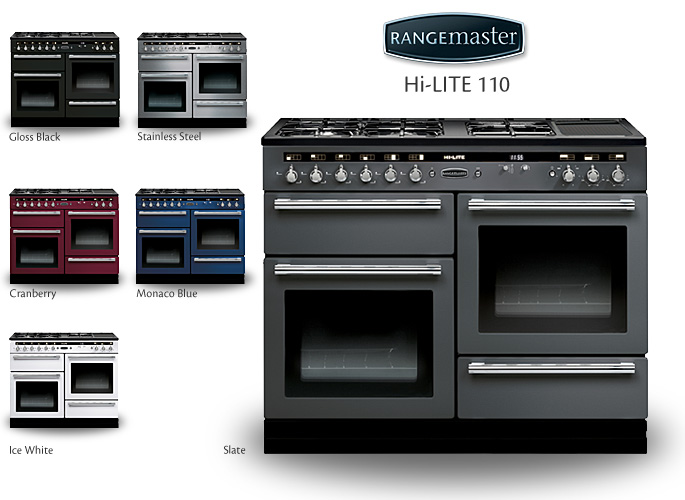 Slate is also new to the Rangemaster palette, a matt finish perfect for cool contemporary kitchens
Hi-LITE Facia
The showcase feature of the rangemaster Hi-LITE is its impressive illuminated facia, which certainly gives this range a striking, sharp finish and provides a subtle after-dark lighting effect. The slim glass aperture is back-lit to make the control graphics bounce out - something previously seen only on built-in ovens, and there is a control to allow you to dim or turn this off when you choose. The presence of the glass panel means that on the 90cm model the Rangemaster badge moves to the bottom of the tall oven door, which rather suits it.
Specification
With a standard Rangemaster specification of fanned main oven and conventional second oven on the 110 model (fanned on the 90), the Hi-LITE does also benefit from a
glide-out grill tray
and a very nice, completely
new hotplate
area designed to work beautifully in a modern kitchen where smooth lines are very desirable. The new hotplate is a single pressing, with a smooth and flush appearance resulting from inset gloss-enamelled cast iron pan supports and a revised rear vent area. Both models feature five gas burners with a 3.5kW main burner, with the 110 also retaining a favourite Rangemaster feature, an electric warming zone.
Available to order NOW for delivery from September 2013, the Rangemaster Hi-LITE is a great addition to the market-leading brand's product portfolio. The crisp, modern styling is exactly the right look for people who love the sharp linear style of contemporary kitchen design but who also love owning and using a range cooker. We suspect the Hi-LITE will eventually replace the once extremely popular but now long-in-the-tooth (but still quite popular) Toledo series, as its appeal is deliberately very similar. The new colours look stunning, too, and there is even a matching Hi-LITE extractor hood.

Pricing at launch is £1595* for the HiLite 90 model and £1795* for the HiLite 110, from Rangecookers.co.uk of course.
to see Rangemaster's full range collection
*Prices correct as of August 2013
Associated Manufacturer Codes:
| | | | |
| --- | --- | --- | --- |
| Width | Colour | Product Code | Sales Code |
| 90 | White | HLT90DFFWH/C | 10261 |
| 90 | Slate | HLT90DFFSL/C | 10259 |
| 90 | Cranberry | HLT90DFFCY/C | 10257 |
| 90 | Monaco Blue | HLT90DFFMO/C | 10258 |
| 90 | Gloss Black | HLT90DFFBL/C | 10211 |
| 90 | Stainless Steel | HLT90DFFSS/C | 10260 |
| | | | |
| 110 | White | HLT110DFFWH/C | 10266 |
| 110 | Slate | HLT110DFFSL/C | 10264 |
| 110 | Cranberry | HLT110DFFCY/C | 10262 |
| 110 | Monaco Blue | HLT110DFFMO/C | 10263 |
| 110 | Gloss Black | HLT110DFFBL/C | 10212 |
| 110 | Stainless Steel | HLT110DFFSS/C | 10265 |