New Rangemaster Hi-LITE Hood
Following the announcement of the new Rangemaster Hi-LITE range cooker it seems the Aga-Rangemaster design department have been extra busy, coming up with a new extractor hood to match the Hi-LITE's stunning new look…
Sleek and Stylish
The defining detail of the new
Rangemaster Hi-LITE range cooker
(due to launch around September 2013) not only lies in its ground-breaking illuminated facia, but in its crisp lines and sharp overall image, and the designers have successfully translated both these characteristics into this stunning new hood, due to launch along with the new range cooker in September 2013. The new hood adopts a slim, flat profile, with a glass aperture to match the Hi-LITE range's illuminated control facia. This displays white-illuminated touch controls operating the hood's three speeds (plus intensive boost) and LED lighting. A remote control is also available as an optional extra.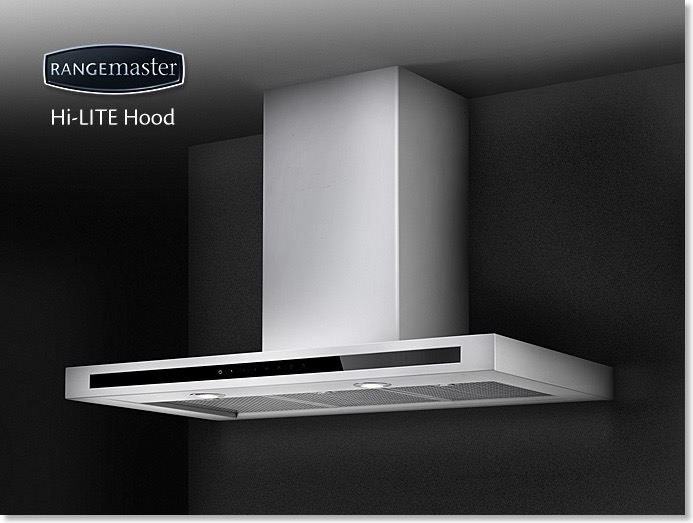 The Rangemaster Hi-LITE Hood comes in 6 finishes, to match the Hi-LITE range cooker or your other cooking appliances
Performance
The Rangemaster Hi-LITE Hood has impressive performance figures, at speed 3 moving 690 cubic metres of air per hour in extraction mode, at 68 decibels. The boost function takes this to 770m3/h and 70dB, going down to 365m3/h and 55dB on speed 1, which is what you may be using most of the time. These figures are certainly high-end, but not overly so, the hood having been sensibly engineered to keep the prices within reach. Although it is always better to extract to the outside if you can, where this is not possible the Hi-LITE Hood can be configured to re-circulate air through charcoal filters, supplied along with the standard aluminium grease filters, which can be periodically cleaned in the dishwasher or with hot soapy water.
Formats and Colours
Available in
90cm
(£495*) and
110cm
widths (£595*), the Hi-LITE Hood comes in the same array of finishes as the Hi-LITE range cooker - Gloss Black, Stainless Steel, Cranberry, Slate (matt), Ice White and Monaco Blue (matt). The hood is unbranded, allowing a more flexibility to owners who love the look but wish to use it anonymously alongside other appliances.
Rangemaster have tailored this impressive product to appeal to customers in their mid-to-high level market position, so the pricing is very sensible. With its nice choice of colours the styling is perfect for many modern kitchens with or without a Rangemaster cooker, but we reckon some customers would like the option of adding a Rangemaster badge.

Available to order NOW from Rangecookers.co.uk, with first deliveries from mid-September.
to see the HiLite 90 Hood, and
HERE
for the HiLite 110 Hood
*Prices correct as of August 2013
Associated Manufacturer Codes:
| | | | |
| --- | --- | --- | --- |
| Width | Colour | Product Code | Sales Code |
| 90 | Black | HLTHDS90BL/ | 10313 |
| 90 | Stainless Steel | HLTHDS90SS/ | 10312 |
| 90 | Ice White | HLTHDS90WH/ | 10315 |
| 90 | Monaco Blue | HLTHDS90MO/ | 10316 |
| 90 | Slate | HLTHDS90SL/ | 10317 |
| 90 | Cranberry | HLTHDS90CY/ | 10314 |
| | | | |
| 110 | Black | HLTHDS110BL/ | 10319 |
| 110 | Stainless Steel | HLTHDS110SS/ | 10318 |
| 110 | Ice White | HLTHDS110WH/ | 10321 |
| 110 | Monaco Blue | HLTHDS110MO/ | 10322 |
| 110 | Slate | HLTHDS110SL/ | 10323 |
| 110 | Cranberry | HLTHDS110CY/ | 10320 |