A Tour of Lacanche Country - 2 of 12: Vézelay
Lacanche Vézelay range cookers are conceived and hand-built in the town of Lacanche, Burgundy, affording us a fine excuse for a virtual tour of this amazingly beautiful and bountiful region and a closer look at the town which gives this cooker its name…
The Lacanche Vézelay in Prussian Blue with chrome trim
The Cooker
A magnificent 2.2 metres wide, the pleasingly symmetrical Lacanche Vézelay is the widest of Lacanche's impressive cooking platforms, and consequently provides its fortunate owner with an abundance of cooking capacity and, it is likely, a constant source of compliments from admiring friends and family. Starting with the hob, you can choose from one of four starting-points - a three burner Classic or Traditional hotplate, a 4 zone radiant electric or 3 zone induction hob - leaving you with four further opportunities for hob modules to suit your culinary needs. Additional powerful gas burners, an electric deep fryer, barbecue grill, stainless steel Plancha or a multi-cooker/steamer can be added, or electric ceramic and induction zones if you prefer. Whichever you choose, you will end up with a bespoke hotplate of true professional quality offering superb power and performance.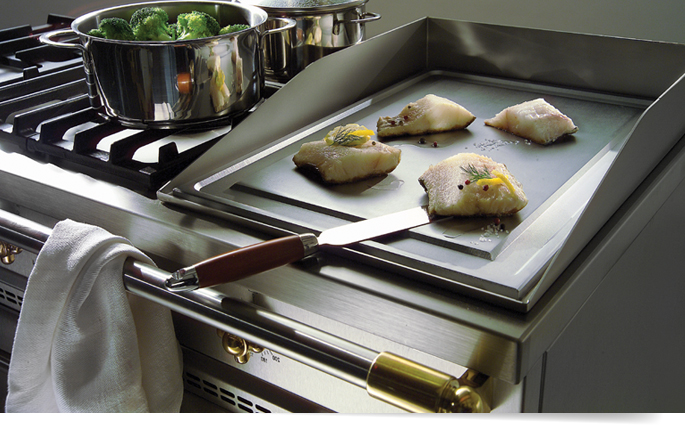 The electric Plancha is just one of many hotplate options available (smaller model shown)
The versatility of the Vézelay does not stop there, though, as you can also specify the oven configuration of your dreams, with static, fanned and dual function cavities, plus intense gastronomic gas ovens serious cooks will love, and tall cavities which can be specified as simmer ovens (great for proving and warming) or storage compartments.
Once you have decided on your specification (which could take some time) you will then need to choose from over 20 deep lustre enamel colours, and match this to one of four handle/knob finishes to achieve the perfect enduring look.
Purchasing any Lacanche range is a pleasure, but ordering the Vézelay must be a rare and precious event in anyone's life. This fantastic cooker will be hand-built to last, and is very much a professional product with a very attractive facade, and it should still be serving you well in twenty-five years time.
The Town
-
Click Here for location map
A small commune town high on a hill, Vézelay has a modest population of less than 500 people. The town grew around its main focal point, Vézelay Abbey, which has been there since the current Basillica was built in the 11th century, following the gift of the land to the Benedictines who were granted permission to establish a monastery on the site. As is often the case, the convenient introduction by a local monk of soon-to-be confirmed religious relics (in this case the bones of Mary Magdalene) led to a constant influx of pilgrims, which funded the building of the Basillica and has ensured the growth and prosperity of Vézelay through to the current day, aided by its high and easily defendable position.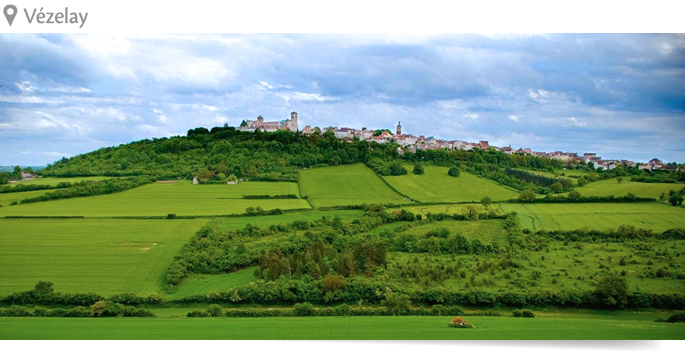 Prosperous for ten centuries, Vézelay commands a great position in Burgundy's Yonne department
Wine Credentials
Not untypically for any town in Burgundy, there is a local wine Appelation, Bourgogne Vézelay, and it is likely that wine has been produced at the abbey since the earliest monks farmed the land. Half of the wine produced is consumed locally and half marketed through a local cooperative, Cave Henry. Although the town vineyards were decimated by decease late in the 19th century, they were re-established in the 1970s, and vines of the Chardonnay, Melon and Pinot noir varieties can now be found growing on the sunny hillsides.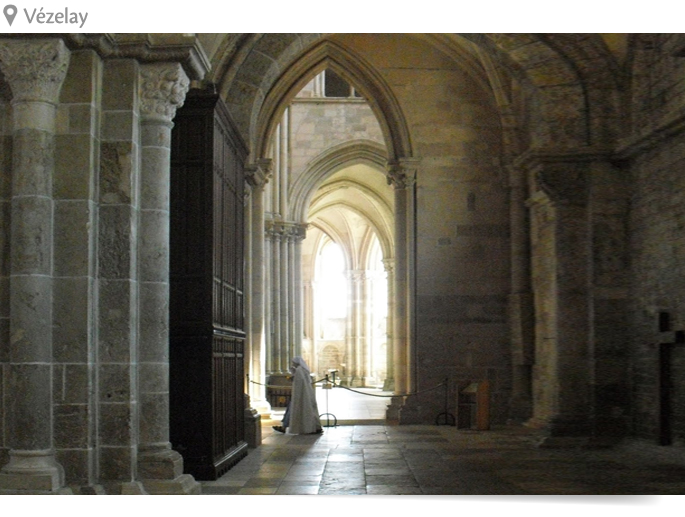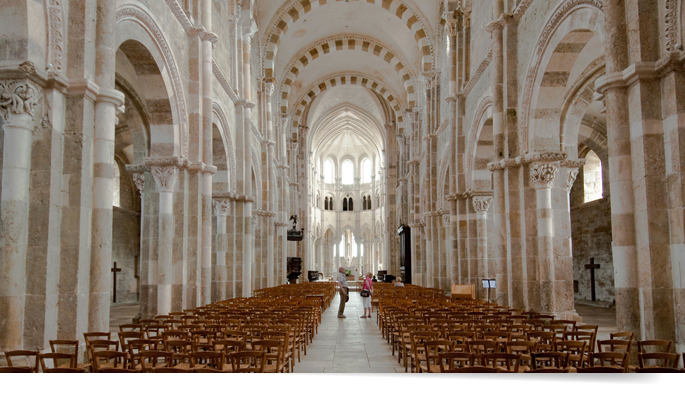 for full details of the Lacanche Vézelay