A Tour of Lacanche Country - 8 of 12: Rully
Lacanche Rully range cookers are conceived and hand-built in the town of Lacanche, Burgundy, giving us a great excuse for a virtual tour of this amazingly beautiful and bountiful region and a closer look at the place that gives this cooker its name…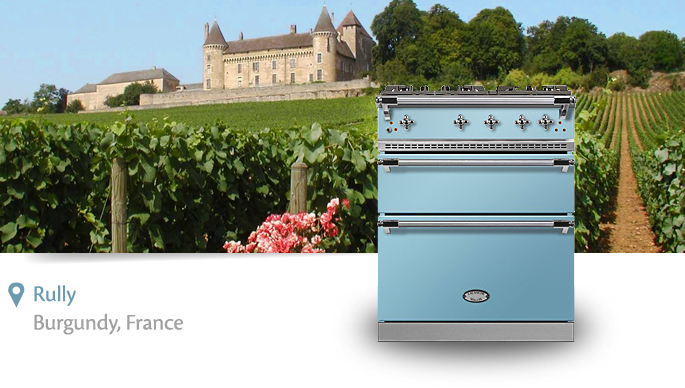 The Cooker
If you aspire to own a proper range cooker but just do not have the space, the Lacanche Rully is definitely worth making room for. At only 70cm wide, even smaller kitchens can benefit from the stunning good looks and sheer cooking power of one of France's best loved cooking brands. Like all Lacanche ranges, the Rully is built to truly professional standards and given an enviably good looking exterior, with a choice of 25 or so deep lustre enamel colours and four trim finishes. The result is a cooker that performs like a commercial product but looks amazing in both a traditional or a modern setting. Quality and integrity are what makes every Lacanche stand out from the crowd, and this smaller 70cm Rully is no exception.
The Lacanche Rully has a two oven format, with a choice of with two static (non-fan) electric ovens with grills (26 litre and 73 litre capacities), or a 26L static oven and grill with a 65L dual function electric oven and grill. The dual function allows you to switch from static to fanned cooking, so is a popular choice. On top you can choose to have a three or four burner gas hob (the former giving you a powerful 5kW wok burner), or a traditional hob with cast iron simmer plate (hot in the middle, cooler at the edges, with removable centre plate for wok cooking) plus two gas burners.
To see the full range of options, download our
Configuration Sheet
or visit the
Product Information Page
.
The Place
-
Click Here for location map
Twenty kilometres south of Beaune, Château de Rully was established as a fort in the 12th century, and much improved and expanded during the 14th and 15th centuries. Yet more improvements in the 18th century established it as a more comfortable manorial residence for the ancient family which have owned it from the outset, although the name has changed over the years as ownership passed sometimes through the female line. The current Ternay family are there to welcome and guide you around the château and throw some light on its fascinating past.
A significant factor in Château de Rully's present status is the manufacture of wines, and the nearby village of Rully is one of the most famous destinations for Chardonnay lovers, although other grapes are also grown on the extensive estate. Wine tastings are also held at the château's medieval kitchen.
For further information, visit the chateau's website
HERE
.
for full details of the Lacanche Rully