A Tour of Lacanche Country - 5 of 12: Cluny
Lacanche Cluny range cookers are conceived and hand-built in the town of Lacanche, Burgundy, affording us a fine excuse for a virtual tour of this amazingly beautiful and bountiful region and a closer look at the town which gives this cooker its name…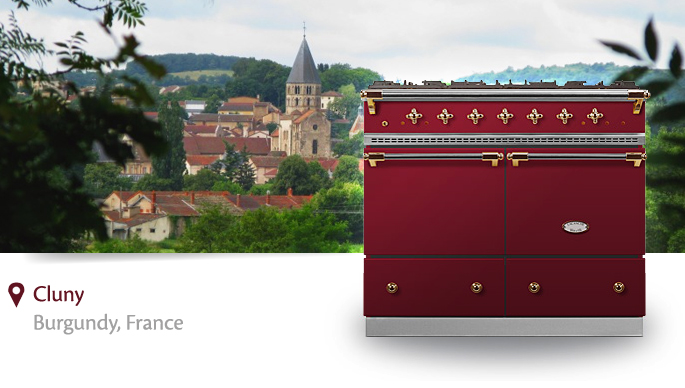 The Cooker
The 100cm Cluny [pronounced
Cloo-ni
] is undoubtedly one of Lacanche's most popular models, as its 100cm width means it will fit into even average-sized kitchens, and its balanced symmetrical design makes it a very elegant addition. As with most Lacanche models you can choose from a broad range of options to achieve your ideal cooker, starting with the hotplate, which can be the Classic five burner or Traditional gas hob (with simmer plate), or five zone radiant ceramic or induction electric. Gas burners are solid brass and deliver plenty of cooking power - an indication that this is a professional-grade cooking appliance, which is further endorsed by the choice of ovens, which also deliver a great heat intensity.
Oven-wise, many people choose to have one static electric oven with grill and one convection (fanned) oven with grill, but you can choose to have two static ovens, or (with gas hobs) one gas oven plus a static or a fanned oven. Below the ovens, twin storage drawers give you plenty of room for trays, trivets and other cookware. Whichever format you choose you will be impressed by the power and durability of this compact and beautiful Lacanche range, which is available in a choice of 22 stunning high lustre enamel finishes, plus stainless steel, matched with one of four trim finishes - chrome, brass, nickel or brushed stainless.
Real cooking power - whichever Lacanche Cluny you choose, you will experience professional-level performance
The Place
-
Click Here for location map
An easy stop-off from the motorway, the lovely town of Cluny is well worth a visit. Once the greatest power in Europe, the monastery of Cluny was founded in 910AD by the notably pious William I, but had at one time grown to be a vast concern with significant state influence, controlling over 10,000 Benedictine monks across the continent and in Britain, with 1000 of these in residence, accommodated in large buildings and 40 farms producing all that was needed. Although devoted to the duties of their order, these monks and Abbots were far from frugal and ate very well, and as the wealthiest monastic order in the world were not shy of commissioning elaborate candelabras or chalices for the abbey Masses, and evidently wore the finest linen and silk vestments.
Sadly, only 10% of the original cathedral building remains, having sustained significant damage during the French revolution and been later auctioned off by the town as building material. An architectural tragedy, but you can still get an impression of what was there from the little that remains. The town that has grown on and around the ruins is a very quaint and peaceful place, with romanesque churches and attractive shops and little restaurants.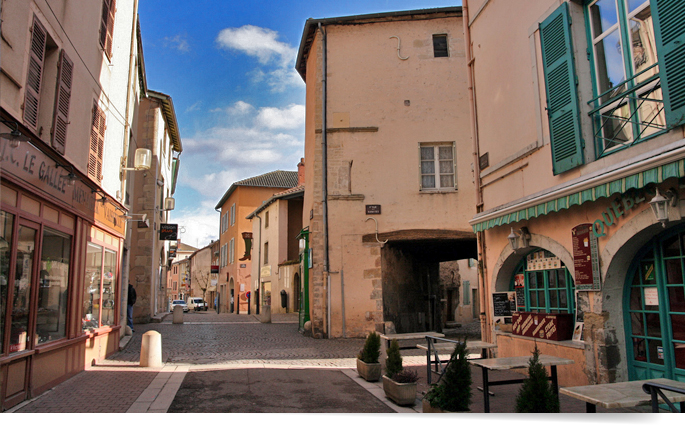 Cluny's charming, cream-walled streets add to its quiet appeal and are well worth a wander
With its picturesque charm and unhurried Mediterranean feel, Cluny definitely feels welcoming, and it is easy to see why it has attracted its many artist and writer visitors and residents. Cluny is now famous for its National Stud Farm, which you can visit and take a guided tour from April to September (closed on Mondays), or in February and March on Wednesdays and Fridays at 2pm. Thoroughbred stallions and racing stock are bred here, with Arab and French horses including Pecherons, Comtois and Auxois. There are summer concerts and plenty of arts and craft events to see, with a market every saturday.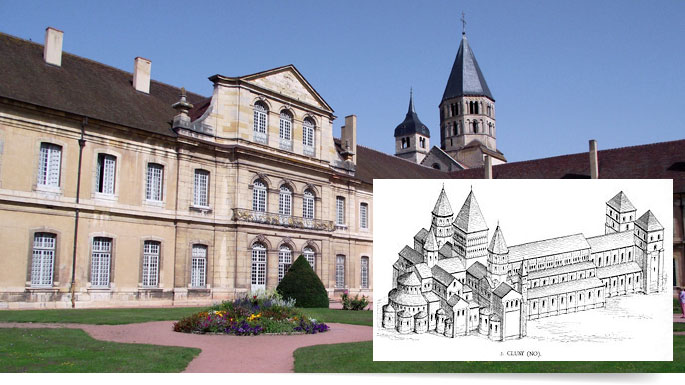 The Hotel de Bourgogne was built on top of the abbey site, with remains of the original vast cathedral to the rear
for full details of the Lacanche Cluny