A Tour of Lacanche Country - 4 of 12: Citeaux
Lacanche Citeaux range cookers are conceived and hand-built in the town of Lacanche, Burgundy, affording us a fine excuse for a virtual tour of this amazingly beautiful and bountiful region and a closer look at the town which gives this cooker its name…
The Cooker
The 150cm Lacanche Citeaux (pronounced
sit-oh
) is definitely one of our favourite ranges, and one which has permanent residence in our showroom. It is popular with consumers, too, as there is something very appealing in its symmetrical oven layout and the impressive opportunity for customisation of its extensive hotplate. Once you have established the main hob area as classic or traditional gas, ceramic or induction you can choose from a list of modular gas, ceramic or induction zones, electric plancha griddle, barbecue grill, deep fryer or steamer/bain marie multicooker units to go either side. The result is a truly remarkable cooking area tailored to your cooking style.
The ovens can also be specified according to your needs, with the main oven being either a 73 litre gas cavity, a static electric oven with grill or a clever 65 litre dual function oven with grill (probably the best choice). On the left you have a 45 litre conventional electric oven with grill, and on the right a choice of 84 litre simmer oven (great for proving and warming) or neutral storage cupboard. In addition, there is a large storage drawer beneath the main oven.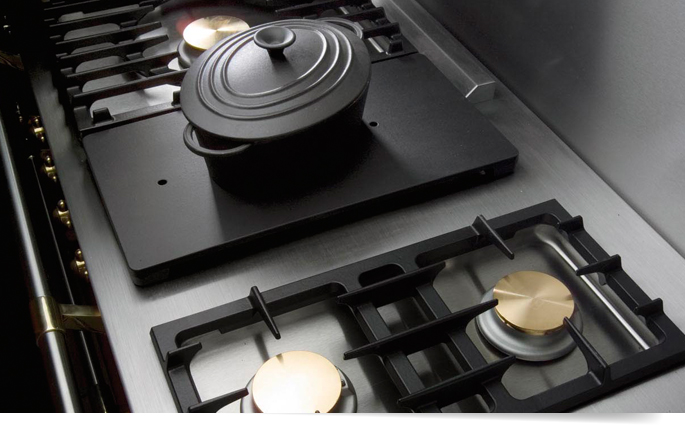 The Lacanche Citeaux allows you to customise the hotplate to acheive your ideal cooking platform
Finishes
One major feature of all Lacanche ranges is the ability to choose from a wide range of stunning high lustre enamel colours, which you can match with a choice of four knob and handle finishes - brass, chrome, nickel or brushed steel - to achieve your ideal cooker. Your Lacanche range will not only look beautiful, it will be one of the best cooking platforms you can find, with high-grade components and hand-built quality which should last for a good 25 years or more. These are professional cookers with a very pleasant exterior, and an utterly authentic statement about how seriously you take the art of cooking.
The Place
-
Click Here for location map
South of Dijon you will find the Abbaye de Cîteaux, home to about 35 Trappist, or Cistercian monks, which is located in Saint-Nicolas-lès-Cîteaux. The Abbey was founded in 1098, but the building itself started in 1140 and completed in 1193. The Cistercian order actually derives its name from an earlier form of the Citeaux name,
Cisteaux
. Much of the original medievel building was destroyed following the French revolution.
Produce
The monks are kept busy with the production of a semi-soft cheese with a washed rind - one of the most traditional classic monastic cheeses of Europe, and one produced since the 19th century. The majority of the 600 or so cheeses per week produced are sold directly from the Abbey's shop, making up 50% of the Abbey's income, in addition to that from honey and caramels. The cheese is certainly worth seeking out, and has a pungent aroma stronger than the flavour itself, which is "clean, milky, earthy and pleasantly barnyardy with a gentle acidity and a lingering finish" - sounds nice.
for full details of the Lacanche Citeaux