A Tour of Lacanche Country - 1 of 12: Beaune
Lacanche Beaune range cookers are conceived and hand-built in the town of Lacanche, Burgundy, affording us a fine excuse for a virtual tour of this amazingly beautiful and bountiful region and a closer look at the town which gives this cooker its name…
The Lacanche Beaune in Maron Glacé with polished brass trim
The Cooker
The Lacanche Beaune (pronounced
Bon
) is a 90cm range cooker with an impressive specification, available in dual fuel or all-electric formats. As a dual fuel range it has a powerful six burner gas hob with solid brass burner caps and cast iron pan supports. The electric model features a superb six zone induction hob using the latest generation G5 induction units for ultimate power and control. As with all Lacanche ranges, you can choose the best oven format to suit your needs, in this case with a choice of static electric oven with grill or gas oven on the left, paired with a dual function tall oven on the right. The dual function oven can be used as a static or fanned oven with the flick of a switch, and also features a grill. There is also a handy storage drawer for your pans and paraphernalia.
Finishes
One major feature of all Lacanche ranges is the ability to choose from a wide range of stunning high lustre enamel colours, which you can match with a choice of four knob and handle finishes - brass, chrome, nickel or brushed steel - to achieve your ideal cooker. Your Lacanche range will not only look beautiful, it will be one of the best cooking platforms you can find, with high-grade components and hand-built quality which should last for a good 25 years or more. These are professional cookers with a very pleasant exterior, and an utterly authentic statement about how seriously you take the art of cooking.
If you like the Beaune, but would prefer the tall oven on the left, then the Lacanche Bussy is you ideal solution. Click Here for details.
The Town
-
Click Here for location map
A walled city considered the wine capital of Burgundy, Beaune is an ancient and historic town which has flourished since Roman times due to its key position in the heart of the vineyards, on a plain by the hills of the Côte d'Or. There is much to see, as there is an extensive "old town" and a lot of the battlements, ramparts and moat are retained and in good condition.
It's all about the wine - Beaune is the commercial centre of the Burgundy wine industry
Like many old French towns there is a considerable traditional shopping area centred around a town square, where the focus is on gourmet food, wine and fashion. There is a major fine food market on Saturdays, with a smaller one on Wednesdays, as well as some jolly festivals and events throughout the year. On the outskirts are the usual large supermarkets and business parks.
Fine food markets are a major draw, with the main market on Saturdays in the town square
Although well worth a visit, Beaune is a commercial centre for the wine industry rather than a tourist town, so there are plenty of businesses dealing in the major equipment demanded by the local vintners, as well as wine-related educational institutions. Hotels are plentiful, whether smaller ones in the town or the larger chains on the outskirts, and the town is served by TGV via Dijon or Lyon.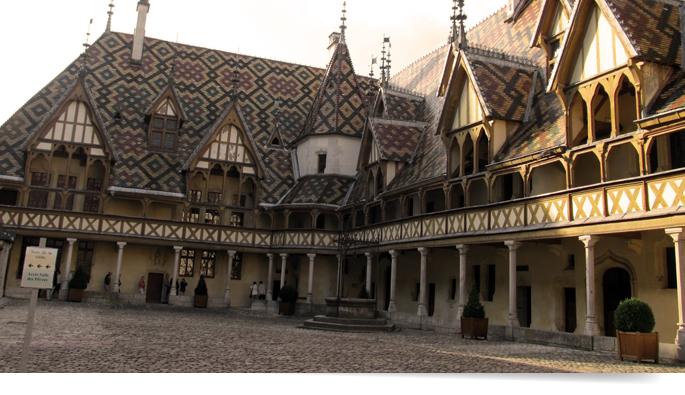 An ancient walled city, there is still a lot to see in prosperous Beaune, which has much medieval and renaissance charm
for full details of the Lacanche Beaune