Gas Range Cookers for Stylish Contemporary Kitchens
The idea of a gas cooker may seem old-fashioned, but although many younger cooks may have inherited their love of gas cookers from a generation or two above they are definitely looking for a little contemporary edge in the kitchen. Here we look at some great gas range cooker solutions for the style-conscious home baker.
The popularity of baking in the UK may well be one of the reasons that gas cookers, and particularly gas range cookers, continue to sell in good numbers. Dual fuel ranges, which feature gas hobs with electric ovens, are certainly the more popular format for UK households, but the fact that many cooks still prefer to stick with gas ovens is testament to the particular cooking qualities of gas heat. The moister oven environment is ideal for baking, and many users will prefer it for roasting, too. Fanned electric ovens may be quick to get to temperature and will cook very evenly, but your Victoria sponge may well come out a bit on the dry side unless you are careful.
Mains Gas or LPG?
As long as you are on mains gas there is a good choice available, but if you are on LPG bottled gas you will find that your choice is limited to only a handful of models, most of which lean towards the more traditional look. Click
HERE
to see the full selection. LPG is considered a niche within a niche by the manufacturers, unfortunately, and although there used to be a wider selection available this has dwindled somewhat in recent years. If you can, you may need to settle for electric ovens and consider installing a dual fuel range, all of which will convert to LPG. Most all-gas models will NOT convert, and need to be built especially for one gas type or the other.
Prefer something more traditional?
You will find our guide to traditional-looking gas ranges
HERE
.
Belling DB4
from
£995
* -
Click for More
The British-built Belling DB4 is available in 90, 100 and 110cm widths, and is a great option if you are looking for a solid, no frills family cooker. Simple but smart-looking in standard form with black glass doors and stainless steel or black control panel and trim, or in all white, it also comes in Professional guise, with an all stainless steel look. On the DB4 90GT the programmable main oven and the dedicated grill are both gas powered (with a five burner gas hob), but the tall second oven is a fanned electric cavity - a necessity of the cavity size (perhaps useful on occasion), and the cooker still works from a 13 amp plug. The DB4 100GT and DB4 110GT both have two gas ovens (one with cook-to-off programmer) with slow-cook settings, plus the gas grill and a storage compartment with drop-down door. Both feature seven burner gas hobs, and all models include a 3.5kW wok burner.
Caple Classic CR9218 Twin
at
£1085
*
Also at the lower end of the price scale, the
Caple Classic CR9218
is a smart and great value option, and is a 90cm gas range which offers two gas oven and a gas grill. Even better, it DOES convert to LPG! Its black glass doors are double glazed and complement the stainless steel used elsewhere on the cooker. There is no programmer, but a mechanical minute minder is handy, and there is automatic under-knob ignition. A flap door gives access to a full width storage compartment below the ovens.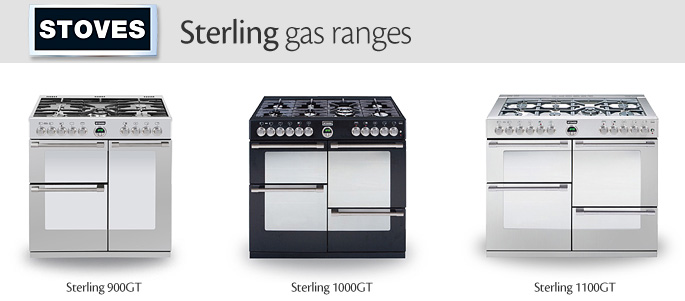 Stoves Sterling
at
£1295
* -
Click for More
Stoves and Belling are both built by the same UK-based manufacturer (Glen Dimplex Home Appliances), and consequently the chassis used and the satisfying build quality is the same for both brands. Oven sizes and layouts are therefore identical, but as the flagship brand Stoves gets a higher spec and a longer warranty (5 years parts and 2 years labour when ordered from Rangecookers.co.uk). The Sterling's style is about as sharp and contemporary as you can get, and consumers continue to love its crisp lines and steel-clad glass door construction. In stainless steel or black, with lightly mirrored glass windows which do a good job of hiding the oven interior when off, the Sterling again comes as a 90, 100 or 110cm gas range, with the tall oven on the Sterling 900GT being a fanned electric cavity. The Sterling 100GT and 110GT have two gas ovens (one programmable), a separate gas grill, plus a low-wattage electric slow cook oven in place of a storage area. The gas ovens also include a useful "keep-warm" setting.
Also worth a mention is the
Stoves Richmond
series which, although it takes a more traditional approach with some Aga-like cosmetic references, still has enough of a modern twist to work really well in a more contemporary setting. It even has a third gas oven!
Rangemaster Toledo
from
£1495
* -
Click for More
From another famous British brand, the Rangemaster Toledo has been around for a while now, but its clean modern styling still looks good and it continues to be a popular choice. Available in stainless steel, black or metallic finishes of silver enamel, gunmetal and champagne (a light bronze effect), the Toledo series has a pleasing simplicity, with teardrop shaped controls and simple T-bar handles (in chrome or satin finish, depending on colour choice). In 90cm form you get a large, programmable (time-to-off) gas oven with stay-clean liners and swing-out Handyrack feature, plus a gas grill above and a tall fanned electric oven on the right. This is narrower than the Stoves or Belling equivalent, but useful nonetheless for batch baking and general use. The Toledo 110 gets two large gas ovens, gas grill and a storage drawer. On top, both models give you five gas burners, with a useful electric warming zone on the 110, and both have an older-style two-piece hob with thermo-plastic joining strip, plus inset gloss-enamelled cast iron pan supports. The gas ovens all have slow-cook settings.
Rangemaster Professional Plus
from
£1565
* -
Click for More
A newer model, the Professional Plus has a bolder style with larger chrome control knobs and wider, flatter door handles in chrome, plus a bigger window aperture. The oven and grill specs are the same as the Toledo, except that you get a glide-out grill tray as standard. and the clock/timer has been refined to a more intuitive 2-button design. The Hobs are also improved, with single-piece pressings and, on the 110, a six burner layout. The cast iron pan supports are more of a sit-on style, and in matt finish.
Bertazzoni Professional 90
from
£2595
* -
Click for More
Top notch Italian brand Bertazzoni is a particularly stylish choice for any kitchen, so it it great news for gas aficionados that this excellent manufacturer produces a 90cm gas range, although with only the main oven using gas, with an integrated electric grill, like other 90cm formats it is not completely dedicated to gas; on the right the second oven is a conventional electric cavity with another electric grill. A 20A electric supply is required. With triple glazed doors, solid metal control knobs, heavy duty oven shelves and high quality gas burners including a dual control wok burner there is no doubting the Professional 90's credentials, and its purposeful good looks come in a variety of finishes too.
to see ALL gas range cookers
*Prices correct as of October 2014