Steel Combi-steam Range Cookers - Versatile and Innovative
Many people have got wise to the advantages of steam cooking in recent years, whether using a simple hob-top steamer, a small electrical appliance or, increasingly, a dedicated steam oven. If you like the idea of a steam oven but prefer a freestanding range cooker, the good news is that leading Italian brand Steel have the perfect solution, as their exceptionally good range cookers are now available with an amazing Combi-steam oven.
Get the Best from your Food
Steel's clever Combi-steam oven is a versatile technology which allows you to use the oven as a normal fanned or conventional electric oven, but also as a static or even fan-assisted steam oven. This obviously gives you great flexibility, and allows you to exploit the advantages of steam cooking to prepare a whole range of meals, from soups and simple steamed vegetables to fish, meat, casseroles, curries and sauces - all with enhanced flavour, texture and nutritional value.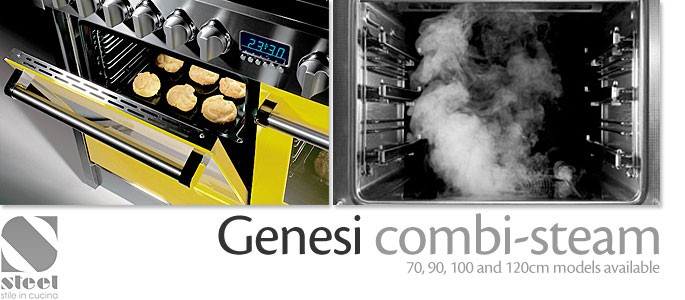 Formats
The Steel Combi-steam oven is available on their
70cm mini range
and
90cm
single cavity range, and on
100cm
and
120cm
dual cavity range cookers, in the chunky and contemporary
Genesi
and more characterful
Ascot
styles. Both styles offer the same specification, which features a great choice of hob formats to suit your cooking style, including all gas, integrated griddle, bbq grill of deep fryer options or electric induction models - all with a choice of windowed or solid doors. Integrated grills and a rotisserie are standard on all models, as is a satisfying solidity and build quality which is hard to find in the cooking appliance market.
Genesi 70cm Combi-steam
dual fuel
or
induction
- from
£2795
*
Genesi 90cm Combi-steam
dual fuel
or
induction
- from
£3695
Genesi 100cm Combi-steam
dual fuel
or
induction
- from
£4250
Genesi 120cm Combi-steam
dual fuel
- from
£6775
*Prices as of June 2013
Company Background
Steel is one of the best brands to come out of Italy when it comes to cooking. The current business was founded in 1999, but the Po family who run the small modern factory has been involved in making range cookers since the original company started in 1922. Innovative and beautifully functional, Steel cookers immediately convey an impression of high quality and utter competence. The engineering detail is quite something, and the care that the small team take with every product that leaves the factory is very apparent. High quality components and catering-grade stainless steel are expertly formed into cooking appliances which cannot fail to impress the discerning domestic cook or aspiring chef. The product range is broad, and includes complementary refrigerators, built-in appliances, modular kitchen furniture and semi-professional barbecues and outdoor cooking equipment.
Currently unique to Steel, these Combi-steam range cookers are an indication of how seriously this impressive manufacturer take both the art of cooking and the discipline of engineering. If you are serious about getting the most from cooking and from food, introducing one of these innovative and stunningly good cookers into your home should be a very serious consideration.
for further details of Steel range cookers