Single Cavity DeLonghi Vintage Pro 90DF - Characterful Simplicity
DeLonghi continue to make a great impression with their new range cooker collection and the latest model, the DeLonghi Vintage Pro 90DF (or DVRS 906-DF), should prove a fine choice for anyone looking for a straightforward but attractive single cavity range.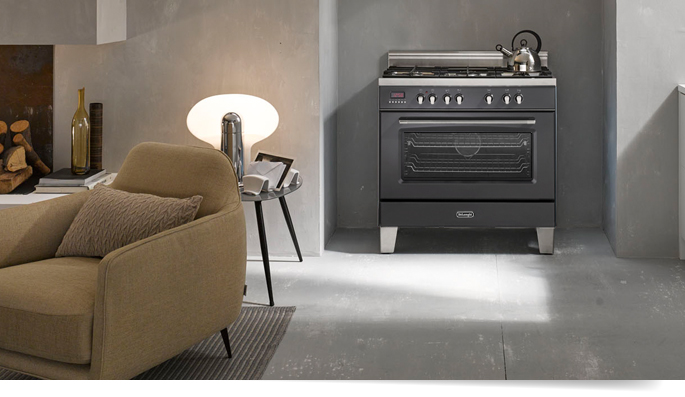 Elegant Retro Look, Useful Spec
DeLonghi Introduced their Vintage look in late 2016 with the three cavity
Vintage 90DF
, and we were very impressed with its good looks, its quality and inherent value for money. Two more 90cm models were planned, a dual cavity
Vintage 90DF Twin
, and this
Vintage Pro 90DF
which is something of a hybrid, featuring an enhanced version of the hob features of DeLonghi's Professional series. Its single programmable oven gives you a generous 80 litres of usable space, with multiple functions enabling a variety of fanned or non-fanned oven and grill settings. Despite its size, this generous oven is A-rated for energy efficiency, and the inner door glass is removable for easy cleaning. Inside, the oven walls are coated with wipe-clean enamel, with a fat filter protecting the fan. A set of telescopic shelves is also included.
Single Cavity Range Cookers
If your needs are fairly simple a single cavity range is often a great choice - why pay more for a multi-cavity range if you are not going to need that sort of flexibility? A good sized oven can be a useful thing on occasion, as can the wider grill if you suddenly need a large batch of cheese on toast!
The DeLonghi Vintage series is nicely detailed to offer traditional character with a crisp, modern edge
Available in Black or a very attractive Light Blue the handsome Vintage appearance employs some nice detailing to achieve its rather retro look, which is a lovely balance of traditional and modern. A soft and gently arched bevel around the window aperture softens the look of the facia, helped by some very nicely detailed styling on the door handle and the metalised plastic control knobs. Rather than tubular legs, the Vintage Pro 90DF features fabricated stainless steel legs which give it a firmer and more confident stance. On top there is a five burner hotplate as used on the DeLonghi Professional series, featuring three separate spill recesses and pressed from a single sheet of stainless steel, with a central wok or main burner giving 3.5kW of power, all topped off with cast iron pan supports (a cast iron wok support is also supplied). To the rear there is a stainless steel upstand which is removable provided there is a non-combustible material on the wall behind, although we think the cooker looks better with this in place. Rather than the more stylised upstand used on the other Vintage models, this one alludes to the more straightforward lines of the DeLonghi Pro series, hence the Vintage pro name. Down below there is a very useful storage area with a drop-down flap door.
The hotplate is the same one used on the DeLonghi Professional series, but with more refined full width pan supports
DeLonghi is a popular brand in the UK, known mainly for high-end coffee makers and other small appliances. This new collection reminds us that they also have a good name when it comes to larger cooking appliances, and it is good to see these products already doing well as customers respond the their great formula of a trusted brand, great looks and obvious value. This single cavity model is certainly an appealing option for those with simpler cooking needs, and at around £900 should go down very well. For full details follow the link below or call our knowledgeable team on 01244 402975.

The DeLonghi Vintage Series