Easing the Job of Oven Cleaning!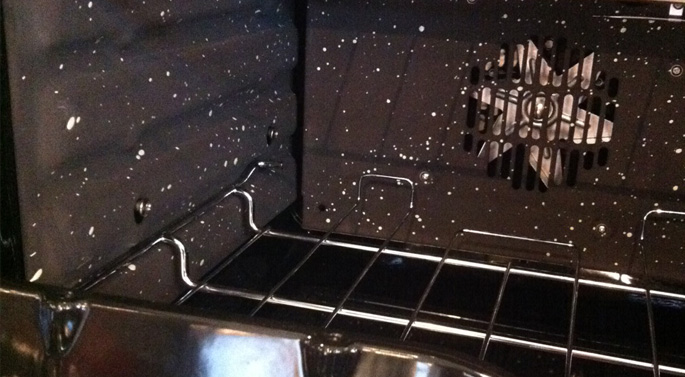 One of the more thankless tasks in a busy home kitchen is cleaning the oven. Due to it's rather time-consuming nature, cleaning of a greasy oven is something that tends to get neglected and so proves that much harder when it is finally undertaken.
Fortunately, there are a number of features that help to take the work out of it, so here we take a look at which oven finish is easier to keep clean …
What Are Catalytic liners
Also known as self-clean, easy-clean etc, catalytic liners are available as a standard feature on many mid to high end range cookers - most cookers from
Rangemaster
,
Falcon
,
Mercury
or
Britannia
will have them in at least one oven, for example. Catalytic liners are distinctively rough to the touch and are often speckled grey in colour. They work by absorbing the grease and grime into a porous enamel, which is then broken down by oxidising catalysts at normal cooking temperatures.
Pyrolytic ovens
Pyrolytic ovens feature liners that are coated with an enamel that is designed to withstand the extremely high temperatures (up to 500°C) that the cavity reaches when the pyrolytic function is selected. The oven docks lock automatically for safety and the high temperature reduces any grime or grease to carbonated ash. All that remains to be done is to sweep out the ash from the bottom of the cavity. Simple, quick and clean - and highly effective!
Pyrolytic is somewhat hard to find on range cookers, with
Rosieres
and
Smeg
being two of the only manufacturers to offer it. A great many higher end built in ovens offer a pyrolytic cleaning function, notably models from Hotpoint, Smeg, Caple and De Dietrich.
Easy-clean Enamel
Some brands offer an enhanced enamel on the interior of their ovens that is considerably harder than standard oven enamel -
Stoves
Pristine is a good example, but other brands like
Belling
also use a similar approach. This super-hardened surface ensures that grease can't 'dig in' as easily, and is therefore cleaned readily with a wipe rather than scrubbing away with abrasive cleaning equipment or chemicals. According to the research, one wipe on easy clean enamel does the work of four on standard enamel.
Steam Cleaning
Some ovens - mainly built in - include a steam cleaning feature whereby a reservoir of water is evaporated inside the oven cavity in order to loosen grime and aid manual cleaning. Britannia now feature a steam cleaning function on their
Britannia Delphi
model range.
So, if you want to make light of a tiresome chore there are some clever solutions available which are an important aspect of making the right cooker choice, and the question of which finish is easier to clean is hopefully a little clearer. Just check the product spec on our product pages to see which finish is used, or call one of our experts on 01244 402975 to talk through the options.