The Rangemaster Nexus Arrives, and in Considerable Style
A stunning new range cooker has been launched by the UK's number 1 range cooker brand, and the Rangemaster Nexus is quite a stunner. Riding on the success of what has become the brand's most popular range style, the Professional Plus and Deluxe series, the Rangemaster Nexus will appeal to those with very contemporary tastes, enjoying as it does a very clean and stylish aesthetic which owes much to Rangemaster's prestigious sister brand, Mercury.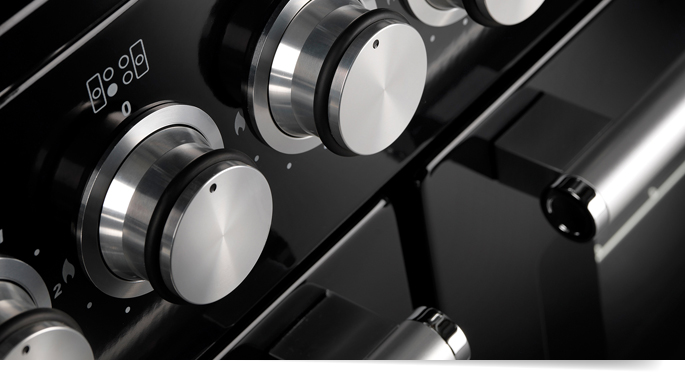 Strong Family Resemblance
Range cooker aficionados will immediately recognise the Mercury's cosmetic cues - the large turned metal controls with rubber o-ring grip, the lovely chrome handle-ends and the typographic plinth branding - and will be happy to learn that they can own this new Rangemaster for considerably less than a Mercury (around £2000 less, in fact). At
£1995
* the Rangemaster Nexus should cause a stir with design-conscious cooks looking for a centre-piece for their new kitchen, and with its enhanced specification it certainly seems set to become a popular choice. The design team at Aga Rangemaster ought to be feeling quietly confident.
The new Rangemaster Nexus 110 looking very smart in Slate grey
Stunningly High Specification
The Nexus shares the same elevated specification as the existing Deluxe models in the Rangemaster stable, with a multifunction main oven, glide out grill tray and Multi-zone hob, but the normally dormant storage drawer becomes a
bread proving drawer
, and the grill also benefits from a new
deep grill tray with four height positions
, addressing a cooking limitation often mentioned by Rangemaster owners. Add to this the seductively tactile
metal controls
(only the French-style Elise currently features metal knobs) and the Nexus looks like a very tempting package indeed, and with a price-point around £300 less than the Elise it all bodes well for this fabulous new model. The Nexus is available in four finishes - Stainless Steel, Slate (matt), Gloss Black and White - all with chrome trim.
Like all Rangemasters, the Nexus is built to order and delivered in 3-4 weeks (first deliveries from early June 2014), and carries a 2 year parts and labour warranty. Click
HERE
for more details or call the Rangecookers.co.uk expert team on
01244 402975
.
Launched as a 110cm dual fuel model, it is likely that in due course other formats will follow and we will see 90cm and 100cm models, and induction variants. This all depends on the success of the Rangemaster Nexus 110 in dual fuel, of course, but we have a feeling that at this price this is pretty much in the bag. Even without that familiar Rangemaster badge.
for further details or to place your order
*Prices correct as of May 2014