Rangemaster Infusion Suspended Hoods - Vesper and Zest
If you are looking for something a little different, perhaps for a cooker in an island position, a suspended hood could well be your answer. Rangemaster have introduced two new models which look stunning but provide a lighter and more decorative alternative to your extraction needs - the Rangemaster Vesper and Zest hoods.
Both the Vesper and the Zest can be positioned above an island or adjacent to a wall, and both can be set to recirculate or extract
Rangemaster Vesper Hood
A brilliant idea where you want to minimise visual intrusion, the 515mm diameter
Rangemaster Vesper
hood will stay tucked up on the ceiling when not in use, acting as an attractive light fitting, but when called upon the smaller inner section will descend elegantly on thin stainless steel wires to perform its duties most efficiently. Operated via a wall switch or using the supplied remote control, the Vesper gives you a 520m3/h maximum extraction rate using three speeds and an intensive boost, as well as a handy timer delay and a 24 hour setting, which discretely operates the filter for 10 minutes every hour to keep things fresh. Four halogen spotlights provide plenty of illumination onto your hob, in addition to the ambient light from the top section. Recirculating filtered air via washable grease filters and the supplied carbon filters is the standard set-up, but if you prefer to and are able to extract then a special flexible ducting kit can be obtained. The Vesper hood is something a bit special - a clever and practical addition to a modern kitchen, and likely to be something of a talking point!
Rangemaster Zest Hood
With its simple 40cm cubic form in black or white painted steel, the
Rangemaster Zest
hood is a stylish, crisp and contemporary statement ideal for modern kitchens with an emphasis on clean, linear design. Suspended from a ceiling plate on thin stainless steel wires, the main unit houses a motor giving a maximum of 520m3/h extraction, with the same useful timer delay and 24 hour functions as the Vesper hood, and three speeds plus boost selectable via the supplied remote control. The specification also includes a special energy diffuser which improves efficiency by 30% and reduces noise by 3 decibels. Twin LED lights and washable grease filters also feature, and charcoal filters are also provided to allow you to recirculate cleaned air, but if you would prefer to extract moisture and unwanted heat too you can order the additional flexible ducting kit from Rangemaster. Eye-catching and appealing, the Zest hood will enhance your kitchen and do a great job of keeping it fresh.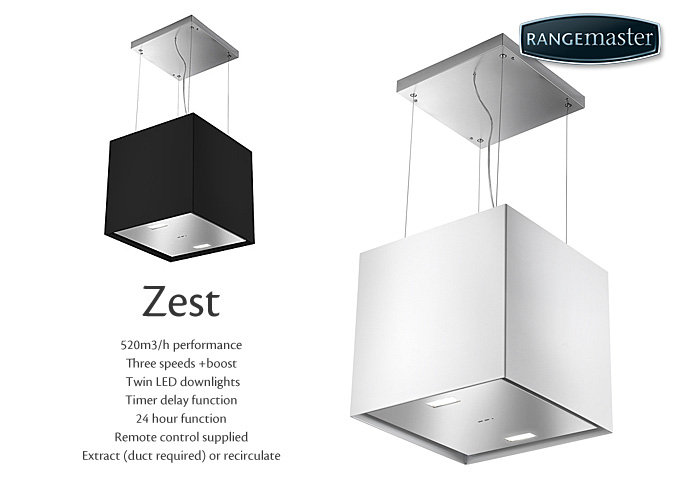 It is good to see Rangemaster branching out with these excellent suspended hoods which will appeal to increasingly design-conscious customers who trust the Rangemaster brand and will love the sensible pricing. Along with the new Opal and Bellini angled wall-mounted hoods, these impressive products demonstrate that style and substance can go hand in hand and need to cost the earth.
to see all Rangemaster hoods