Ooh La La - the Rangemaster Elise Gets 2 New Colours
Good news for lovers of Rangemaster's French-style range series, the Rangemaster Elise, as some new colours have been added to extend its appeal even further.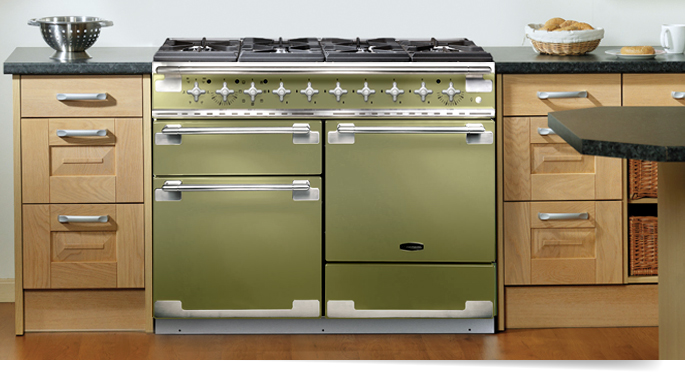 The Rangemaster Elise 110 now comes in Olive Green. Brushed aluminium trim is standard on all colours.
Serious Cooker with a Touch of Finesse
The Rangemaster Elise has become a popular and refined choice for those looking for a range cooker with a touch of elegance. At the top end of the Rangemaster model spectrum, the Elise has enjoyed the status of being the only Rangemaster with solid metal controls, and its non-windowed doors and the absence of a clock/timer define it as more of a serious crossover product more akin to Aga Rangemaster's more premium Falcon brand. There are four model options, an Elise 110 in dual fuel or and Elise 110 Induction, a dual fuel Elise SE 110 (with symmetrical oven layout), or the Elise 100 Induction.
Solid aluminium control, handles and door trim are a defining feature of the Elise series
to browse the Rangemaster Elise collection
New Colours
Like the other 8 finishes, the newly added colours -
Olive Green
and
Slate Grey
- have brushed aluminium control knobs, handles and decorative trim details, and they all look simply stunning. Introduced to the brand in 2013, Olive Green has already proved a hit on the more traditional Classic Deluxe and Elan models, and the more recent Slate Grey (which has a satin finish) also features on more contemporary Excel and Professional Deluxe ranges. The Rangemaster Elise does seem to have the ability to look great in either setting.
In a simple modern kitchen, this Elise SE adds some softness, symmetry and style
Top-end Specifications
The Elise specification sheets are impressive, with multifunction main ovens offering great cooking flexibility and Rangemaster's more than ample size. Fanned second ovens and a glide-out grill tray are also standard (except on the Elise SE, which features a swing-out HandyGrill), and all ovens are A-rated and include catalytic self-clean linings (except the tall oven on the Elise 100). The six burner gas hotplate includes two powerful wok burners and semi-matt coated cast iron pan supports, whist the induction models give you the latest generation induction technology for amazing power, speed, control and cleanability.
The Elise 100 Induction shown in all 10 finishes
With prices ranging from £2190 to £2650* the Rangemaster Elise is an aspirational Rangemaster with a serious but very elegant persona. It brings just enough French flavour into the kitchen whilst still being very much a British product. If this hits the right note for you, take a closer look at the product range via the link below. Built to order and delivered in 3-4 weeks your kitchen could soon benefit from the delights of the Elise, which will be a fantastic addition - whichever colour you choose.
to browse the Rangemaster Elise collection
*Prices correct as of May 2014