New Rangemaster Elise 90 in Dual Fuel - Well Worth the Wait
The Rangemaster Elise is a beautiful range cooker which sits right at the top of the Rangemaster product scale - a premium Rangemaster offering with a French flavour. The Elise 90 has previously been available only in all-electric format with an induction hob, but now you can have it with a five burner gas hob too, as this new dual fuel model is added to the stable.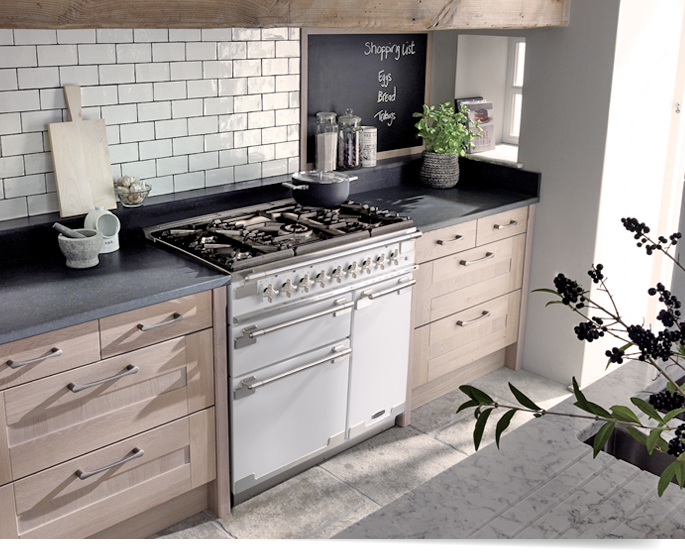 The Elise 90 DF looking very fresh in White with brushed chrome trim
Preferred Fuel Format
Dual fuel is still the most popular range format, giving cooks the best of both worlds - fast and efficient electric ovens coupled with gas burners which give the sort of responsiveness and visual feedback most users still prefer even over the easy-clean allure of induction. Manufacturers tend to come to market with induction first these days due, presumably, to ease of manufacture and lower tooling costs while they assess the popularity of the model, but there will be many people who have been waiting patiently for the Elise 90 in dual fuel, and it is easy to see why.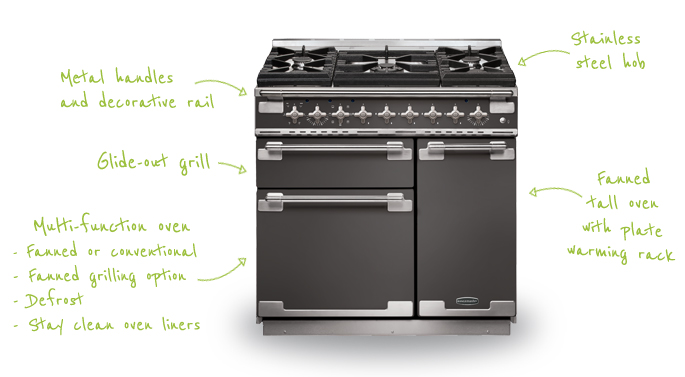 Seriously Good Looks with some French Flair
Charmingly elegant, this is a cooker which will work in a traditional or a modern setting, bringing with it plenty of character, warmth and a reassuring solidity. Lovingly detailed metal controls, door handles, full width rail and extra door trim in solid, brushed chrome really set off well against the vitreous enamel door colours, and the cooker is topped with a stunning single-pressing stainless steel hob and stainless plinth panel. Like its more pricey cousins in the Falcon stable, the Elise has non-windowed doors and no clock or programmer, presenting itself as a more serious piece of cooking kit than most mid-market products, and at around £1000 less than the Falcon 900 it is definitely an attention-grabber. Nine gorgeous finishes are available, including stainless steel for the real purists.
Top-of-the-line Specification
The Elise 90 dual fuel features Rangemaster's "Deluxe" specification, with a multifunction main oven including fanned, non-fanned and grill functions, a fanned tall oven and a separate grill with a lovely glide-out grill tray. The main oven also includes catalytic oven liners and a removable swing-out 'Handyrack' roasting tray. The five burner hob naturally includes a 3.5kW wok burner, and the cast iron pan supports have a matt finish. A cast iron wok support and griddle plate are included, together with an LPG conversion kit should you need it.
The Elise 90 DF joins the other models in the Elise collection - the
Elise 90 Induction
,
Elise 110 DF
,
Elise 110 Induction
, and
Elise 110 SE
(without the separate grill).
Brushed chrome solid metal controls and handles combined with brushed stainless steel give the Elise a very classy persona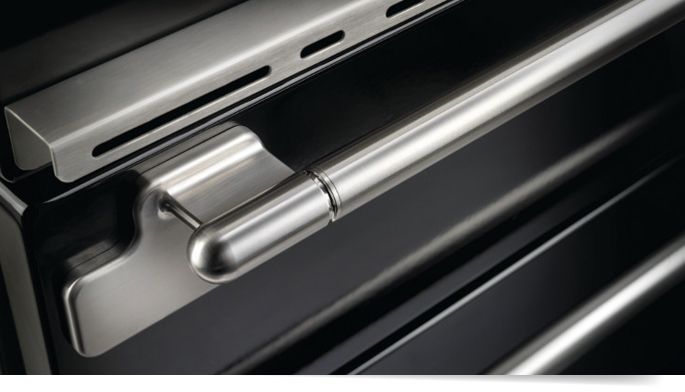 The addition of the Elise 90 dual fuel to the Rangemaster collection is great news for modern cooks looking for a compact traditional range with more than a touch of class and great brand presence. Its pseudo-French styling may not appeal to everyone, but there are plenty who will just love it. Available to order from Rangecookers.co.uk at £2195*, production and delivery of your Elise will take 3-4 weeks and will be well worth the wait.
to see the full Rangemaster Elise collection
*Prices correct as of June 2015