Rangemaster Classic Colour Changes
As part of a rationalisation of their product range, Rangemaster have made some changes to their Classic and Classic Deluxe collections. The number of colours available on the standard-spec Classic has been reduced, and these colours are now offered on the high-spec Classic Deluxe.
As from April 2016
Regal Blue
,
Racing Green
and
White
are now available on the Classic Deluxe, with both chrome and brass trim offered on 90 and 110cm models, and chrome only on 100cm variants. The Classic Deluxe comes as dual fuel or all-electric, so there are now no all-gas option available in these traditional colours, although this is still an option on the Classic, which now only comes in either Cream, Black or Cranberry. Additionally, the rather too quaint
All-white
option has now been deleted, together with the always dubious
Latte
and
Rose Taupe
from the Deluxe line-up.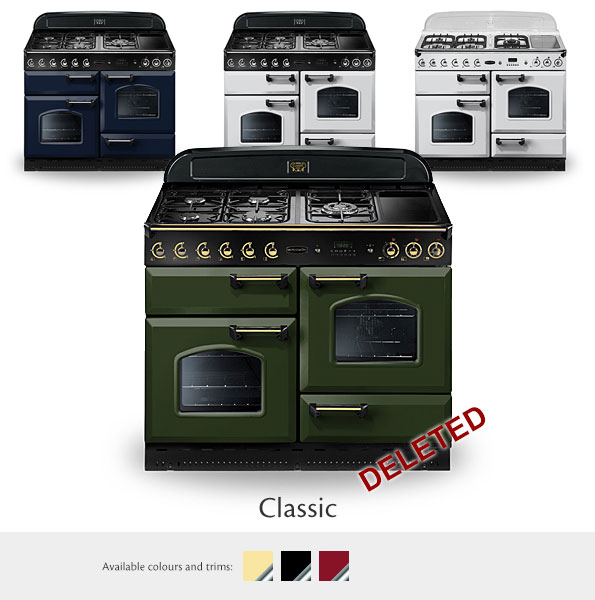 The Classic 90, 100 and 110 is now limited to three colours with chrome trim
Move Up to Classic Deluxe
The Classic Deluxe adopts the same very traditional styling as the Classic, but offers some enhancements. Cosmetically, the handles and controls are rather chunkier, and the plinth styling is stepped back to give the cooker a different stance. Features and functions are also improved, with Rangemaster's Multizone hob on the 110 dual fuel model, giving five gas burners and a semi-integrated griddle area heated by radiant electric elements which can be used as extra burners when occasion demands. The cast iron pan supports are improved, and sit on a single-pressing enamelled hotplate. Ceramic and Induction models are also available. The main oven is up-rated to a multifunction unit giving lots of versatility, including an additional grill, and the dedicated grill cavity features a useful glide-out grill tray.
The Classic Deluxe 90, 100 and 110 collection has now expanded to include these traditional colours and trims
This re-alignment of the Classic collection shifts the emphasis to the newer and more feature-rich Deluxe models and makes the historically important standard models rather more niche, reflecting changes in the market and a gradual move by the manufacturer to more evolved platforms. Not so good news for people who prefer an all gas cooker, who will now have fewer colour options available, but thankfully this smaller area of the market still has some good choices available within the Rangemaster brand.
to browse the Rangemaster Classic collection