The Rangemaster NEXUS 110 Steam - a Truly 21st Century Range
The product development team at Rangemaster have been working away on an innovative new range cooker which should delight all those who love getting maximum flavour and nutritional benefit from their food, and now it is here: the Rangemaster NEXUS 110 Steam.
This brilliant new model is based on Rangemaster's top-end contemporary NEXUS 110 format, with its modern character and beautiful turned metal control knobs, and the designers have cleverly converted its top right cavity into an all-new dedicated steam oven capable of bringing the very best out of vegetables, fish and seafood, and lots of other superb dishes you will not have thought of. Coupled with the conventional multifunction oven with telescopic shelving on the left, offering fanned, non-fanned and grilling functions, and a dedicated glide-out grill in the top cavity - plus a handy proving drawer - this amazing new range is every inch a very serious cooker for the 21st century cook.
Versatile Leading-edge Cooker
On top is Rangemaster's very capable Multizone hob, with five gas burners under elegant cast iron pan supports and a semi-integrated cast aluminium griddle over two 2kW ceramic zones - perfect for frying, warming, spoon-resting or for extra pans when needed. The easy-clean glass control panel looks very slick and is home to the lovely solid metal control knobs with their rubber o-ring finger-grip, plus two touch control panels - one for the steam oven and one for the programmer of the multifunction oven and a minute minder. The smart overall facia and well-considered detailing makes this NEXUS a highly desirable range cooker ready to slot into the most modern of kitchens, whether in Gloss Black, Stainless Steel, Cream or a matt finish Slate.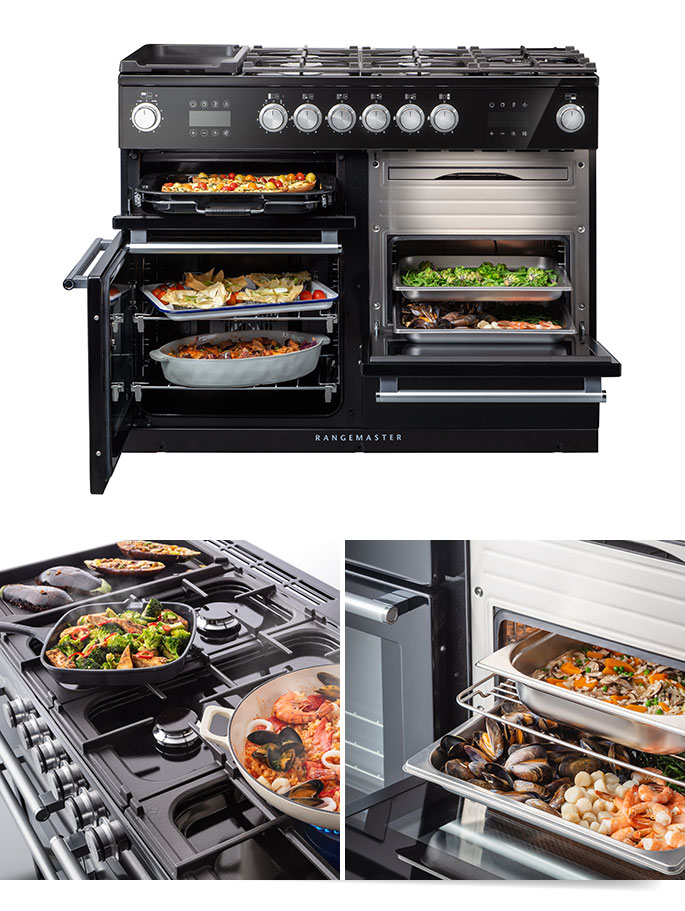 Steam ovens have been in vogue in the built-in appliance market for a good few years now, and it is great to see their increasing popularity catching the attention of a mainstream range cooker manufacturer. Aga Rangemaster are the market leader in the UK, of course, so it is very apt that they should get behind this technology and cater for a demand which may be rather niche currently, but thanks to their foresight will surely continue to catch on in the freestanding market. At £3995*, though, this is really pushing the envelope for the respected mid-market Rangemaster brand so it will be interesting to see the response. Having said that, there is hardly any competition when it comes to range cookers with steam ovens, with only premium Italian brand Steel offering their excellent but pricey Genesi Combi-steam ranges starting at just under £4000 for a 70cm model, up to £9500 for 120cm. The launch of the NEXUS 110 Steam, therefore, is something of a landmark event, and this is a fascinatingly capable and versatile cooker which will be a stunning addition to any dream kitchen.
*Price October 2019