Rangecookers Ethos Series - Premium Elegance
The Rangecookers Ethos 120 Deluxe is a high calibre range cooker with superior build quality and stunning, stylish good looks.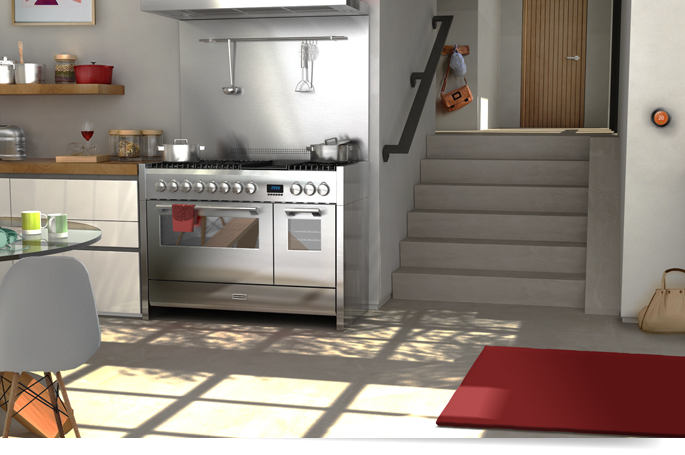 The Rangecookers Ethos 120 Deluxe in stainless steel has two multifunction ovens with grills, and a large capacity storage drawer
Understated Elegance - Amazing Build Quality
The
Ethos 120 Deluxe
exudes confidence in design and construction. It offers copious amounts of cooking space in a reliable chassis built by artisan cooker specialists
Steel Cucine
near Bologna, in the famous Emilia-Romagna Region of Northern Italy. It is important to stress the quality of manufacture in these lovely cookers, and the inherent good value this actually represents. At just under £5000 this is very much a premium product from a premium brand, but you can pay significantly more for some very posh brands and the quality will be no better. The Po family who own Steel Cucine has been building cookers since 1922, and the approach in their very modern but relatively small factory is to combine the latest engineering knowledge with a love of food and manufacturing integrity to produce cookers which really are the best they can be.
Looks aside, you will know you are cooking on a high-quality platform from the touch of the gorgeous solid metal controls, the weight of the triple glazed doors and the rather special one-piece hob plate, which also forms the control panel so there are no joins or seams to worry about. The hob comprises a triple ring wok burner, one rapid burner, plus two medium and two simmer burners, one of which can combine with the long medium burner for fish kettles, all under elegant cast iron pan supports. As another thoughtful touch on each side of the supports there are cast iron spoon standing strips - surprisingly handy.
The versatile Ethos 120 Deluxe hob features a wok burner, fish kettle and cooktop, single handed ignition and solid metal controls
Versatile Cooktop
On the Ethos 120 model the semi-integrated cooktop (choose ribbed or smooth or one of each) is an ideal piece of everyday kit for cooking meat, fish, and stir fries. If you opt for the smooth version it is also handy for making quick drop-scones, pancakes, or a delicious cooked breakfast. Even when not in use for cooking, the cooktop works out to be a really useful area for standing pots, ingredients, spoons and spatulas, or is even a great space for a chopping board!
The cast iron cooktop can be removed to reveal two radiant ceramic burners for extra pans during times of high-demand cooking. You will probably find that it remains where it is, though, and it can is easily cleaned in-situ with some water, salt and kitchen towel.
The Ethos Deluxe main oven has copious amounts of cooking space in a nine function oven
Copious Cooking Capacity - Ethos 120 Deluxe
This ample-sized range cooker is actually 117.5cm wide and is designed to cope easily with day to day cooking or larger capacity meals for special occasions. The voluminous 78 litre oven has nine multifunction options which allows you to select the most appropriate heat source for the meal you are cooking. The large oven also features a dual circuit grill with a full-width grill tray on telescopic runners, as well as a removable rotisserie for succulent and clean cooking of game and poultry.
The 31 litre auxiliary oven has five functions and an additional grill, and is a useful additional facility when the main oven is in use. Beneath the ovens is a wonderfully useful storage drawer for all your trays, trivets and accessories.
Clean and Compact Ethos 100
The smaller 99.8cm model features a 61 litre main oven (with rotisserie) paired with the same 31 auxiliary oven. There is no cooktop feature, so you get a six burner gas hob with the burner spec as found on the Ethos 120.
The smaller Ethos 100 will be a great fit for many kitchens, and is just as eye-catching as its larger sibling at around £3000.
The stylish and contemporary design of the Ethos will look superb in any modern kitchen - a real head-turner that will be the heart of your home. To complete the look you can pair with a splendid and high performance Bigblue Hood and even a practical splashback with or without a utility rail.
If you would like to see a Rangecookers Ethos Deluxe, you can visit our
showroom
in the heart of Chester where our experienced staff will be happy to talk you through the features over a cup of coffee. We are open Monday to Friday from 8.30am to 5pm.