Premium Italian Range Cooker Brands
When it comes to range cookers, some of the best you can get are made in Italy by family firms who have been in the business for generations. The combined loves for food and engineering are a heady mix in a country already renowned for great manufacturing, so the world's cooks are rewarded with some carefully considered range cookers, and here we take a closer look at four of our favourite Italian brands.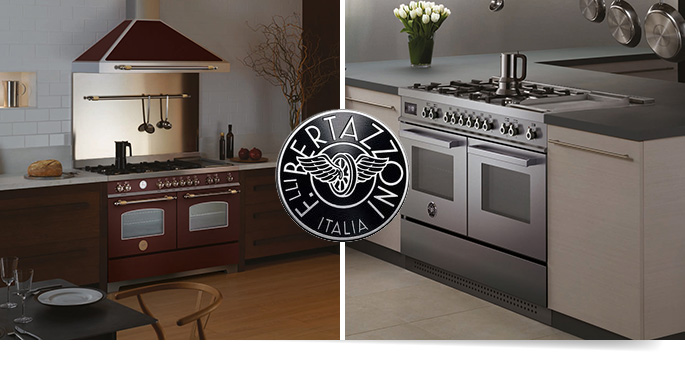 Bertazzoni
A company nestling in the heart of Emilia-Romagna, a region renowned for its Parma ham, parmesan cheese, balsamic vinegars and all manner of good things, this is also a region with a significant industrial heritage. Home to famous names like Ferrari and Lamborghini and all kinds of clever manufacturing, Bertazzoni are in very good company. One of the oldest manufacturers in Italy, the state-of-the-art factory in Guastalla is overseen by fifth and sixth generation members of the Bertazzoni family, which started producing its first wood burning stoves at the end of the 19th century. These days their premium range cookers are known across the globe as a truly authentic cooking platform with bags of integrity and know-how behind them. Their entry-level
Master Series
is handsome, characterful and sturdy, but if you are looking for the full experience then the Bertazzoni
Professional Series
offers a stunningly competent solution - straightforward, elegant and beautifully put together, with enhanced features (heavy duty shelving, triple glazing, professional grade burners, meat probe, advanced programming, etc) which make them the domestic choice of many professional chefs. The
Heritage Series
shares this spec, but adds some rather gorgeous character detailing. Whether you go for the classic stainless steel look or one of choice of traditional or bold colours, painted courtesy of Ferrari around the corner, owning a Bertazzoni is a dream come true for the serious cook. Equal attention is paid to a stunning selection of matching refrigerators and highly desirable built-in cooking appliances, so if you are looking to make a statement, this is absolutely a brand to confidently fill your kitchen with.
Steel
Drive 30 minutes south of Bertazzoni to Carpi in Modena and you will find a very smart, sophisticated and pleasant factory owned and run by the Po family, the third generation to be doing so since the original company was started by Angelo Po in 1922. A name to be reckoned with in this region, Angelo Po's genius for engineering and impressive energy still gives this excellent manufacturer momentum today, and the passion lives on in the form of an incredibly conceived and executed product range which is second to none in the industry. Range cookers in a variety of styles, with a stunning collection of built-in ovens, hoods, refrigerators and amazing modular furniture and outdoor cooking systems all built with an impressive solidity and attention to detail that sets this brand apart. In addition to their mainstream
Genesi
and
Ascot
series, Steel also product simpler
Enfasi
and
Oxford
models with a lower price-point but the same core values and quality. Steel's artisan approach to manufacturing and the sheer quality of their products marks them out as one of the most desirable range cooker brands in the world.

Britannia
A name with a great reputation in the UK, this premium brand is one to be reckoned with. Beautiful, stylish and well-constructed range cookers, hoods and refrigerators in mainstream
Delphi
and
Fleet
formats, as well as some nice entry-level models in the form of
Q-Line
and
Stanza
. Although not strictly an Italian brand (Britannia is a name owned and distributed by a UK-based company), the cookers themselves are actually made by the above-mentioned Bertazzoni, so naturally share the same quality expectations of that prestigious manufacturer whilst having their own distinct style. Previously, Britannia sourced their products from ILVE (see below) and their current product range takes some of that brand's qualities and applies them to fresher, more contemporary formats, and the range cookers themselves are excellent - solid-feeling and refined, with heavy-duty oven shelving, metal control knobs, Quickstart ovens, meat probes and powerful high quality gas and induction tops. In addition to the standard colours Britannia also offer a Colourange service, allowing you to specify exactly what you want for the cooker of your dreams.

ILVE
Not far outside of Venice you will find the quiet town of Campodarsego featuring a stunning, state-of-the-art cooker factory. Since 1952 this family firm has been producing premium ovens and cooktops for the residential and commercial markets, and they are very good at doing it! Renowned the world over, you will find an ILVE cooker in some of the very best kitchens. Their complete product range is impressively huge, but has been sensibly streamlined for the UK market. The headline
Roma
and
Milano
styles are feature-rich and include ILVE's E3 technology, giving accurate digital control and oven temperatures fro 30 to 300°C - great for bread-making and pizzas, for which there is a dedicated setting. Cost-reduced models
Ultimo
and
Moderna
give you all the same cooking functions at a more affordable price with some simplifications (double glazing instead of triple, storage flaps instead of drawers, etc.), or if you fancy something very special the magnificent
Majestic
series gives you the full-blooded ILVE spec in an enhanced, physically deeper and grander form. Customisation of the hob allows you to design your range according to your needs, and you can even specify a bespoke colour, with a choice of chrome, brass or antique bronze trim. Quality and attention-to-detail defines the ILVE range, with professional-grade gas burners, SIX-zone induction hobs and quiet, civilised performance all adding up to something very special.
Which is the Best?
The big question, but a very subjective answer. All four of these brands are amazing, and you will not be disappointed whichever you choose. Your criteria will vary according to taste and needs, and if you need a more detailed break-down of functionality and features just give us a call.

The kitchen is a particularly special place in the home, and if you are even slightly serious about cooking there comes a time when a special range cooker makes complete sense, both as a functional cooking platform and as a statement in its own right. You may not be familiar with some of the premium brands on the market but do not be afraid of considering one of these incredibly good and well-established names. They really know their stuff, and in the UK are very well supported by distributors with small teams passionate about ensuring the continued excellence of their brand reputation. Cooking should be a pleasure, not a chore, and cooking on a top-notch appliance is an enhanced experience you will grow to love even more. To find out more about these stunning brands, or the several others you will find on our website, just call our knowledgeable team for a chat, on 01244 402975, and put one in the heart of your home.