New Lacanche Induction Models - Including Macon Induction!
Part of the pleasure of investing in a Lacanche range cooker is the ability to choose exactly the right specification to suit your cooking needs. An increasing number of owners love the traditional values of the Lacanche brand, but perhaps enjoy the benefits that an induction hob can bring - power, control and easy care. The good news is that Lacanche have added the induction option to more of their models in recognition of the growing interest.
Now you can specify an induction hob on the highly popular 100cm Macon in addition to its sister product the Cluny, plus the 140cm Chemin or Chaussin, and the 180cm Avalon. On the larger models the induction hotplate can be supplemented by additional hob modules alongside, to give you a choice of additional gas or electric rings, griddle or barbecue zones or even a deep fat fryer.
The Macon Induction
The new
Lacanche Macon Induction
is a particularly exciting development, as British cooks have always loved this model for its separate grill cavity (which also doubles as an oven) and compact 100cm format. A choice of static and convection (fanned) electric ovens is also available. The similarly popular
Cluny 100 Induction
has been available for a while now, and features a pleasing symmetrical layout with no separate grill.
From 90cm to 220cm wide - Lacanche induction is the ultimate choice for a discerning cook in any kitchen
Maximum Power Using the Best Technology Available
As you may expect of such an aspirational brand, the induction units Lacanche use on all of their models are the very best available - G5 or fifth-generation modules which really are a cut above the rest in terms of power, speed, efficiency and reliability. You get six of these zones with most Lacanche induction ranges (four on some models), operated by the solid metal rotary controls on the front of the cooker, which you can specify in a choice of four finishes - brass, chrome, nickel or brushed chrome - to work beautifully with your choice of enamel (there are over 20 high-lustre colours) or stainless steel.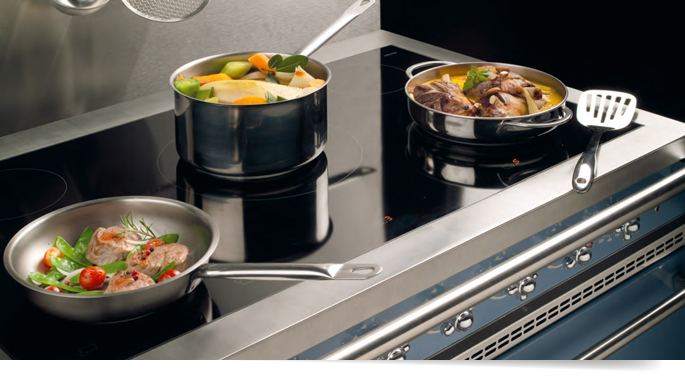 Cooking with Induction
Used in professional kitchens for almost 30 years, induction utilises electro-magnetic energy which act directly within the material of the pan, so you get a very efficient delivery of heat which is fast-acting and highly controllable. Automatic pan detection and boil-dry protection are additional benefits and, because the hotplate itself does not product heat, induction is a safer and more civilised way to cook, as it only receives heat conducted back from the pan so stays safe to touch. The technology has evolved much since its introduction to domestic ranges, making it a very refined cooking experience which is very hard to beat - all the advantages of gas with the easy-clean benefits of ceramic.
We are pleased to see Lacanche broadening their induction range - they are certainly not a manufacturer to stand still. Despite their very traditional appearance the technology and hand-built engineering they employ is second-to-none, and definitely built to last. You should certainly expect a good 25 years very satisfying cooking from one of these professional-grade cookers, and a good few admiring comments along the way.
to see the entire Lacanche electric collection