New Fisher & Paykel 90cm Range Cooker with a Professional Touch
Fisher & Paykel have freshened up their product range with the introduction of a rather splendid 90cm range cooker which should get some serious attention from serious cooks. The single cavity Fisher & Paykel OR90SDBGFX3, if inelegantly named, is a lovely looking and very capable cooker well worth a closer look.
Stunning Professional Style
To consider the cosmetics first, the OR90SDBGFX3 benefits from Fisher & Paykel's usual flair for linear elegance, with its door glass and plinth louvres spanning the width of the cooker and setting the visual tone. The elegance continues with the crisp detailing of the rectangular-section door handle and the brushed stainless steel look of the solid metal control knobs. The overall effect is one of competence and restrained style, and this is also echoed in the brand's famously good refrigeration and dishwasher products.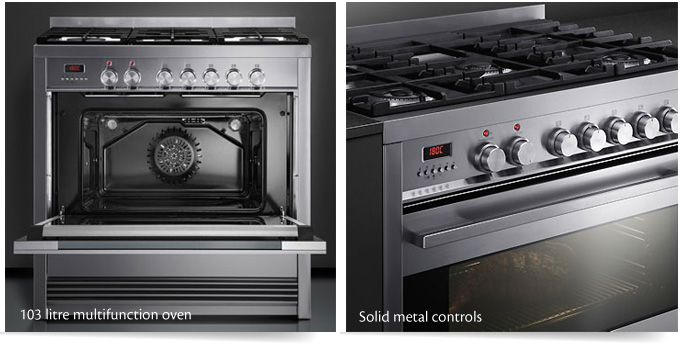 Very Impressive Cooking Credentials
When it comes to features and performance, the new OR90SDBGFX3 offers the home chef plenty, starting with a copious 103 litre oven (87L useable volume) with 8 oven and grill functions, including a rotisserie. The oven features a range of 5 sensibly designed shelves including anti-tip, step-down and plate-rack shelves, and one pair of telescopic runners. The large grill element drops down for easy cleaning, plus there are catalytic self-clean liners to the sides, a grease filter on the fan and removable inner door glass. An impressively powerful gas hob features a terrific triple ring 4.5kW/0.8kW dual control main burner, plus two 3.5kW triple ring wok burners, a 3kW and a 1.75kW burner. The dual control main burner allows you to control the small inner burner independently for gentle simmering, or to add it to the full force of the main burner for fast boiling or sizzling stir-fries. Normally a range at this price would give you a mere one 3.5kW wok burner, so the fact that you have two of these plus an even more powerful central burner is great value, and is going to make all the difference to your cooking experience. A cast iron wok support is included, and there is a useful full width storage drawer below the oven.
A stunningly good range of matching refrigeration and dishwashing appliances is also available
At £1995*, including VAT and delivery, this new Fisher and Paykel 90cm range delivers a serious bit of cooking kit for a very reasonable price, and it is great to see this clever and well-regarded brand raising their game a little on the cooking front. The OR90SDBGFX3 would look great in any kitchen, but its highly professional persona definitely presses all the right buttons for the cooking-focussed home chef looking for a compact and capable work-horse which offers something a little different.
for full product details
*Prices correct as of February 2015