New DeLonghi Vintage 90 Range Cookers - a Retro Delight
DeLonghi is a brand very familiar to UK consumers, and one to be seen in many kitchens on some very well presented coffee machines and other small appliances, as well as on some smart and affordable range cookers. DeLonghi have just launched a
revised range cooker collection
which should elevate the brand even further in the minds of British cooks.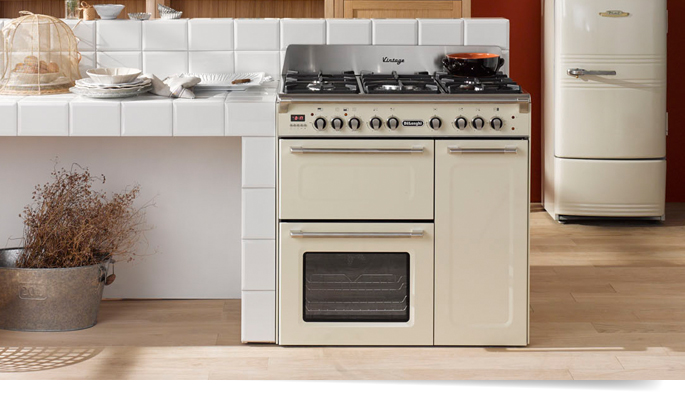 At home in all sorts of kitchens the Delonghi Vintage 90DF is as good looking as it is well made, and is quite a bargain too!
A New Look for DeLonghi
DeLonghi is a famous Italian brand, and when it comes to cookers it is one we usually associate with stainless steel range cookers of a very familiar Italian type. These are great, and DeLonghi's
Professional Series
continues to serve this market very well, but in the UK we like our cookers with a bit of character so the designers at DeLonghi's factory near Venice have been working very hard on refining this desire and have hit the nail on the head in the form of the
DeLonghi Vintage 90DF
and its sibling Vintage 90 Twin and Vintage 90 Single models.
Impeccable detailing makes the Vintage 90 series a highly appealing option in a competitive market
Flagship Three Cavity Model
The first thing that strikes you on seeing and touching the DeLonghi Vintage 90DF is its obvious quality and the value for money that this represents. The doors open and close with a reassuringly solid clunk which immediately backs up what your eyes are telling you, that this is a cooker which has been well engineered with more than usual attention to detail. The hob and rear upstand are stainless steel, an unusual choice but one which give this compact range cooker a pleasingly purposeful air. This stainless steel theme is picked up by the full width towel rail and door handles, whose soft detailing is beautifully balanced with the crisply defined control knobs, which are plastic and nicely finished with a brushed metalised material which looks and feels great. The oven door panels are subtly contoured with a gentle bevel which helps gives the whole cooker that traditional feel without being too defined. Available in an elegantly pale Cream or a handsome Black, the Vintage 90DF has been designed to look perfect in a wide range of kitchens, from very country-style through to classic or Shaker-style or even fairly modern designs. The Vintage character allows you to perhaps continue this theme with a retro refrigerator and small appliances, of which there is a good selection on the market in matching colours.
Specification
The three cavity format gives you a fair sized 59 litre main oven with multiple functions, allowing you to choose fanned or conventional cooking or closed-door fanned grilling (there is also a slow-cooking function). Both this and the 37 litre grill cavity also give you telescopic oven shelves, plus a good quality and surprisingly large enamelled tray, trivet and handle in each. The tall 73 litre fanned oven, although narrow, is great for batch baking and also has a useful defrost setting, and as well as two standard shelves includes a plate warming rack (which can be flipped to use as a normal shelf), with a warming setting on the temperature dial. All cavities have wipe-clean enamel interiors. On top there are five gas burners, including a 4kW central wok burner which is unusually powerful for a range cooker at this price-point - you also get a cast iron wok support to match the cast iron pan supports. Single-handed ignition and flame-safety sensors are both there to make things safe and easy, and there is an LED clock and programmer which controls the main oven.
The tall fanned oven is perfect for batch baking or for those larger occasions when you need a little more room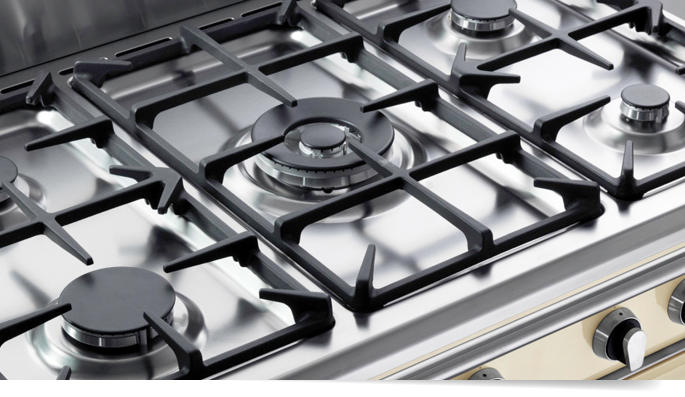 A 4kW central burner is more powerful than most at this price, whether used for a wok or simply to get things boiling fast
More Vintage Formats to Follow
In addition to the three cavity model there are two equally attractive siblings on the horizon - a 90cm Vintage 90DF Twin and a Vintage 90DF Single. With the same design cues and build quality, the 90 Twin loses the separate grill and features an integrated grill in each of its oven cavities, and will initially be available in White only. The Vintage 90DF Single features a cavernous 106 litre multifunction oven, and will launch in Black and a lovely French Blue.

Launching at around £1100 The DeLonghi Vintage 90DF really does give you a great spec for a great price, and with its superb good looks and quality feel it gives some of its mainstream and more expensive competitors a real run for their money. If you are looking for a traditional 90cm range cooker with some impressive credentials this rather delightful new model from established cooking brand DeLonghi should certainly be high on your list. The designers have clearly put a lot of effort into making sure the Vintage series ticks all the boxes for UK consumers and these terrific range cookers should make quite an impression.
The DeLonghi Vintage Series