Mercury Ranges Now in Indigo Blue
Aspirational range cooker brand Mercury have added a new colour to their palette in the form of Indigo - a striking and rich shade of blue which should get a few heads turning.
Mercury 1082 Induction in Indigo. Sleek, powerful and efficient cooking for the discerning home.
Indigo vs Blueberry
The new Indigo enamel joins six other finishes on the Mercury palette - Stainless Steel, Oyster (ivory), Snowdrop (white), Liquorice (gloss black), Ash Black (matt) and Blueberry. Having two blues is unusual, but Indigo is a deeper and more sober shade that Blueberry, which has a bit more of a purplish punch to it, and will hopefully have a broader appeal. The Mercury's turned bright steel trim certainly looks very smart as a contrast with rich blues, so it is easy to see why the brand is pushing in this direction. Both blues look great, but overall the current palette is fairly safe, and it would be great to see some more lively and interesting colours coming along for this very contemporary cooker collection, which undoubtedly appeals to those with more adventurous or design-led tastes. Having said that, getting the colours right is a tricky business for manufacturers - things that look great in the marketing material can often be slow to sell - and they often rely on consumer opinion or "hall testing" before launching a new colour with confidence.
Premium Brand Values, Designer Appeal
Mercury is owned by Aga-Rangemaster, and is the top brand in their suite of three which all share the same underlying chassis and oven cavities, but are built to different standards of quality and performance to appeal to different sectors of the market. Mercury is consequently a stunningly well-presented brand with a greater sense of style than its very no-nonsense Falcon sibling and some enhancements which account for the elevated price-points. Doors are constructed in hand-welded, thicker steel; the very attractive control panels hand-built, and the heavy-duty oven shelves feature sturdy glide-out shelf runners. The substantial glide-out grill tray is another feature worthy of note. The brand-defining stainless steel side panels also add to the cost of production, as do the very tactile and visually appealing machine-turned metal controls and general trim quality.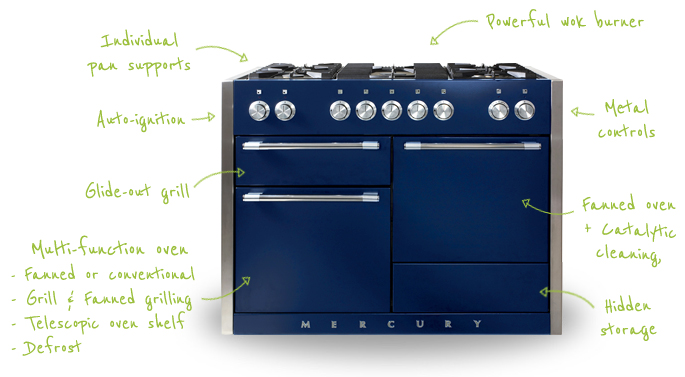 The Mercury 1200 shares its underlying chassis with Rangemaster and Falcon 110cm models, but offers key enhancements
Three Width Formats
Mercury adopts the same underlying frames as Rangemaster and Falcon, but the characteristic addition of fabricated stainless steel side panels means that on Mercury 1000 models you get the 90cm chassis, on the 1082 the 100cm chassis, and the 110cm chassis on 1200 models. Consequently there is no 90cm Mercury in the collection. The stainless steel sides are an attractive feature which allows these impressive cookers to stand alone or exposed at the end of a run and still look great. Prices range from
£3995
* to
£4895
* including VAT and delivery.

*Prices correct as of June 2016