Maxine Brady - Top Ten Tips
The team here at
Rangecookers.co.uk
know that starting a kitchen project, whether it's a simple refresh or a complete re-fit, can be daunting. With so many decisions to be made on products, finishes and ways to maximise the space in your kitchen, an expert's advice is often welcome.
Well, who better to lend a helping hand than interior stylist and award-winning blogger Maxine Brady, author of
We Love Home Blog
.
Recently, we worked alongside Maxine, a Brighton-based blogger, journalist and TV presenter, on a kitchen photo shoot for
Style at Home
magazine. You can follow her on
Twitter
and
Facebook
.
During the course of the shoot, Maxine imparted much wisdom about how to manage a kitchen makeover. We will now hand over to her to share her top 10 tips to plan your way to kitchen perfection….
With special thanks to Lucy Axford for all photography. You can find Lucy on
Twitter
and
Facebook
.
Maxine Says…
1. In a small kitchen, look for a cooker that is a smaller in size like this
Stoves Sterling 600Ei Induction cooker
, which slotted into my tiny kitchen. Having such a visually prominent, yet small range cooker in my space makes my tiny kitchen look far more luxurious.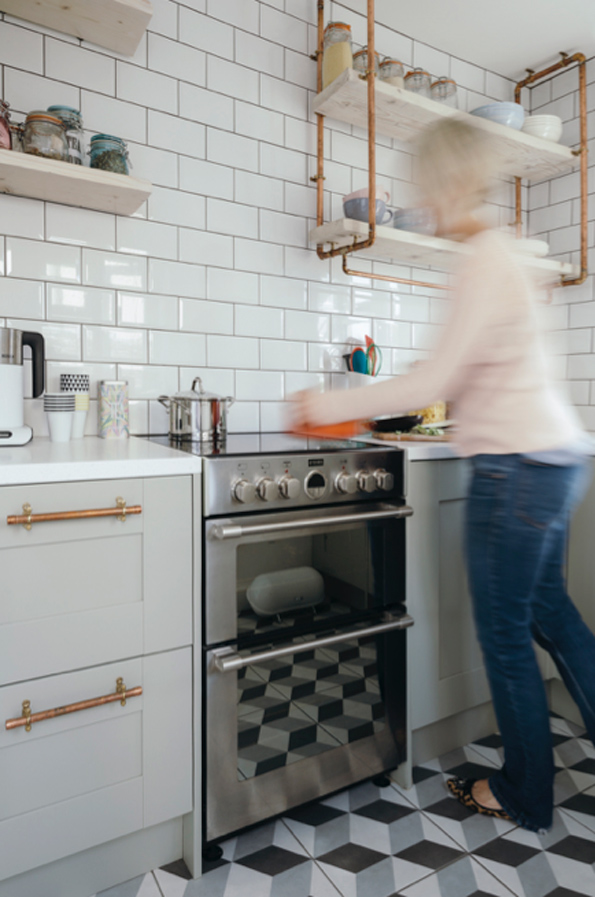 2. Add your own bespoke touches. Rather than going for shop bought handles, I made mine from copper plumber piping. They are totally unique to my home and make my units look rather special. They are a talking point in my home. Visit
here
to see how I made them. Not feeling so crafty? Some brands offer
bespoke and personalisation
services.
3. Add an accent colour - in my case I added bang-on-trend coppers. I picked out this colour with a sink and tap in this fashionable metallic shade.
4. Save money on units by putting up open shelving instead at a fraction of the cost. They are great for showing off all your china too. Keep mugs and plates handy with one made from scaffolding planks.
5.Tiling is the easiest way to add personality to your space. I've had my eye on these 3-D effects ones from
British Ceramic Tile
s forever. They trick the eye making my small kitchen feel larger than it is. In my mind it is worth investing in decent tiles.
6. How you cook will impact what range cooker you should go for. I'm always on the go so I wanted range cooker that would take seconds to heat up - that is why I picked a
Stoves Sterling 600Ei Induction cooker
. If you love baking, you may prefer a gas range, which is perfect for cakes. Planning on cooking large family meals? Then an electric range could be for you – they are perfect for heating up food at meals times.
7. Paint or tile walls? That is the question. In my case, as I have a small kitchen with no extractor, tiles were far more practical than paint which can peel away with the steam. In a larger space you can get away with emulsion creating a feature wall in your space.
8. Get inspired. Before you plan your kitchen, get all your ideas in one place. I love Pinterest for collating images together, which I then put on a mood board. I think pick out elements I love and try to integrate them into my own kitchen. In this case, I fell in love with New York coffee shops, which are full of open shelving, metro tiles, industrial touches and are easy to keep clean, a look that I replicated in this makeover.
9. Visit blogs. If you want to see how others do it, then there are a ton of interior blogs out there jam packed with ideas plus lots of know how on planning your remodel. These are real life experiences, which will help your kitchen refit run as smoothly as possible.
10. Don't think you have to go for white gloss units for a classic look. I went for sage green door fronts and then kept the rest of the scheme simple with white walls. I'm in love with heritage shades like grey, khaki, duck egg or even navy for kitchens. They will stand the test of times as fashions come and go.
Do you have any kitchen makeover tips or a beautiful kitchen makeover you want to shout about? Why not share them with us and Maxine on Twitter, Facebook, Instagram or Pinterest?