LPG Range Cookers - There is Still Hope!
When it comes to LPG range cookers it seems that Rangemaster are the last bastion of hope for UK consumers who do not have the luxury of mains gas, or very deep pockets.
As you will know if you have been looking for one, over the last ten years or so we have seen the options for LPG cookers dwindle as manufacturers decide to concentrate on higher volume products, and although this is understandable it leaves many people who may have an LPG range on its last legs with very few options. Most of these will live in rural locations where there may not be sufficient electrical power into the property to switch to a
dual fuel
cooker,
almost all of which can be converted to run on LPG
. If all you have is a 13amp socket until now the options have been to go for a very traditional-looking Rangemaster Classic 90 or 110, a very entry-level 90cm single cavity range from Caple, or a very old-school 100cm offering from Belling (which is due to retire). If you have a few thousand to spend the lovely French brand Lacanche is a terrific option but until recently that, as they say, was your lot.
Low Cost LPG Ranges
The choice in this sector is sparse, but the 90cm
Caple CR9111
is actually a great product if a single oven cavity suits your needs. A smart-looking modern range, it has energy-efficient triple-glazed doors and there is even a rotisserie feature. The five burner hob includes a powerful 3.7kW wok burner, and there is a storage compartment below the oven. In a similar vein, the
DeLonghi Professional 90G
is a smart and affordable option from a good Italian brand. Like the Caple, it comes configured for natural gas but includes a kit for conversion to LPG.
Alternatively, the 100cm
Belling Sandringham 100GT LPG
is a great option - a modern LPG range from a brand known for its balance of quality and value, and British made too! The Sandringham has replaced the previous and rather old fashioned Country Classic 100GT model, and is built to a modern standard on Belling's recently revised platform, offering two 49 litre gas ovens and a gas grill. The seven burner gas hob includes a particularly powerful 4kW wok burner, with a single piece hotplate topped with cast iron pan supports. Although it is available in Silver only, this is a useful finish which should adapt to most kitchens, as will the straightforward U-shaped tubular door handles. There is a touch control clock and minute minder, and a separate ignition button. The Sandringham is a good package all round which should suit British tastes very nicely.
Budget-conscious LPG ranges are limited, and you may need to consider a single cavity format.
Mid-priced LPG Range Cookers
Fortunately it is Aga-Rangemaster who have recently sailed to the rescue in the form of their 100cm gas models which they have thoughtfully designed to be convertible from natural gas to LPG, a facility shared only by the previously mentioned
Caple CR9111
. This is inspired thinking from the Rangemaster designers, as it really does give this already dominant brand an exclusive hold on this neglected mid-market niche area. As range cooker specialists they have the production flexibility to cater to this niche like no other brand - an opportunity afforded them by the newness of their 100cm format. Their long-standing 90 and 110cm platforms do not have this same flexibility, unfortunately.
In addition to the more traditional
Kitchener 100
and
Classic 100
models Rangemaster have now introduced a contemporary option, the
Professional Plus 100
in all gas. This will be a breath of fresh air for many LPG-bound countryside dwellers, not all of whom go for the country-kitchen look! The Kitchener is just neutral enough to work in a contemporary kitchen, but the Professional Plus is perfect with the sharper lines and bolder finishes many modern households prefer.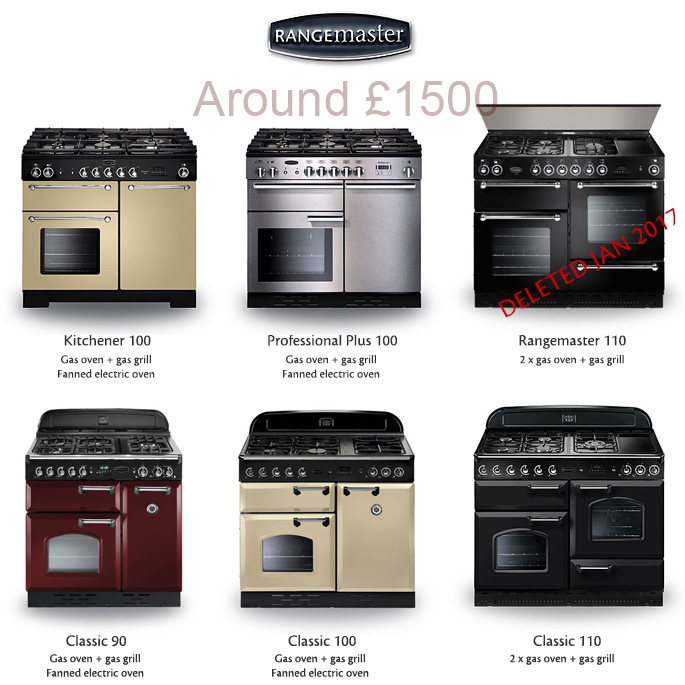 Premium Brand LPG Ranges
If your budget can go a little higher, premium brand Lacanche will be a very safe investment. Hand-built in Burgundy to a breath-taking standard, these commercial-grade cookers are beautiful to look at and use, and are made to take even the most gastronomically adventurous treatment in their stride. The all-gas 70cm
Cormatin
and 100cm
Cluny
models come in two styles, the very French-flavoured Classic or the focused and sleek Modern - both identical in functionality but designed to be beautiful in their own way. Lacanche own an enamelling plant in Switzerland, so the array of 30 high-lustre colours available is incredible and, together with a choice of six trim finishes, gives you every opportunity to specify something very special which will continue to delight the eye as well as the taste buds for many years to come.
Aspirational French brand Lacanche's all-LPG ranges are stunning, but do not include a grill function
To conclude, if you need and LPG cooker to fill that space in the kitchen it seems all is not lost. Rangemaster have thankfully seen the chance to fill the gap, as it were, and it is great to see some new product entering what was beginning to look like a virtually extinct product area. There is still a strong if low-volume need for LPG ranges, so it is refreshing that a specialist like Rangemaster can use its production power to rise to the occasion. Hopefully those trusty British brands Belling or Stoves will also see the opportunity and introduce some better options for their loyal customers.