GE Appliances - National Stock Clearance Bargains!
Prestigious US brand GE Appliances have announced that they are withdrawing from the European market, so as exclusive online retailers for the brand we are able to offer the remaining UK refrigeration products at knock-down prices to clear the stocks.
This is great news for customers who may be looking for bargain-priced appliances, as these notoriously high quality GE and GE Monogram refrigerators are the real McCoy when it comes to American-style side-by-side refrigeration, and the stock clearance represents a rare opportunity to get hold of one of these excellent products at a more advantageous price than ever before.
Trade Up to GE - While You Can!
There are plenty of cheap SxS fridges on the market, but GE has always represented the "you get what you pay for" end of the scale, with top-end components, clever design and superb build quality very much part of the brand values, particularly with the prestigious GE Monogram brand. The much sought-after
GE Monogram ZSEP480DYSS
48" Integrated fridge-freezer is now reduced by a massive £1700 from £8895 to
£7195
! Still a large sum, but a small price to pay to have this iconic brand in your kitchen, with the prospect of many years loyal service ahead. At time of writing there are only 10 left in the UK, so be quick!
If you need lots of storage then the chance to own one of these 48 inch integrated ZSEP480DYSS models has never been better!
Very Few Remaining
The number of units remaining in the GE's UK warehouse is literally in the single figures for some models. Discounts on GE fridges are very rare, so we anticipate the remaining stock will quickly dwindle once word gets out.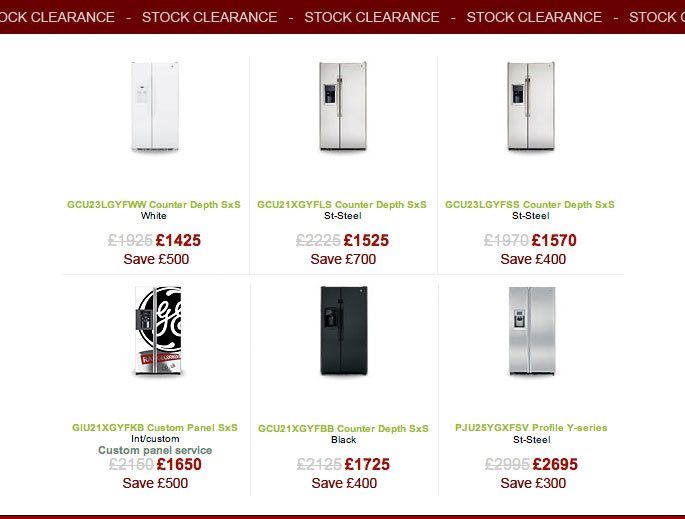 Stocks are already low, so take advantage of these great clearance prices before someone else beats you to it! CLICK HERE
Full Ongoing Support for GE Appliances
You need not worry about spares and service. Despite GE's withdrawal from the UK there will be a full support structure in place to ensure you get the best service should you encounter any issues. The full 2 year GE warranty will be firmly in place, too, or 3 years for the GE Monogram brand.
It is sad to see GE withdrawing from the European market in these difficult times, but with their reputation for quality and performance you can be confident that investing in one of these last remaining models will be a very shrewd move, making you a member of a pretty exclusive club!
to see the GE product range and snap up a bargain