Falcon CKR Deleted from January 2017
It seems the rather fabulous Falcon CKR has reached the end of the road, and will no longer be available from 1 January 2017. The chunky range cooker has always been somewhat niche, and these days that just will not cut it, so this appealing range will be no more.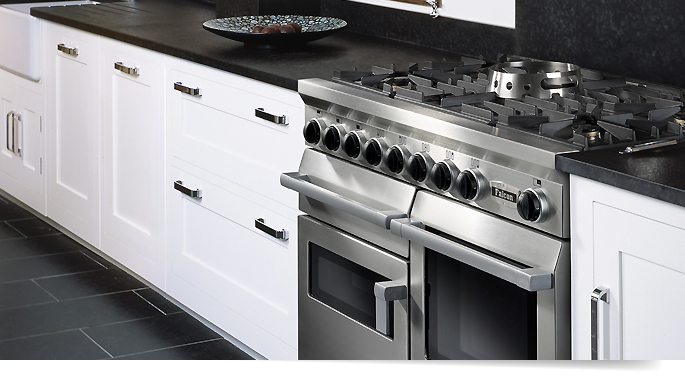 The Falcon CKR's distinctive look never had a broad appeal, but we and others always loved it. Order while you can!
Bold and Beautiful
A bold design, the Falcon CKR's gloriously clunky look has always appealed to those with a fondness for a more industrial aesthetic - serious home chefs or perhaps professionals who love the CKR's solidity and purposeful character. Unfortunately this is not a mainstream appeal, and although there has historically been a place for this more marginal need within Aga-Rangemaster's portfolio these are different times, and the iconic manufacturer's new American owners can no longer justify its existence. A sad day, then, for admirers of this ruggedly handsome cooking machine, and we include ourselves in their number. We even liked the windowless version which was deleted a couple of years back, alluding as it did to even more aspirational range brands like Wolfe or Viking, the latter ironically also owned by Aga Rangemaster's new owners, Middleby Corporation.

Some Alternative Suggestions
The Falcon CKR was pretty unique, but if you are in the market for a premium quality 110cm stainless steel range cooker then the following are a good place to start.