The Falcon CKR 1092 - Rugged Good Looks, and a True Pro
If you are a professional cook or someone who appreciates the chunky aethetic of professional cooking equipment, you will probably love the Falcon CKR 1092. Aga-owned Falcon have cleverly come up with a formula which celebrates the raw simplicity of professional kitchen equipment but balances this with some finesse and modernity, and the resulting cooker is very fine indeed.
Bold and Balanced
There is no denying that the Falcon CKR is a distinct and defined choice with perhaps a limited appeal, but those to whom it does appeal seem really to love it, and that certainly includes the team here at Rangecookers.co.uk. Agreeably monolythic, the CKR's slab-like frontage is fabricated using a welded stainless steel door construction, nicely finished and bevelled to afford it an industrial simpliity, and this is balanced by beautifully considered door handles and window apertures. The bold control panel features large no-nonsense control knobs and indicator neons, as well as the reassuring Falcon badge.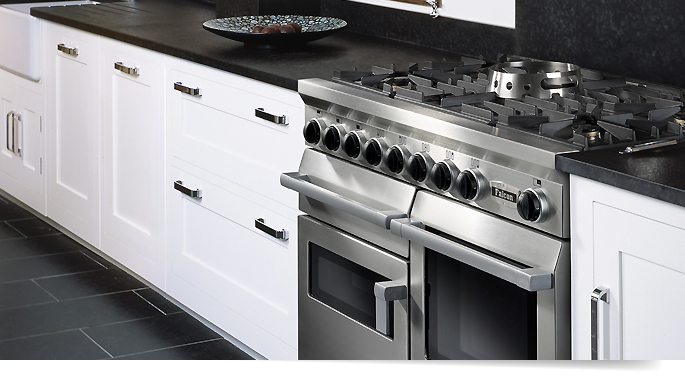 Stunning modern lines - the no-nonsense Falcon CKR means business and looks great
High Performance Specification
The 110cm CKR 1092's specifiction is identical to the Falcon 1092 Deluxe, with a powerful five burner hotplate featuring a 5kW central burner and cast iron pan supports in a choice of matt or gloss enamel. A stainless steel wokk support is also included. The 67 litre main oven is multifuntion, allowing you the versatility to choose from a range of fanned, conventional or grill functions according to your needs. A 69 litre fanned second oven is also available, plus a high speed dual circuit variable grill compartment with an impressive heavy-duty glide-out grill tray. A storage drawer is also featured for your trays and useful accessories.
A 5kw central burner is supplied with a rather nice stainless steel wok support, which should get things sizzling nicely
We think the Falcon CKR 1092 is a rare treat, and something a bit off the beaten track. The Falcon brand is a great aspirational name to have in your kitchen, and in itself says much about its owners serious approach to cooking. The CKR takes this up a notch and manages to bring serious industrial design values into the domestic kitchen with enough subtle detail to make it seem perfectly at home.
for full details of the Falcon CKR 1092