DeLonghi Vintage 90 Models Now in Stainless Steel
DeLonghi have launched stainless steel version of their excellent and very popular 90cm Vintage style range cookers, in single and dual cavity formats.
The DeLonghi Vintage series has really hit the mark, as far as we are concerned, offering a great-looking and solidly-built cooking platform at an amazingly good price. The Vintage aesthetic is a clever balance of traditional and contemporary styling which means these range cookers can look terrific in a whole spectrum of kitchens. The addition of stainless steel to the existing palette of cream, black, light blue and white (depending on model) really opens this product line up to those who love the sleek utilitarian look of brushed steel in the kitchen, and it really does lend itself well to the Vintage look, picking up the gently arched bevel detail around the windows and showing off the brighter detail of the beautiful handles and crisply designed, metalised control knobs.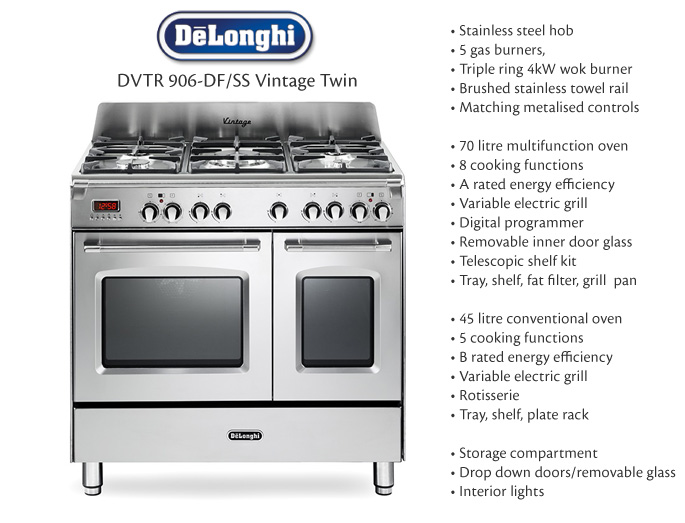 The gas hob is stainless steel on all colour variants, and its rounded front edge is another subtle but crucial detail that sets this range cooker apart, framed by a full-width towel rail and a removable upstand at the rear. The five burner hob features a powerful 4kW triple ring central burner, a real bonus for a cooker at this modest price-point, and cast iron pan supports nestling comfortably into the single-piece hotplate.
The Vintage Pro features elegant cast iron pan supports and double-glazed doors with removable inner panel for easy cleaning
For many people the twin cavity
DVTR 906-DF/SS
. will be the more flexible choice, with a multifunction and surprisingly capacious 70 litre main oven (8 fanned and conventional settings), backed up by a handy 45 litre conventional second oven, with 5 functions including a rotisserie. There is a variable grill in each oven. For others, though, the simplicity of the single cavity
DVRS 906-DF/SS
, with its 87 litre multifunction oven is a real boon. The drop down double-glazed doors feature high quality hinges and removable inner panels for easy cleaning, and there is also a thoughtful grease filter over the fan. Whichever you choose, there is also a digitally controlled programmer to help manage meal-times.
We think these stainless steel models will do very well. The existing and plainer DeLonghi Professional series, also stainless steel, is already a popular choice, so the more appealing form of the Vintage series should pull in extra interest from these customers as well as some new ones. The DeLonghi brand is one known to and trusted by British consumers, and these excellent new range cookers go a long way to endorse this trust, and are an exceptionally good balance of quality and price. We recommend you take a closer look.