But Will I Fit a Turkey In My Oven?
One question we are asked frequently about range cookers, especially during the festive season, is 'will a turkey fit in my oven?' - so, armed with an about average-sized turkey, a selection of perfectly roasted vegetables and a camera, we set out to demonstrate using a few of our displays...
Our turkey (4kg / 8.8lb) was cooked in a 35.4cm x 32.5cm roasting tray (14" x 13"), available
HERE
, which fitted all of our test ovens nicely, but some more snugly than others. The oven sizes shown are measured at the front of the aperture to the nearest centimetre.
Stoves Richmond 1000
Oven cavity size:
42w x 33h x 39d
Comments:
A smaller cavity on this 100cm wide range, but still fine for our tray. The telescopic shelf is clearly a great help for basting! The second oven is identical in width and height, plus there is a useful smaller third oven in the grill cavity, and even a slow cook oven on the bottom right.
Rangemaster Classic Deluxe 100
Oven cavity size:
46w x 43h x 42d
Comments:
This very generous main oven is common to nearly all Rangemaster, Falcon and Mercury ranges and copes easily with our turkey, with plenty of room for more in terms of height, plus it has stay-clean linings side and rear. The Rangemaster's smallish swing-out "Handyrack" roasting tray has to be removed from the oven door. The second oven on the right is huge enough to cope with all your seasonal family demands.
Britannia Delphi XG110
Oven cavity size:
45w x 33h x 41d
Comments:
No complaints with this Britannia. Not quite as big as the Rangecookers models below, but not far off. Note the stay clean linings and chunky shelves - additional telescopic runners are also available. The second oven is slightly smaller but does feature a rotisserie and a third grill.
Rangecookers Select 90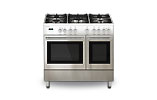 Oven cavity size:
46w x 33h x 45d
Comments:
The oven on this 90cm model is surprisingly big - the same width as the Rangemaster but slightly deeper front to back. We actually cooked our bird in one of these, too! A narrow second oven is available for baking or grilling.
Lacanche Macon 100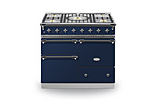 Oven cavity size:
40w x 32h x 39d
Comments:
A more snug fit on this 100cm Lacanche, with only 2.5cm each side to spare. The second oven is the same size, plus the grill cavity doubles as a third oven to cope with the extra bits and bobs you may need on the go at Christmas.
Rangecookers Ethos 100
Oven cavity size:
46w x 33h x 43d
Comments:
Another satisfyingly wide and deep cavity, the main oven on this 100cm range copes very well. The second oven is narrow, but still very useful for extra dishes or for grilling. The standard telescopic runners are certainly a useful feature.