Bertazzoni Heritage 90 Induction - a UK Exclusive for Rangecookers.co.uk!
Bertazzoni Heritage is a stunningly attractive and well-appointed series of range cookers with a tastefully executed traditional look. Rangecookers.co.uk now has exclusive access to a new 90cm induction model which combines this with a clean and efficient, powerful electric hob to give you a gorgeous cooker which will fit beautifully into any modern kitchen which celebrates traditional style.
First Class Induction Power
Over 135 years Beratzzoni has established itself as one of the very best Italian cooking appliance brands, and their Heritage series is at the pinnacle of their impressive range cooker collection. Underpinned by great engineering and the best components, the characterful HER90 5I MFE D employs some nicely understated finial detail, combined with solid brass castings as door handle brackets and control bezels, with arched oven windows framed by a delightfully contrasting edge-trim. The control facia also features a circular analogue temperature gauge, a useful visual reference for how your main oven is getting along. On top, the five zone induction hob delivers ultra-controllable cooking power via rotary controls and digital display under the glass surface. Pan and boil-dry detection, a power boost function and child lock all help with day-to-day cooking needs, and the pleasure of cooking with induction is immediately apparent - all the more so when you can safely wipe the surface clean when you have finished.
True Integrity, Both Inside and Out
The triple-glazed main door, bearing that rather lovely Bertazzoni roundel badge and with removable inner glass, opens downwards on top quality anti-slam hinges to reveal an A-rated 69 litre rapid-start multifunction oven with great versatility offered by fanned and conventional elements, as well as a grill. There is even a dedicated pizza function - it is an Italian cooker after all! The baking/grill tray glides in and out on a pair of telescopic shelf runners, with two impressively chunky shelves on standard adjustable side-runners. On the right, the 38 litre auxiliary oven gives you three non-fanned oven functions, plus a grill and rotisserie, and is A+ rated. It comes with a slide-in baking/grill tray and wire trivet, with a thick single shelf below.
Matching Accessories
Its superb good looks aside, the quality and feel of this Bertazzoni platform really is something special. The same goes for the matching Heritage hood and splashback - a perfect way to complete the picture and set your kitchen up the way it deserves to be. Head-turning top-notch appliances can make all the difference, and it does not get much better than this.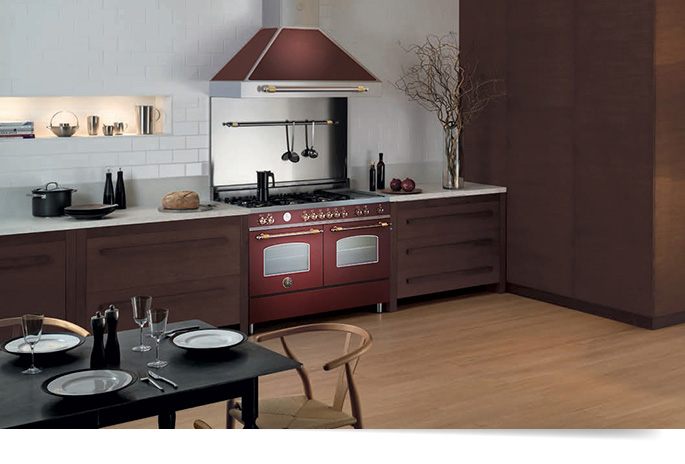 The beautifully poised Bertazzoni Heritage series carries itself well in a modern or a traditional setting (120 dual fuel model shown)
This £4295* 90cm induction model (HER90 5I MFE D) is currently a UK exclusive only available to us at Rangecookers.co.uk, and is the first of a new Heritage induction series which should be a perfect match for many modern households looking for an excellent contemporary range cooker for a traditional or classically designed home, but the Heritage styling is so well-balanced it will work beautifully in a contemporary kitchen too. For those with contemporary tastes there is also the Bertazzoni Professional series to consider. We recommend you take a look and allow yourself to fall in love with Bertazzoni's undoubted latin charms. To see the full Bertazzoni collection CLICK HERE.
*Price at September 2017