Belling Cookcentre 90 Now Available from Rangecookers.co.uk
Belling have just launched a lovely new range cooker to replace their DB4 90 series. The new Belling Cookcentre is a contemporary range with a fresh new look which should be perfect for Belling's loyal and family-focused customer base.
The new Cookentre is fully programmable and features a slick and easy touch control display
The new Belling Cookcentre follows the same formats and finishes as its popular predecessor, but there are a good few hidden engineering improvements which make it a more evolved cooker under the skin - a good quality, solid feeling cooker, and it certainly looks the part too. With a more sophisticated persona, this is a contemporary range cooker which will be very at home in any modern kitchen. Its control knobs and flat door handles are finished in chrome to bring a little glamour into the room, but the overall appearance is nicely understated and very balanced - a modern range cooker for a discerning family home.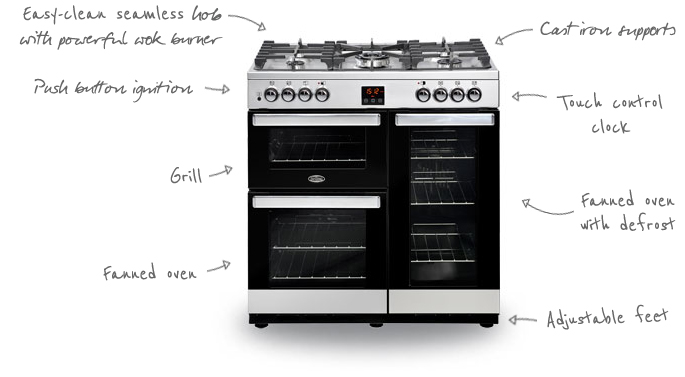 The Belling Cookcentre 90DFT - this dual fuel model features two fanned ovens and a gas hob
Contemporary Finishes
There are three finishes to choose from: an all-black "Black" model, a "Stainless Steel" model with black doors, plus an all-stainless steel model named the
Belling Cookcentre Professional
, which has steel-clad glass doors.
The Belling Cookcentre 90Ei gives you a four zone induction hob plus handy warming area - all for a brilliant price around £1000
Roomy Tall Oven with Window
One innovation with the Cookcentre is that the tall oven on the 90cm models includes a window aperture - a useful thing on a cavity perfect for batch baking, and a departure from the convention on similar cookers. This 76 litre cavity is wide enough for a standard baking tray, and is fanned electric on all models.
If you love cooking with gas, the Cookcentre is the perfect modern solution - seen here as the Cookcentre 90GT Professional
90, 100 and 110 Models Available, and a Choice of Electric Hobs
Although the 90 has been rolled out first, you can actually specify your Belling Cookcentre in 90, 100 or 110cm widths, and can opt for gas, dual fuel or all electric formats. Five burner gas hobs on 90cm models, or seven burners on 100 and 110cm gas or dual fuel variants all feature single-piece hotplates, 3.5kW wok burners, flame safety devices and cast iron pan supports. Electric models feature a choice of five zone radiant ceramic hob or a lovely induction hob with four cooking zones, a warming area and touch controls on the hob which tidily reduces the number of knobs on the control panel. The induction models are still sensibly priced to ensure they are within reach of the target customer, but it is great that Belling also recognise the need to retain the lower priced ceramic models too.
Oven Formats
Dual fuel and electric Cookcentre 100 and 110 models feature one fanned oven and one conventional oven, plus a dual circuit electric grill, with two gas ovens and a gas grill on the Cookcentre 100GT and Cookcentre 110GT. The tall oven on all 90cm models is fanned electric, so the
Cookcentre 90GT
features this plus a gas main oven and a gas grill, but still only needs a 13amp socket. Dual fuel and electric 90cm models have two fanned ovens along with an electric dual circuit grill. One new feature you will find on all models is a touch control timer with LED display - a simple 3-button system which is easy to use and wonderfully easy to clean. This really lifts the appearance and gives you not only a handy minute minder but allows you to fully program the main oven on dual and electric models, with timed-to-off function only on gas models. The oven cavities themselves are fairly standard, with easy-clean enamel and standard oven shelves, plus lights on both ovens. For full details see the spec tables on our main product pages
HERE
.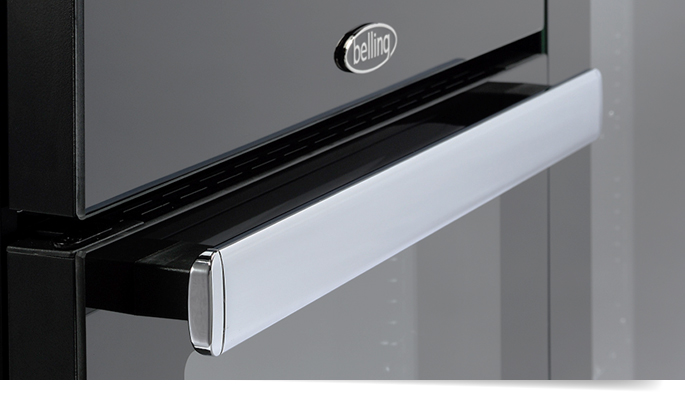 Price-wise the Belling Cookcentre series slots into the low end of the mid-market, a very competitive area but one in which Belling has always excelled. This new range sits alongside the new and more traditional Belling Farmhouse series and looks set to be a very successful step forward for this famous and much loved British brand. Crisp modern lines and a nice touch of chrome, and that sleek touch control timer, are right on target for a style-conscious market, whether a younger family or a more established cook who has their eye on a solid and reliable cooker from a trusted source. Like its sister brand Stoves, these cookers are designed and built here in Britain, and it will be great to see them proving as popular as ever.