Belling by Sebastian Conran comes to the Rangecookers Website
Belling have worked with leading British designer Sebastian Conran and come up with a beautiful collection of integrated cooking appliances which really is something quite special. Limited in its availability, we are proud to say that Belling have chosen to make this collection available to Rangecookers.co.uk as online partner.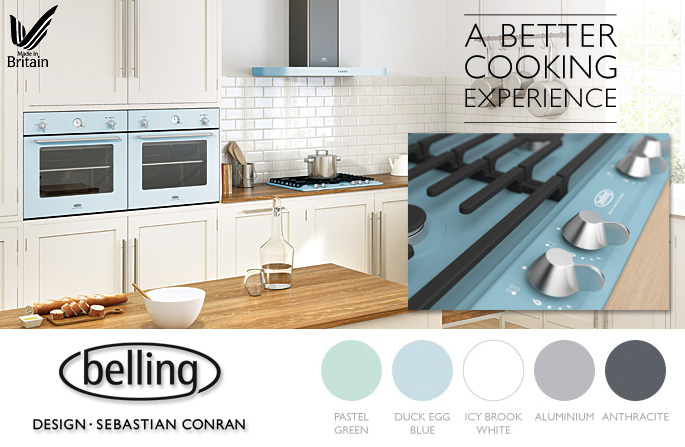 A Match Made in Heaven
Renowned for his elegant and considered product design in a variety of industrial areas, many UK consumers will be aware of Sebastian Conran's tableware and cookware collections which employ wonderfully organic forms and materials and make use of beautifully subtle colours and finishes. Quite an inspired move by Belling, then, to commission Conran to work with them in developing a series of built-in cooking appliances to further improve the company's position as one of Britain's favourite and most familiar brands. The resulting collection proves what a great collaboration this is - two partners who both know how to deliver products which hit the mark in terms of design and functionality, and at a sensible price which suits Belling's traditionally family-oriented market very nicely.
The Belling by Sebastian Conran collection uses a visual vocabulary evidently informed by aircraft controls and wood-burning stoves, one which is simple but very elegantly rendered across the product range. Straightforward forms allow the key features to delight the eye - the circular analogue oven timer, the solid metal controls with satin chrome finish, and the carefully chosen Gill Sans typeface on the graphics. Key to the execution are the colours, five satin finishes which will work wonderfully well in a variety of kitchen settings - Pastel Green, Duck Egg Blue, Icy Brook White, Aluminium and Anthracite. The overall feel is modern yet characterful, understated, and definitely something quite distinctive.
"Traditional quality - contemporary design" - Sebastian Conran's goal for the project
Belling by Sebastian Conran Ovens
Click Here to see the range
There are A-rated two ovens in the Belling by Sebastian Conran range, a 90cm double and a 60cm single, the latter can be mounted under the worktop if desired. The
SCBI90FP
double has a fully programmable fanned main oven, plus a static oven and dual circuit variable electric grill at the top. The
SCBI60FP
single oven is also fanned, but with an integrated variable electric grill. The glass doors are air-washed to keep them cool, and the inner door glass is removable for easy cleaning. Shelves and side racks are removable to allow access to the easy-clean enamel cavity walls, with the shelves also including the Sebastian Conran logo as a nice detail. The clever and rather lovely circular clock/timer shares the control panel with some beautifully shaped and nicely finished solid metal controls (a first for Belling, evidently).
Gas and Induction Hobs
Click Here to see the range
In matching colours and with equal panache, the two gas hobs in the collection - the four burner 60cm Belling
SCGHU60GC
and the five burner 70cm
SCGHU70GC
- complement the ovens perfectly, sharing the same metal control knobs and with bespoke cast iron pan supports. The 70cm model includes a powerful 3.5kW central wok burner, with solid brass detailing, which is ideal for wok cooking or just as a very fast burner for general cooking. The
SCIH60
induction hob gives you all the power, controllability and ease of cleaning that induction has to offer, plus useful features like pan- and boil-dry detection, child locks, auto shut-off and power boost. Touch controls with 9 power levels make it very easy to see what is going on, and the ceramic surface gets only moderately warm from heat reflected from the pan.
Belling by Conran Hoods
Click Here to see the range
One kitchen feature which really makes an impact is the cooker hood, and the 60cm Belling
SCCHIM60
and 90cm
SCCHIM90
have been carefully designed by Sebastian Conran to make a great impression. The simple flat form has been softened with curved outer edges on the chimney and the main body, where they work well to enhance your chosen finish, and there is a chrome utensil rail around the chimney section to give a further touch of subtle detail. You can use this to keep a few items handy or just as for decorative effect. With 750 cubic metres of air extraction per hour on offer, these 3 speed hoods are not just there for effect, though, and will keep your kitchen clean of smoke, steam and odours very efficiently. Twin LED spotlights provide essential illumination, and the aluminium mesh grease filters can be washed in the dishwasher or by hand. A carbon filter kit is available should you wish to re-circulate rather than extract.
When you buy any Belling oven from Rangecookers.co.uk, don't forget you will receive a £30 discount when you add any second oven, a hob or hood.
We think the Belling by Sebastian Conran collection is a great example of what can happen when two parties who thoroughly know their stuff get together. Nominated for the German Design Award 2014, this fine range of cooking appliances will appeal to the many consumers looking for something with a touch more refinement, and perhaps some colour, in preference to the stainless steel and black that have come to dominate the market. There is a distinct lack of more traditional-looking built-in appliances on the market, and this collection manages to address this whilst still being fresh and modern enough to appeal to contemporary tastes.
to explore the Belling by Sebastian Conran collection