Belling Farmhouse 60 Mini Range - Traditional Values, Modern Flair
UK families have always loved what Belling have to offer - sturdy and reliable cooking appliances at purse-friendly prices - and the latest models have only amplified this affection. The latest addition is a 60cm version of the Belling Farmhouse, which should go down a storm with the target audience.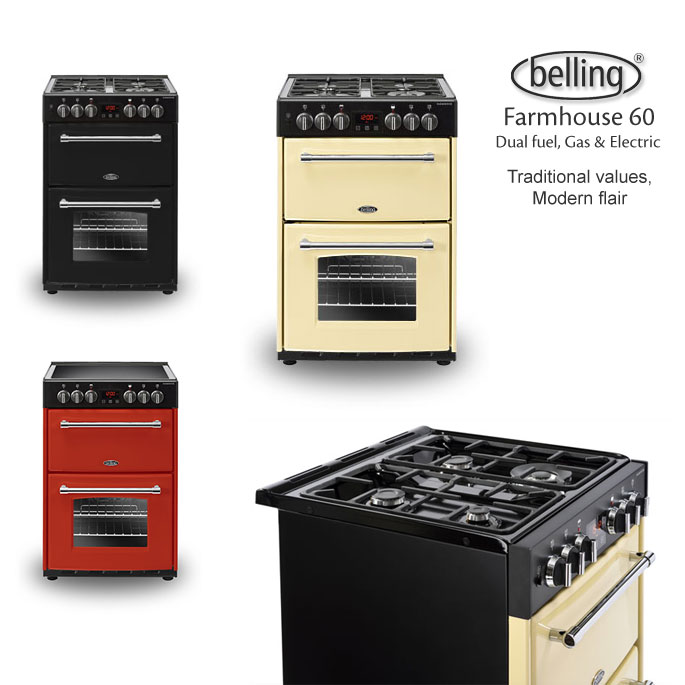 Belling Gets the Formula Right
Like its larger siblings from Belling's range cooker stable, the Belling Farmhouse 60 delivers plenty of traditional character which is often lacking in the freestanding cooker market, and which is still very much desired, even by younger families. With the right amount of modern twist, the Farmhouse manages to look at home in a country or classic kitchen and still work beautifully in a modern setting. With gently bowed and bevelled oven doors and a baker's oven-style window the subtle references to cookers of yesteryear are there, but combined with a touch control timer with a bold LED display, elegant yet straightforward control knobs and handles, giving access to A-rated ovens, the overall package is spot-on for the family market that Belling understands so well.
Gently bowed and bevelled doors, slick touch screen timer and a powerful hob all add up to make a very pleasing traditional cooker
Available in three formats, you can choose the
Farmhouse 60G
with its two gas ovens, the all electric
Farmhouse 60E
with ceramic hob and two electric ovens, or the most popular combination in the form of the
Belling Farmhouse 60DF
, which gives you the two electric ovens with four gas burners on top. The gas and dual fuel models feature a powerful 4kW wok burner under elegant cast iron pan supports. The oven cavities feature an easy-clean enamel coating and the main oven is fully programmable (timed-to-off on the gas model). All version come in Cream, Black or a lovely Jalapeño red.
It is great to see Belling doing what they do best, and the Farmhouse 60 stands to do very well in a market keen for solid and reliable appliances with a traditional flavour. One of the most trusted brands in Britain, Belling still makes all of their cookers at their impressive factory in Prescot, Merseyside. This fine little cooker will be a great asset to any family, and is a great way to bring a little taste of country living into your home.