Aga Masterchef XL Review - Heavyweight Brand, Flexible Modern Cooking
The AGA brand is quite a special thing - a world renowned marque associated with sturdy farmhouse cooking, cosy kitchens and traditional manufacturing integrity. Having an AGA in your kitchen is either a mundane practicality or an aspirational dream-come-true, depending on your point of view, but although it is now owned by a US company this iconic and historically British brand still carries a lot of weight - in both senses.
However, it is true to say that despite their aesthetic and historic credentials the traditional AGA is not always the most practical of solutions to the average home cook's needs. Here at Rangecookers.co.uk we only ever speak to people who are looking to move away from their fuel-guzzling, always-on AGA and are looking for something more economical and easier to use. We are pleased to report that we can now offer a happy solution in the form of the AGA Masterchef XL - a handsome, practical and economic everyday cooker which definitely has that AGA presence and, most importantly, still bears that much prized AGA badge!
Overview
A conventional range cooker, the
AGA Masterchef XL
does not need the direct flue and solid plinth associated with its cast iron cousins, is available in two widths - 90cm and 110cm - and in either dual fuel or all-electric formats, the latter featuring an impressive induction hob. The basic chassis are the same as those used on AGA Rangemaster's other cooker brands, Rangemaster, Falcon and Mercury, but the Masterchef is built to a unique spec not shared by those other names. The designers have made a good job of making the Masterchef XL look solid and reassuring like an AGA should, using the familiar straightforward towel rails, and a chromed central door handle very reminiscent of the detailing on the original cast iron doors - a shape picked up by the plastic knobs on the control facia. A heavy cast and enamelled AGA badge takes pride of place on the grill door, and the chunky beveled doors and arched rear upstand (removable if you prefer) add to that feeling of timeless simplicity. Inside, the oven furniture and glide-out grill are all heavy-grade as per the company's Falcon brand, with self-clean liners in the large ovens, and on top the hob specs are more in line with Rangemaster specs. An easy to use clock and programmer add some modern convenience, as does the auto-ignition facility when you hold in a gas burner control. A choice of five colours is available (four gloss enamel and one matt finish) and there is a five year parts/one year labour warranty included.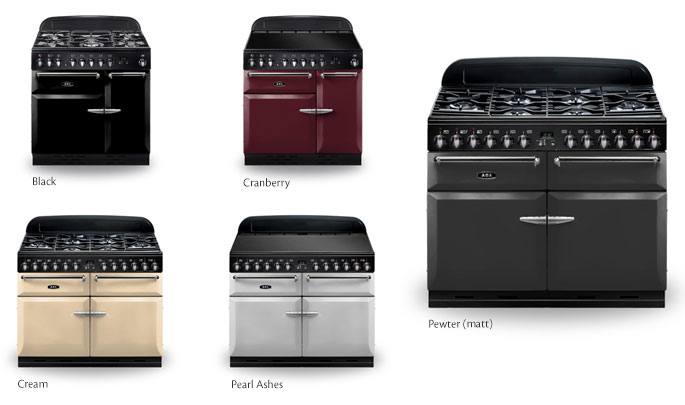 AGA Masterchef XL 110 - from £3350*
The AGA Masterchef XL 110 has a pleasing symmetry which is not only easy on the eye but allows it an extra feature - a handy slow cook oven on the top right which is as useful for plate warming as it is for cooking stews, curries and rice puddings. To the left of this is a dedicated grill with heavy-duty glide-out tray and variable dual circuit electric element. Beneath this is the main oven, a generous and versatile 73 litre multifunction Rapid Response cavity with fanned, conventional and grill capabilities which allow you to really get the most from every meal. Next to this is a 73 litre fanned oven perfect for baking, giving an even heat on every shelf. On the
Masterchef XL 110 Dual Fuel
model the hob is powerfully appointed, with two 3.5kW triple ring burners, one large 3kW burner, two medium 1.7kW and a small 1kW burner, with sturdy gloss enamelled cast iron pan supports. Also supplied are cast iron wok support ring and a griddle plate (half ribbed, half smooth). The
Masterchef XL 110 Induction
gives you five powerful and highly responsive induction zones with pan detection, boil dry sensors and child lock, beneath an easy to clean vitroceramic surface. For the dual fuel model you will need a 32Amp electrical supply, or 45Amp for the induction model.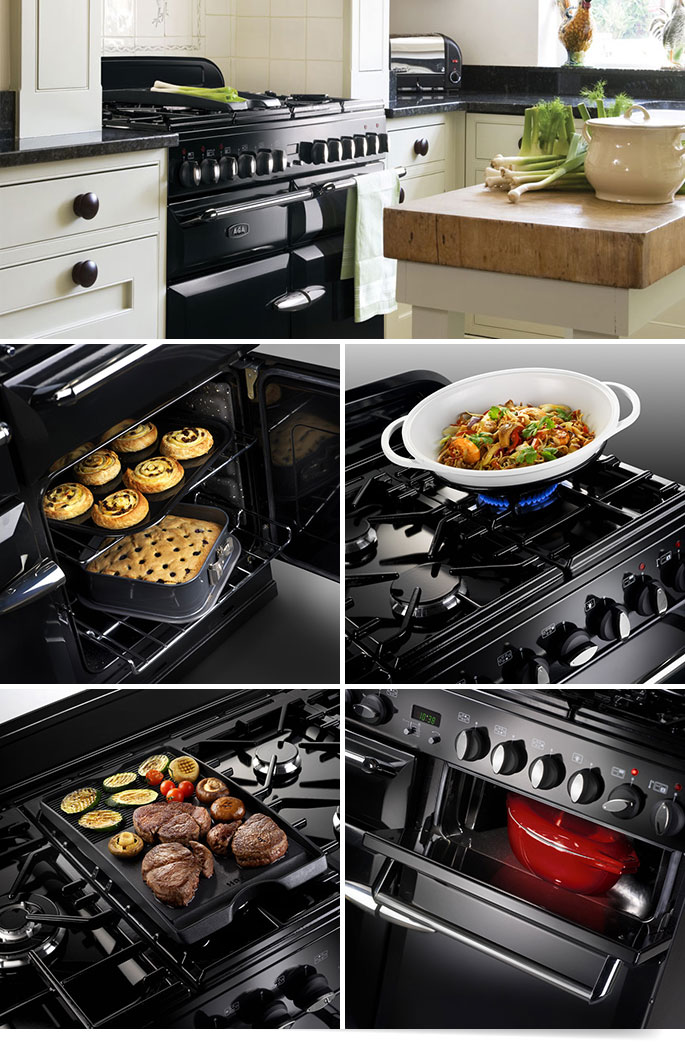 AGA Masterchef XL 90 - from £2945*
For more compact kitchens or more modest needs, the AGA Masterchef XL 90 is perfect. With the same generous Rapid Response 73 litre main oven as the 110, you have plenty of fanned, conventional and grill capability in this oven alone, supplemented by a tall 67 litre fanned oven on the right and a dedicated dual circuit electric grill with glide-out tray above. On the
Masterchef 90 XL Dual Fuel
model there are five gas burners - a triple ring 3.5kW main burner, a large 3kW burner, two medium 1.7kW and one small 1kW burner, with sturdy gloss enamelled cast iron pan supports. A cast iron wok support and half smooth/half ribbed griddle plate also supplied. On the
Masterchef XL 90 Induction
model you get the same hob spec as on the 110 - five powerful and responsive induction zones with boil dry sensors, pan detection and child lock - beneath a lovely easy-clean vitreo-ceramic surface. As with the 110, for the dual fuel model you will need a 32Amp electrical supply, or 45Amp for the induction model.
Preaching to those already converted to the AGA brand, the Masterchef XL manages to succeed in conveying the brand values whilst giving the home cook a very usable and modern range cooker. These cookers sit somewhere between the manufacturer's popular Rangemaster brand and their premium Falcon brand in terms of build and features, leaning towards the Falcon end in overall feel and therefore in price. Cynics may argue that you may be paying a premium for the AGA branding and although this is hard to argue against it is something the target customer will probably understand and inevitably forgive. The AGA brand packs a lot of punch, and the Masterchef XL series is still a fine offering from an historic manufacturer who intimately understands the range cooker market, standing authoritatively astride it as it does. Enhancements aside, paying more to have an AGA Masterchef as opposed to a Rangemaster Elan may not add up for some, but for many this is actually paying substantially less to have an AGA in your home, and that makes complete sense.

*Prices correct as of April 2017