Focus on Cooker Hoods
Whilst the smell of delicious food wafting out of the kitchen is delightfully homely, any lingering smells can be undesirable. The use of a cooker hood removes steam, grease and odours in the kitchen by purifying the air. Different design features affect noise level, ease of cleaning, accessibility to controls, plus the speed and efficiency of extraction, so there are plenty of options to choose from to suit your individual requirements.
The above Belling cooker hood is unbranded and therefore a versatile option which will suit any range cooker.
Modern cooker hoods come in a variety of designs to suit all kitchens. Many have stylish lighting to help create an ambient mood, and some have elements which can be colour matched to the range cooker and kitchen decor. Some hoods are tucked away when not in use, some are integrated into overhead ceiling spaces, and yet others are designed to be the focal point of the room, with stunning details and stylish features.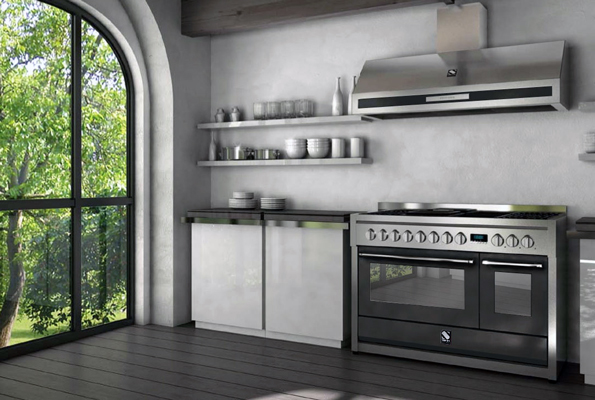 Before looking at the types of cooker hood, it's worth defining the two ways in which the hood might work:
Extraction
- the optimum way to remove steam and odours from your kitchen is to extract the air out of the room through ducting. Using the extraction method, air is drawn into the hood and fats are trapped by the grease filter. Then the odours, fumes and condensation are expelled outside. Extraction is extremely effective at eradicating excess moisture from your kitchen, as well as residues and cooking smells. Air extraction requires access to an outside wall to situate the vent. This makes it unsuitable for certain kitchen layouts. An adequate supply of fresh air is needed to replace the air leaving the kitchen through the ducting. Open windows, doors to surrounding rooms, and air bricks can all provide fresh air.
Recirculation
- if you live in an apartment, or if your hood is not situated close to the outside wall, then extraction may not be possible and the only alternative is to recirculate the air. Recirculation transmits air through a series of filters to neutralise odours and remove grease particles. Stale air is sucked through a grease filter, followed by a charcoal filter for purification. Once cleaned, the air is pumped back into the kitchen though the hood for recirculation. A carbon filter pad or recirculating kit is essential for this type of hood. Unfortunately any excess moisture will not be removed from your kitchen during this type of extraction. There are benefits to using recirculation such as ease of use, and simple installation with low costs. Cleaning a recirculation hood is a straightforward process. The grease trap is cleaned by washing the metal filters and replacing the carbon filter pad as necessary.
Now we've looked at HOW the hood might work, below are the three styles of hood available - Integrated, Island and Wall Mounted.
Integrated Cooker Hoods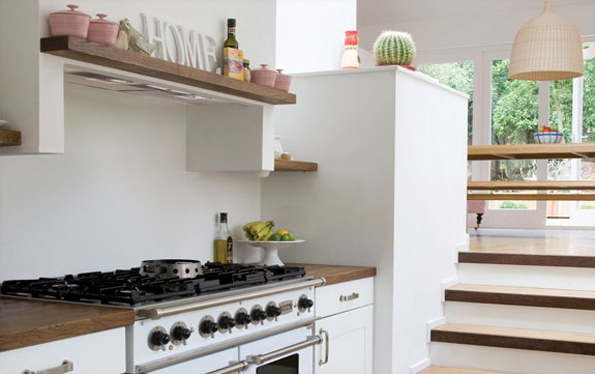 These hoods are built into the area above the cooker for a seamless design. They are compact and will not impact on the kitchen design. If you want your hood to be hidden away, a fully integrated cooker hood, designed to fit snugly into fitted kitchen units, is a good option. They're not as powerful as chimney or island hoods but are ideal for four-ring hobs rather than larger models.
Perfect for chimney breasts or overhead built-in situations, the
Falcon FEM900
is compact and very powerful. This hood features four speeds for adjusting power and extraction rate. It has two overhead bright natural white LED spotlights to illuminate the workspace. The washable Aluminium grease filters and illuminated controls and make for a highly practical and stylish addition to any kitchen.
This is the
Britannia Latour
and is equipped with an integrated hood featuring three lights, powerful extraction rate, filter cleaning alarm and automatic switch-off mode.
Island Cooker Hoods
This is the option for cookers in the centre of the kitchen. With an Island cooker hood all sides are visible as this is suspended from the ceiling. This is ideal if you are free to position your cooker wherever you want to. Island hoods are the biggest and the most expensive type of cooker hoods and will add a touch of style and glamour to your kitchen. Island hoods attach directly to the ceiling, so you'll need enough space in your kitchen to accommodate it.
Wall Mounted Cooker Hoods
A powerful, chimney-style hood is an option if your cooker backs on to a wall. These consist of a canopy plus a chimney and come in either stainless steel or glass.
Their large size can make them a focal point in your kitchen and add to its charm and design. The canopy needs to spread across the width of your cooker so make sure you buy an appropriately sized model.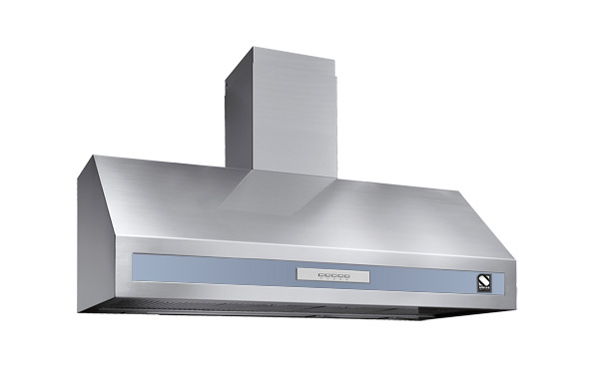 The
Genesi
Hood from Steel has the option of being colour matched to the range cooker. Check out Steel's new Le Creuset colour range
here
.
As you can see, there are as many cooker hood options as there are range cookers. Please call one of our knowledgeable sales team on 01244 402975, and John-Paul, Mike, or Anna will be happy to discuss your options. Why not visit us at the Rangecookers.co.uk studio? Our showroom is in the heart of Chester, situated along the canal. We are open Monday to Friday from 8.30am to 5pm, where we have a number of cooker hoods on display.
for more information