What's So Special about Stoves?
Stoves range cookers are a perennial favourite with our customers, but not everyone is aware of the benefits of this great British brand. We take a closer look…
We deal with a lot of enquiries about Stoves appliances; it's natural to be drawn towards a known brand name when you're starting out with a big purchase, and not everyone is aware of where Stoves sits in the market. If we were in the market for a new gadget, we would be looking at Apple before any other brand, simply because we've heard of them (I know I would), and when it comes to ranges people often veer towards the market-leading Rangemaster brand. The fact is, by selecting a Stoves cooker, you would be in excellent hands and have a little extra budget to spend elsewhere. You would be getting a solid, well-priced, reliable cooker that is regarded very well within our industry - along with a supportive after sales team. They are there for any help and advice you need, even if it's something that falls under your warranty. This is why, when customers ask who our most popular cooker brand is, we are able to answer them straight away – Stoves!
Amazing Warranty when you order from Rangecookers.co.uk
We have a great working relationship with Stoves, which has resulted (amongst other things) in Stoves extending to our customers a warranty on their branded appliances of
5 years parts
, with an enhanced
2 years labour
, as opposed to their standard 1 year labour. This is a great confidence booster for potential Stoves owners, and is clearly a good indication of the faith that Stoves have in the integrity of their cooking appliances.
Two Styles, High Specs and Modest Prices
Of course Stoves has very close competition in Rangemaster – another reasonably priced, popular brand, who most of us have heard of. And while Rangemaster may offer more diversity, Stoves' more refined choice is in the form of two distinct styles – the contemporary
Sterling
and the traditional
Richmond
– both popular, both striking and both offering superior functionality for a very fair price. With pricing from around
£1295 up to £2295
*, these ranges are an attractive option for aspirational mid-market customers. Also, unlike Rangemaster, Stoves give you a multifunction oven on every one of their dual fuel and electric ranges, regardless of the model or size you require – now any creative cooks out there can whip up meals and use any function for all eventualities. Why not use the conventional setting to cook your cottage pie, the browning element to (you've guessed it) brown the top of your mash, and when everyone has had their fill, or use the defrost setting to cool it down before storing in the fridge or freezer for another day?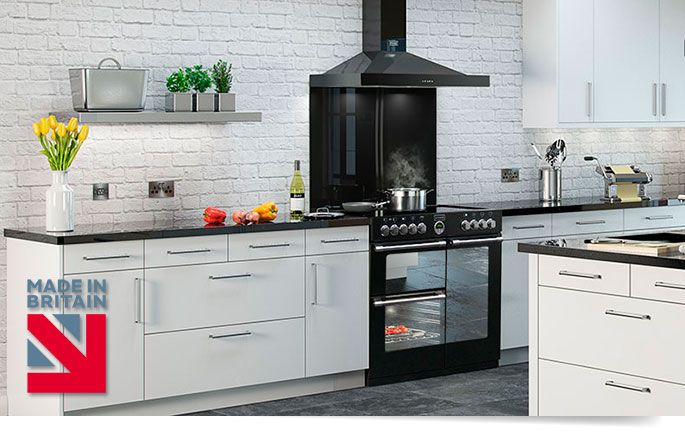 Stoves Colour Boutique
Even though their models are less varied than Rangemaster, Stoves offer an array of bold colours in the Richmond
Colour Boutique
collection - distinct shades which are usually found in more premium brands - offering a little more than the popular and enduring classics, Black and Champagne (cream). This allows those with more exotic tastes to choose a cooker which really does tick all the boxes. You pay a little more, and may have to wait a week or so longer, but you get a cooker with a touch of individuality which you will always love.
Stoves Richmond's Extra Oven
If you want even more bang for your buck – take a look at the
Stoves Richmond
. Although the Richmond and
Sterling
are identical internally, the separate grill on the Richmond also doubles up as a conventional oven – you're literally getting an extra oven in your range! If you like you can save this cavity for grilling your English breakfasts (come on, we all love them) and be sure the rest of your cooker stays clean, or switch it to a conventional oven when you need that little bit of extra space or just need to warm up a pastie. And being such a small cavity, it uses less energy to heat up than your other ovens will. On Richmond 90 models this means you get three working ovens and on 100 and 110cm models, which include a separate slow cook oven, you get four!
Putting on a Great Show
As one of the UK's largest cooking brands, it's no wonder Stoves are now the official appliance supplier for the BBC Good Food and Ideal Home shows. Food experts come from all over Britain to demonstrate at these events and they are confident they can rely on Stoves cookers to look great and perform brilliantly. They are never disappointed.
A huge part of Stoves' popularity is down to the fact that these British-built cookers always remain realistically priced. They are always being improved by dedicated design and engineering teams, but their cost remains steadfastly in the mid-range, allowing those with a less-than-£2,000 budget to own a smart and dependable range cooker. With their brand heritage and reputation for innovative technology (Stoves were the first to market with induction ranges) we are left with no question as to why they are one of the best-loved cooking brands in the UK.
*Prices as at March 2017