Unlidded Rangemaster 90 for Only £1195, Plus FREE HOOD
Owning a Rangemaster cooker has never been easier - this unlidded Rangemaster 90 can be yours for a mere
£1195
, and for a limited period you can also claim a FREE Rangemaster hood to match, when you include a Rangemaster splashback!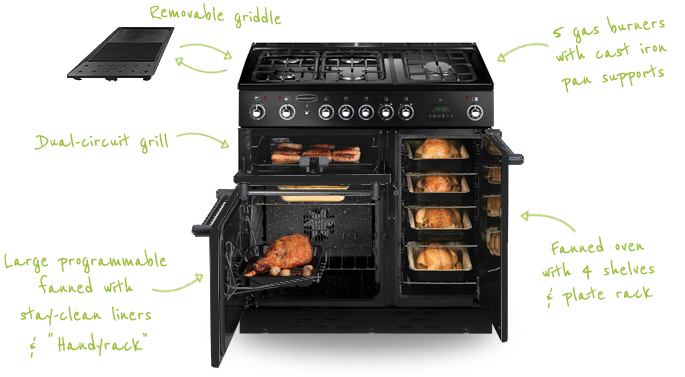 The Rangemaster 90
This compact traditional range cooker may be a bargain, but it is a fully fledged Rangemaster, with a generous A-rated 69 litre programmable main oven, A-rated fanned side oven and separate variable electric grill. The hotplate features five gas burners, including a powerful wok burner, and cast iron pan supports with a matt enamel finish, plus a very useful removable griddle plate.
If you are not fussed about cookers with lids you can save £180!
All the Rangemaster Cooking Features - For Less!
Like its lidded sibling, the non-lidded dual fuel Rangemaster 90 is available in Matt Black and Chrome only, but costs an impressive £180 less! The spec is otherwise the same, but Rangemaster have sensibly made this model more accessible to those with tighter budgets but simply leaving off an expensive feature some people do not want anyway. The
RMS90ULDDFFBLPDC
(or model code 102050 to its friends) is consequently proving very popular.
The real thing - it may be great value, but it is still every inch a Rangemaster!
Extended Free Hood Offer
The great value continues at Rangecookers.co.uk, as you can not only save money on this compact Rangemaster cooker, but if you order this or ANY Rangemaster range cooker with a Rangemaster splashback before 31 March you can claim a FREE Rangemaster chimney hood to match, worth up to £450!
The Rangemaster 90 Unlidded is a great idea, and if you have been aspiring to own a Rangemaster but have been feeling the pinch, it could be the cooker you have been waiting for!
to see more details about this Rangemaster