UK Distributor Launches New ILVE Showroom at Sheffield HQ
The brand may present itself as "The Best Kept Secret in Range Cooking", but the UK distributor for ILVE appliances, KitchenEx Limited, has just opened a new showroom at its brand new and very smart facility in Sheffield, and recently held a special launch event to mark the occasion.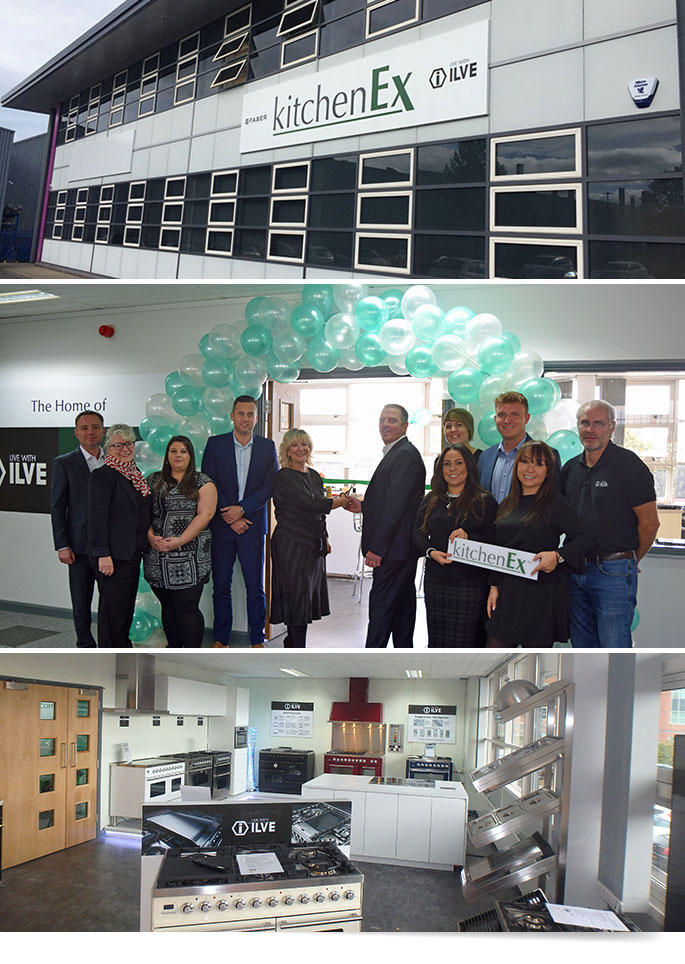 The KitchenEx team proudly cut the ribbon on their plush new showroom in Sheffield
The expansive new offices, workshop and showroom will not only make a big difference to the KitchenEx team (and the office dog), it means that prospective ILVE customers who may be struggling to find display cookers locally can visit and get the full benefit of a broad representation of ranges, as well as all the details they need directly from the experts. ILVE Roma and Milano models in most widths and a variety of formats are represented, as well as the fabulous Majestic series - a lovely 90cm Majestic Milano in Blue, and a 120cm Majestic Roma in Burgundy. Hoods and accessories, often harder to track down, are also on display to give potential buyers a full overview of the impressive breadth of the ILVE product range. In addition, KitchenEx also displays their superb range of Faber extraction products, which also continue to do very well across the UK.
Rangecookers.co.uk attended the launch event in the form of directors Chris Parker and Andrew Longfield, who took the scenic route from Chester and enjoyed the hospitality on offer at the new KitchenEx showroom.
"It's great to see KitchenEx and the ILVE brand doing so well, and to be part of the success story."
comments Chris,
"We love ILVE's brand values, and the products really do speak for themselves. Our customers seem to agree, and we are delighted to see the brand growing at such a healthy rate in the UK.".
Majestic Milano Single, 90cm
4 burner & Fry Top

Blue with chrome trim
Majestic Roma Twin, 120cm
5 Burner & Coup De Feu

Burgundy, with matching Majestic hood & back panel
Milano 110cm XG
6 Burner & Fry Top

Matt black with bronze trim
Roma 70cm Twin
4 Burner

Stainless steel
Roma 80cm Single
4 Burner

Stainless steel
Roma 100cm Twin
6 Zone Induction (inc. microwave)

White with stainless steel trim
Milano 100cm Twin
4 Burner & Fry Top

Gloss black with brass trim
Roma 100cm Twin
4 Burner with 2 Zone Induction

Gloss black with St/st trim
Roma 90cm Single
4 Burner & Fry Top

Matt black with st/st trim
Hob Accessories

Ribbed Griddle, Heat Diffuser Plate
Roma 100cm XG
6 Burner

Cream with st/st trim
Cooktop Accessories

Bain Marie, Steamer Kit, Barbecue Insert, Chopping Board
Viewings at the showroom are by appointment only, so if you would like to pop by and look around, call KitchenEx on 0114 478 4395 and they will be delighted to see you. If Chester is easier for you, remember we have a Roma 70, a Roma 100 and a Milano 120 on display in our own showroom, and the welcome is equally warm. To browse the full ILVE collection click HERE.