Thanks a Million, Rangemaster!
Aga Rangemaster are celebrating the production of their one millionth range cooker, and have marked the milestone by producing a one-off golden version of their latest model, the
Rangemaster Nexus 90
.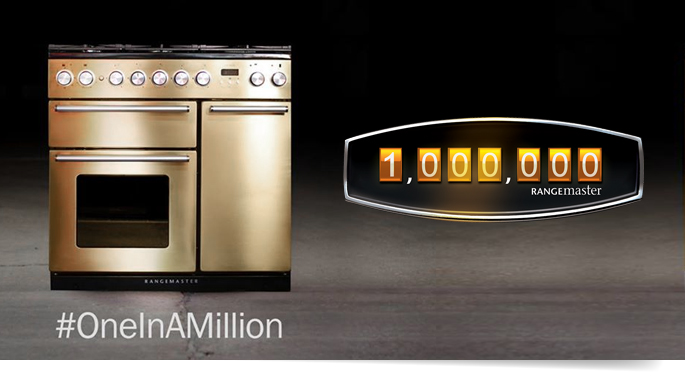 Industry Leader
Since introducing the modern generation of range cookers to the UK market in 1995 Rangemaster has become the market leading brand, with an extremely impressive product range encompassing styles, sizes and fuel formats to suit all needs. Additionally, the AGA Rangemaster Group produces ranges under the Falcon, Mercury and La Cornue brands, based at their busy factory in Leamington Spa. Of the 1,000,000 cookers manufactured, 80% have been for the domestic UK market, with 20% exporting British cooking technology to enthusiastic cooks overseas. The international sales are gaining pace, with new markets in Germany and China opening up new horizons and allowing the staff and management of this great British manufacturer to set their sights firmly on a target of 2,000,000 range cookers.
Amazing History
The Rangemaster story began a long time ago when, in 1830, Henry Flavel introduced the incredibly significant Kitchener range, which allowed domestic cooks the luxury of isolating the heat source from the hotplates and ovens, thereby transforming the cooking process and the quality of food produced. The huge success continued into the 20th century and the products evolved into small domestic gas and electric cookers, as well as the cast iron AGA ranges still familiar today.
The Modern Range Cooker - a Successful Formula
The end of the 20th century saw AGA responding to market forces and identifying a need for a good quality, efficient range cooker for an increasingly affluent and home-owning UK market, and the characterful Rangemaster 110 was the result. In production terms, putting two existing 55cm cooker chassis together to form one 110cm range was an inspired idea, and the Rangemaster 110 (which is still available today) did phenomenally well, selling 40,000 units a year by 2001. AGA were able to sell off their small cooker and fire brands in favour of this new and more profitable product line, and Rangemaster became the company name. In due course a 90cm format was introduced, followed by a 100cm width - all in an expanded variety of styles, colours and fuels - leading up to the latest Nexus models and the 1,000,000th range cooker rolling off the production lines.
Congratulations to the entire Aga Rangemaster team for a memorable event and a remarkable achievement. That the UK still has a healthy appetite for range cookers is in no small part due to this impressive manufacturer's ability to adapt and develop the idea of range cooking to suit the tastes of the modern family - we at Rangecookers.co.uk will do our best to help them achieve their next target of 2 million ranges!
to see ALL Rangemaster models