The Stoves Richmond - Superb Features at a Great Price!
When it comes to cooking capacity there is nothing like a range cooker. Having the flexibility to cope with the most demanding of culinary situations is undoubtedly one of the main reasons for owning a range, and a very good reason to take a closer look at the Stoves Richmond, which delivers more than most.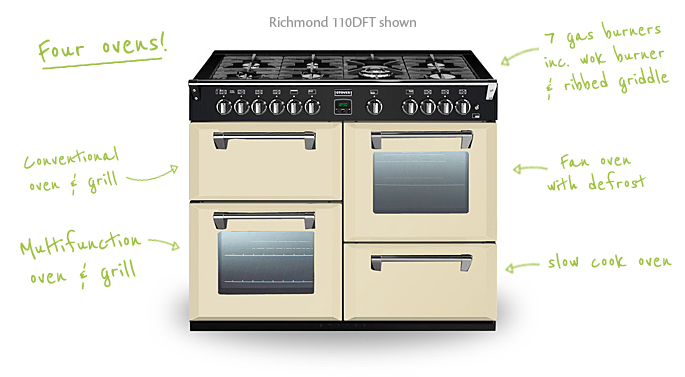 The well-appointed Stoves Richmond dual fuel range. Gas models feature three gas ovens, a gas grill and low-power electric slow oven
Superb Value with Lasting Quality
Stoves have ensured that you get the most from their cookers, and compared to their main competitor Rangemaster they make sure you get a little more for your money - and will even charge you less! The Stoves Richmond 1000 and 1100 models not only look rather good - a clever balance of traditional and contemporary - they feature a total of four working ovens - that is two more than their Rangemaster rivals! Not only that, on the hotplate you will find seven gas burners on dual fuel and gas models rather than the five or six often featured elsewhere.
Made in Britain
Stoves build their entire range in the UK, to a high standard that will please a discerning buyer. A solid, clunky feel to the doors is always a good sign, and there is a great warranty, too - 5 years parts and one year labour is standard, plus there is an additional 1 year labour FREE if you buy from Rangecookers.co.uk.
Traditional elegance - the Stoves Richmond strikes a great balance, with a homely overall look and crisp contemporary detail
Feature-packed Specification
The
Stoves Richmond 1000DFT
and
1100DFT
feature an A-rated multifunction main oven, which contains fanned, conventional any grill elements, an A-rated fanned second oven, a grill compartment which doubles as a small A-rated conventional oven, plus a slow cook oven on the bottom right - a space other brands use merely for storage. For those who prefer cooking with gas there are also the
Richmond 1000GT
and
1100GT
, where the main two cavities become gas ovens, and you still have the two extra ovens (gas grill/oven and electric slow cooker).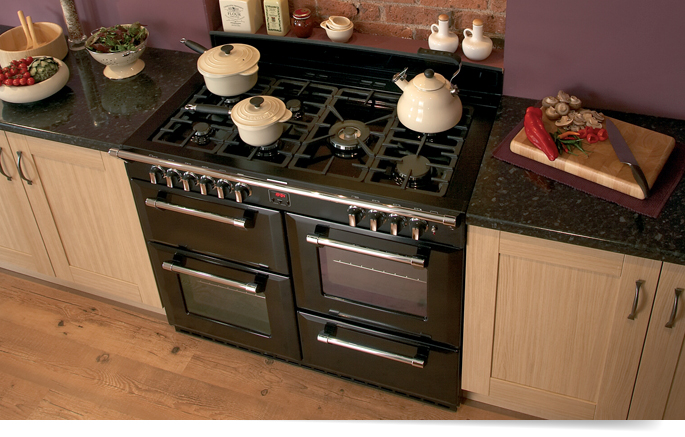 Currently priced from £1300 to £1400* for 100cm or 110cm gas and dual fuel models, or up to £1700 for
electric induction
models, the Richmond is a very convincing package indeed, and continues to prove highly popular as a result. The Richmond is available in 90cm dual (
900DFT
) and electric (
900Ei
) formats from £1170, and there is even a
Colour Boutique
collection to brighten up your kitchen and supplement the standard finishes of Black or Champagne (cream).
to see the entire Stoves Richmond collection
*Pricing correct at time of publication