Stoves Richmond 1100 vs Rangemaster Classic 110
A traditional 110cm dual fuel range is one of the most popular choices for UK households, with bags of capacity for hungry families and a striking presence in the kitchen. Two of the best mid-market, British-built choices are the Rangemaster Classic 110 and the Stoves Richmond 1100, both offering similar build quality and layout but with some key differences, and in this article we take a closer look at these.
Cosmetics
There is no doubt that the
Rangemaster Classic 110
is a winning formula for many consumers, having proved itself over many years. With its very traditional appearance characterised by bevelled doors, baker's oven shaped windows and rounded rear upstand, the styling is perfect for those looking for an olde-worlde cooker for a traditional or country kitchen, right down to the Aga-like full width towel rail and choice of 6 classic enamel colours with chrome or brass trim. The
Stoves Richmond 1100
adopts a more modern approach, with crisper detailing which somehow manages to let it look at home in traditional OR modern kitchens. Two standard painted colours (black or cream) are supplemented by five lively Colour Boutique finishes, all with chrome trim. The Richmond undoubtedly commands a broader appeal, but may not be cosy enough for those who love the Rangemaster Classic.
Fuel Formats
Both models are also available in all gas and electric formats:
Rangemaster Classic 110
-
Dual Fuel
,
Natural Gas
,
LPG
,
Ceramic
,
Induction
Stoves Richmond 1100
-
Dual Fuel
,
Natural Gas
,
Induction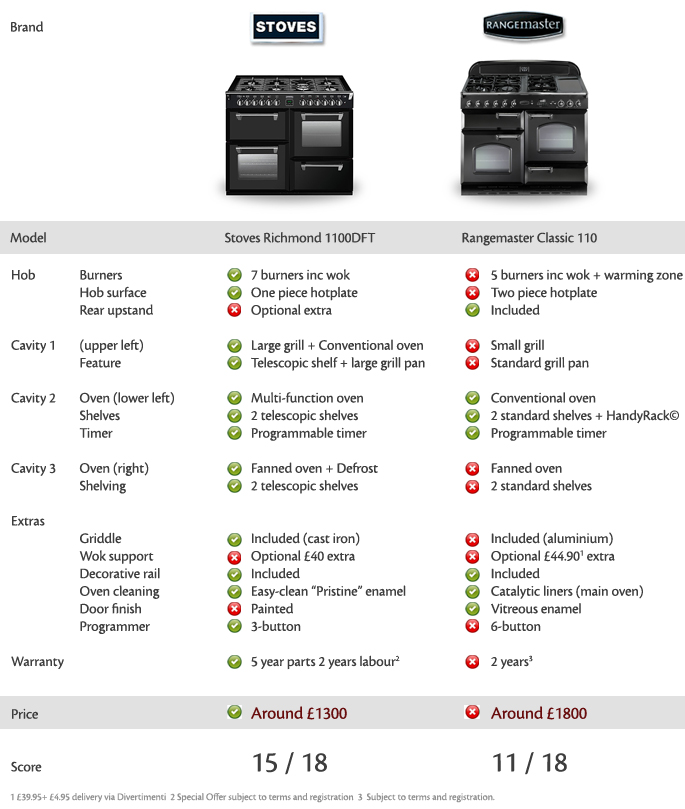 Ovens
Although the layouts are the same, the Rangemaster's large 69 litre main ovens are pretty convincing when it comes to cooking capacity, although the Stoves (59L and 54L) nicely steals the show by having a full four working oven cavities to the Rangemaster's two, with the grill doubling as an oven and the lower right cavity being a slow cook oven. The Classic features fanned main and conventional second ovens, against the Richmond's fanned and multifunction main ovens (including additional grill). Oven cleaning is a bit swings and roundabouts, with self-cleaning catalytic linings compared to the Stoves approach of wipe-clean Pristine enamel - each with its own merits. The telescopic shelves in three of the Richmond's ovens certainly scores well against the Classic's standard shelves, although the Classic's Handyrack feature is certainly useful.
Hobs
The hob is an area where the Rangemaster Classic begins to show its age, with a split construction and plastic concealing strip, compared to the newer design of the Richmond which is one complete pressing. Similarly, the five burners plus electric warming zone format of the Classic is generally thought a little old-hat, with many consumers (but not all) expressing a preference for more gas burners. The Richmond gives you exactly this, with an impressive array of seven. Both cookers have cast iron pan supports, and although the Richmond no longer comes with a rear glass upstand you can purchase one for around £100.
Both of these range cookers look and feel very pleasing, but there is no doubt that the Stoves Richmond is a great package at £500 less than its competitor. With Stoves keen to steal some territory from their market-leading competitor they have made sure that quality does not suffer, either, with solid-feeling doors and overall feel. Many will be happy to pay a little extra for the Rangemaster, as it may be their idea of the perfect country range coming as it does from a desirable brand at a reasonable price. Whichever you may choose you will be sure to get a good quality range cooker with excellent credentials, but with Stoves you could afford to buy an extractor hood, too!
to see Rangemaster Classic 110 ranges
to see Stoves Richmond 1100 ranges