Stoves Launch 90cm Gas Range Cookers
90cm range cookers are a very popular choice, as they offer the increased cooking capacity and the visual impact of a range cooker whilst still being compact enough to fit into a smaller kitchen. Although 90cm gas cookers are something of a rarity it seems that Stoves, one of the most popular cooking brands in the UK, has been listening to their customers and has just launched gas versions of their existing British-made Stoves Richmond and Sterling models - something that should go down very well with home bakers.
Cooking - and particularly baking - with a gas oven is evidently a slightly different experience to using an electric oven, whether fanned or not. The moister heat produced by gas seems to yield better results than the drier heat of the much more popular alternative. Electric ovens may be faster and more efficient and are great for everyday cooking, but if you don't mind waiting a bit longer for your oven to reach temperature, or would just prefer to stick to what you know, a gas oven may be the better choice. Whilst there are still plenty of 100cm or 110cm gas ranges on the market, 90cm gas ranges are harder to find, so these new 90cm gas ranges will prove a very welcome addition to the UK market, especially wearing a Stoves badge. The new models retain a tall fanned electric oven on the right (the only way to distribute heat around this large cavity), but the ranges still utilise only a standard
13 Amp
electrical supply.
The new models will be built for natural gas only, and will not be convertible for LPG. As with all Stoves appliances, owners will benefit from a 5 years parts, two years labour warranty when ordered through Rangecookers.co.uk (subject to registration).
Stoves Richmond 900GT
-
£1295
inc VAT & Delivery*
The Stoves Richmond 900 is a great balance of traditional range values combined with modern sharpness, and the result is a very elegant and pleasing design which is equally at home in a classic or country kitchen, a shaker-style or even quite contemporary setting. In Black or Champagne (cream), the Richmond 900GT gives you five gas burners beneath cast iron pan supports, including a 3.5kW central wok burner and removable griddle plate, a variable gas grill and a 62 litre gas oven with cook-to-off programmable timer. The second oven on the right is a copious A-rated 91 litre fanned electric oven wide enough to take a standard oven tray, and also features a handy Aga-like temperature gauge for quick visual reference. The main gas oven features telescopic shelf runners for safety and convenience, and all cavities are lined with Easy-clean enamel.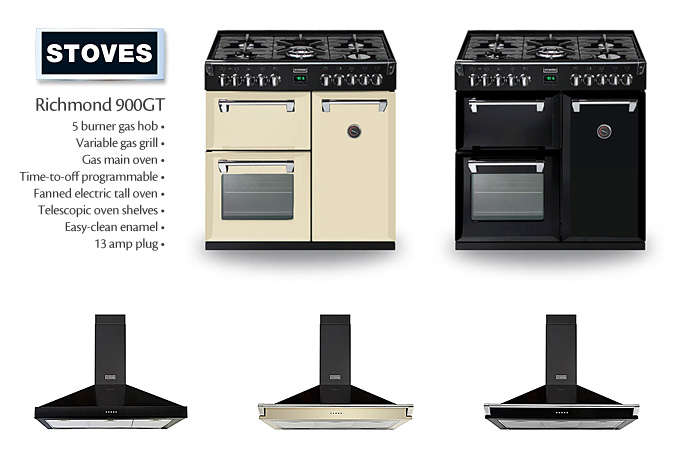 Stoves Sterling 900GT
-
£1195
inc VAT & Delivery*
With its sharp contemporary styling, the Stoves Sterling 900 has become a firm favourite with those looking for a modern range for their very modern kitchen. Its glass doors are clad In brushed Stainless or Black steel, with a slightly reflective finish to the glass sufficient to provide a tidier look when not in use, but when back-lit allows you to clearly see what is cooking. The performance and spec is identical to the Richmond 900 above, except that the inner door glass slides out to allow easier cleaning.
Matching Hoods
A Stoves 90cm gas range is a great addition to any kitchen, and whichever style takes your fancy you can pair it up with a very smart matching cooker hood in chimney or flat formats - chimney hoods also give the option of a decorative rail or matching Champagne finish. Splashbacks in steel or glass are also available for the full effect.
for full details of these Stoves 90cm gas cookers
*Prices correct as of August 2014