Colour Boutique - Colour Deletions from 1 June
A range cooker is a real focal point of any kitchen, but as individuals we love the opportunity to express ourselves, and one of the best ways we can do this is with colour - which is why Colour Boutique is such a great idea.
Colour Deletions Imminent
Manufacturer GDHA build Stoves and Belling range cookers, and they launched Colour Boutique in 2012 with a choice of twelve lovely shades, but it seems there is a strong preference for only half of these, so for the sake of clarity and tidiness GDHA will be deleting the least popular colours, and will not be accepting orders for these after
31 May 2013
.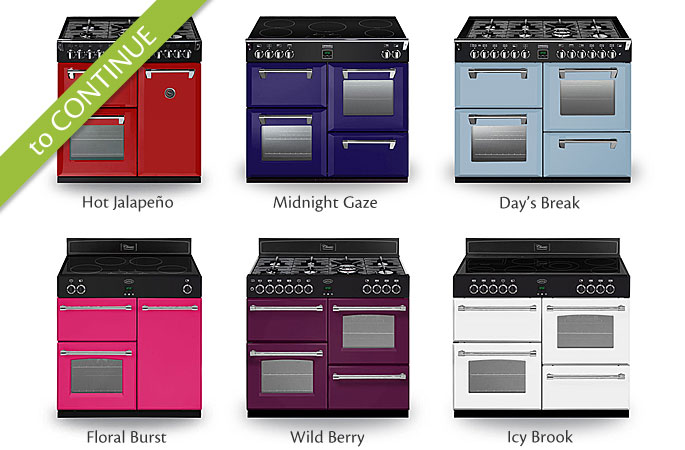 Popular choices - these six Colour Boutique hues will continue to be available
The remaining Colour Boutique colours represent 85% of the consumer interest, and are certainly a big hit with people looking for a splash of visual interest in the kitchen. The standard colours of Cream or Black (plus silver on Belling) do seem rather ordinary by comparison, and although you need to pay a little more for these six eclectic hues, this difference is surely worthwhile. You can even match the colours with a range of small appliances by Morphy Richards for a fully coordinated look.
Not so popular, but if you like one of these colours you need to order by 31 May 2013
Delivery Time
Colour Boutique ranges are generally built to order, but you only need to allow
2-3 weeks
for delivery. If your kitchen is not quite ready then your Stoves or Belling range can be manufactured and held until convenient - no problem.
Inevitably, there will be a flurry of interest from those who love one of the deleted colours, and if this includes you then hopefully you have time to act and place an order NOW.
See the full Colour Boutique collection by choosing a range format HERE for Stoves or HERE for Belling.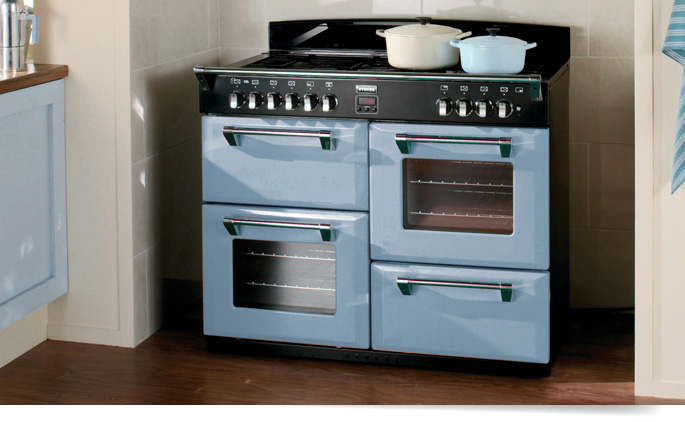 The Stoves Richmond 1100DFT in Day's Break - elegant and appealing, with seven burners, four ovens and two grills
Impressive Formats and Specs
Colour Boutique is available on all
Stoves Richmond
range cookers. Your eye-catching cooker can be 90, 100 or 110cm wide, with a choice of fuel formats - dual fuel, all gas or all electric with induction hob. Stoves ranges are brilliantly high-spec (with 3 or 4 cooking cavities) and truly excellent value, and have a reassuringly solid, clunky feel often absent with similar brands. Telescopic shelves are standard, too, as i.e. wipe-clean Pristine enamel in all ovens and an AA energy rating. The Richmond is a lovely balance of traditional and modern styling, so it works well across a variety of kitchen styles. All Stoves ranges are made in the UK and come with a generous 5 year parts and one year labour warranty, but if you order from Rangecookers.co.uk you can register with Stoves for an additional 1 year labour warranty absolutely FREE.
The
Belling Classic
series is aimed at a lower price-point than the Stoves Richmond, but there is no compromise on quality and solidity, only a lower oven specification and more straightforward appearance. The formats echo the Richmond, with 90, 100 and 110cm models in gas, dual fuel and electric, with simplified 4-zone induction hobs. Still with wipe-clean enamel and AA energy ratings, the Belling Classic is a lovely traditional range at an affordable price. Belling ranges are built in Britain and come with a 1 year parts and labour warranty.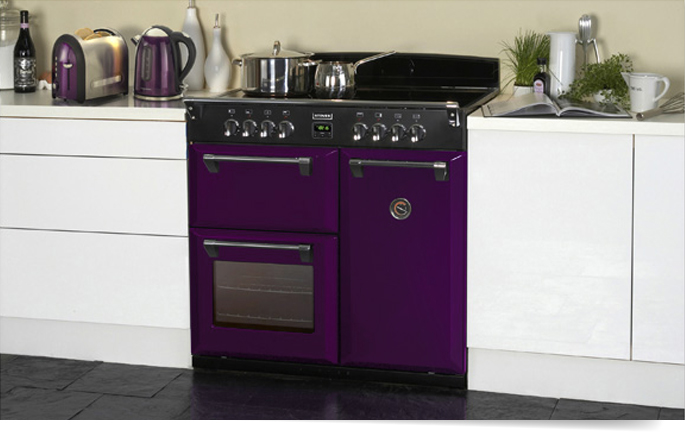 The Stoves Richmond 900Ei in Wild Berry - a gorgeously lush purple, with matching Morphy Richards small appliances
Colour Boutique is an brilliant way to bring some warmth, fun or elegance into your kitchen, and these rather special cookers will provide you with higher than average cooking capacity for years to come. Why not take a closer look...
to see Stoves Colour Boutique, or
CLICK HERE
for Belling