Stoves Precision Deluxe - Beautifully Straightforward
It is not very often that Stoves introduce a new range cooker format to the market, so the unveiling of the Stoves Precision Deluxe is quite an event.
From their factory on Merseyside, Stoves have been evolving their landmark Sterling and Richmond range cookers for nearly 15 years, and their reputation and reviews mark them out as one of Britain's favourite cooking brands. The continuing success of these established models says much about the integrity of their design; the Sterling's sharp, contemporary appeal is always on-trend, and the Richmond's cosy balance of old-world character and modernity strikes the perfect chord with so many UK consumers.
Against this backdrop, then, comes the new Stoves Precision Deluxe series with an understated appeal aimed squarely at lovers of all things beautifully straightforward. Simple and yet sophisticated, its glass doors are made using Umbra™ glass, which appears black with very little transparency but becomes fully transparent when the oven light is on. Nicely understated control knobs and door handles, with a simple and clear touch-control timer panel, all add to the feel of technical competence, but this is not all about looks and the sturdy Unicast Frame construction and reassuringly clunky feel of the doors speak volumes about the attention-to-detail given to all areas. There is a choice of Black or Stainless Steel detailing, with only the control panel varying in finish - the lovely glass doors are always black and hotplate area (with the exception of gas-thru-glass) always stainless steel.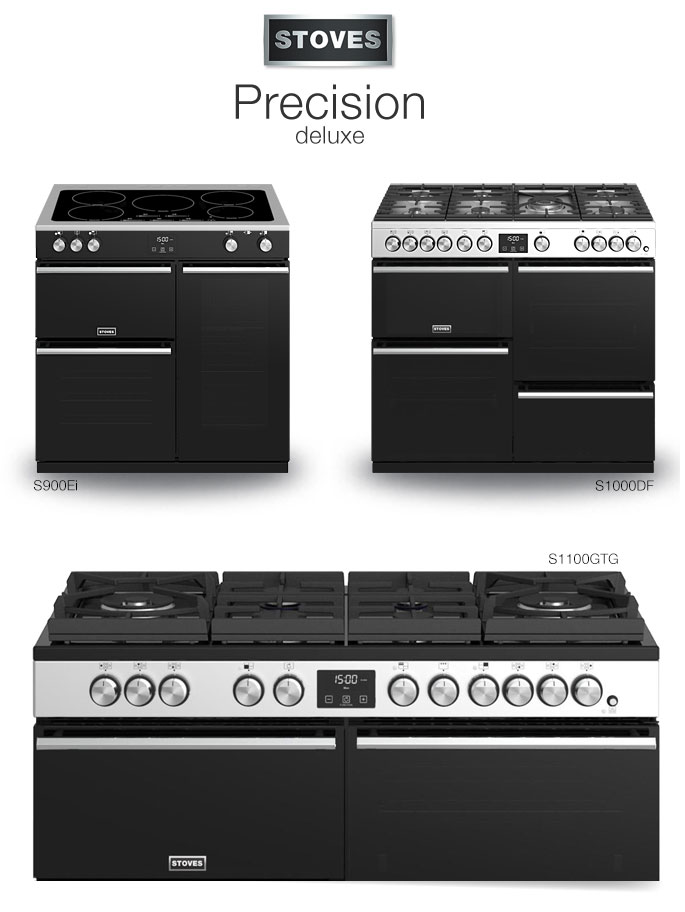 Bristling with Features
Like all of the Stoves Deluxe models the Precision is bristling with features, and all dual fuel or electric variants have a versatile multifunction main oven with fanned, non-fanned and grilling settings, a fanned second oven, a handy third oven in the
MaxiGrill
cavity, and a slow-cook oven on 100 and 110cm models. Gas models have gas main ovens Amazingly, the compact 90cm version's windowed tall cavity can be split into two
ProFlex
independent ovens for maximum flexibility when occasion demands, so all models offer four working ovens.
Pro-Trac
telescopic shelf sliders feature in three of these, as well as heavy-gauge Premium shelves, and all cavities are lined with an easy-clean enamel, with slide-out inner door glass. The control panel is home to the nicely designed control knobs, which give you single-handed ignition for the gas burners, as well as the elegant touch control panel, which controls the main oven timer as well as a minute minder (or you can use the Zeus Bluetooth® Connected programmer via your smartphone). You also get a superb Steam and Infuse oven accessory to give you healthier, more flavourful results.
On top there is a choice of gas, induction or gas-thru-glass hobs, the latter offering the benefits of easy cleaning, increased burner power and sleeker looks. A cast griddle plate and wok support are also included with all gas-hob models.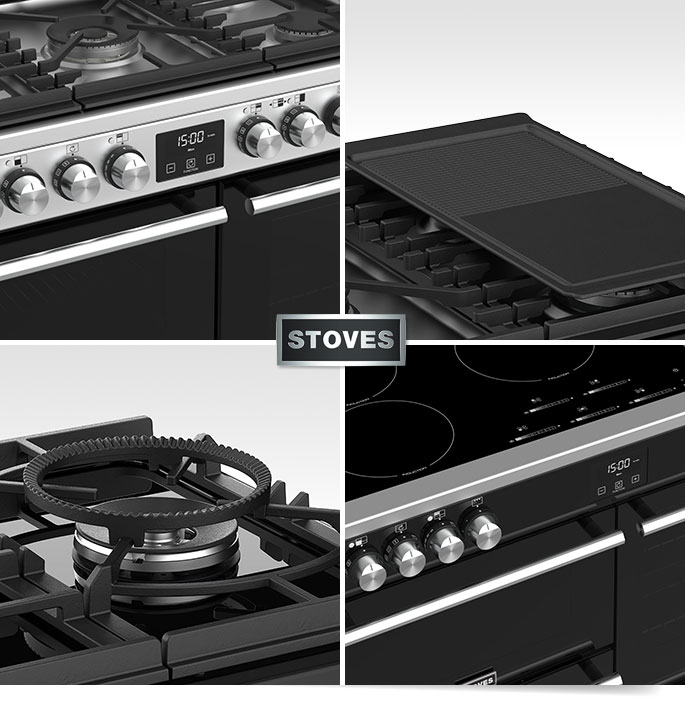 We really like the understated modern elegance of the Precision Deluxe, and think that it is a perfect complement to the current vogue for simple, monochromatic but beautifully detailed kitchens. The Precision with look amazing in these refined settings, and the overall integrity of the Stoves platform together with the truly impressive spec-level should make the Precision Deluxe an easy choice for the descerning buyer. From £1795 to £2395*, including a 5 year parts and two year** labour warranty, Stoves really seem to be able to deliver everything their loyal customers need.
*Prices October 2019
**When purchased from Rangecookers.co.uk and registered