Stoves Colour Boutique is Back - with an All-new Anthracite
The Stoves Richmond is a favourite choice with UK consumers for many good reasons, and there are now some great Colour Boutique finishes to choose from including an all-new and very on-trend Anthracite.
Stoves are enjoying great success with their latest Richmond and Sterling models, revised and re-engineered in late 2018 to be even better than they already were. Heavy duty shelving, more powerful gas burners, touch control Bluetooth connected timers and a strong Unicast frame, plus a host of other features all elevate this excellent British brand to its rightful place as one of the best mid-market brands you can buy.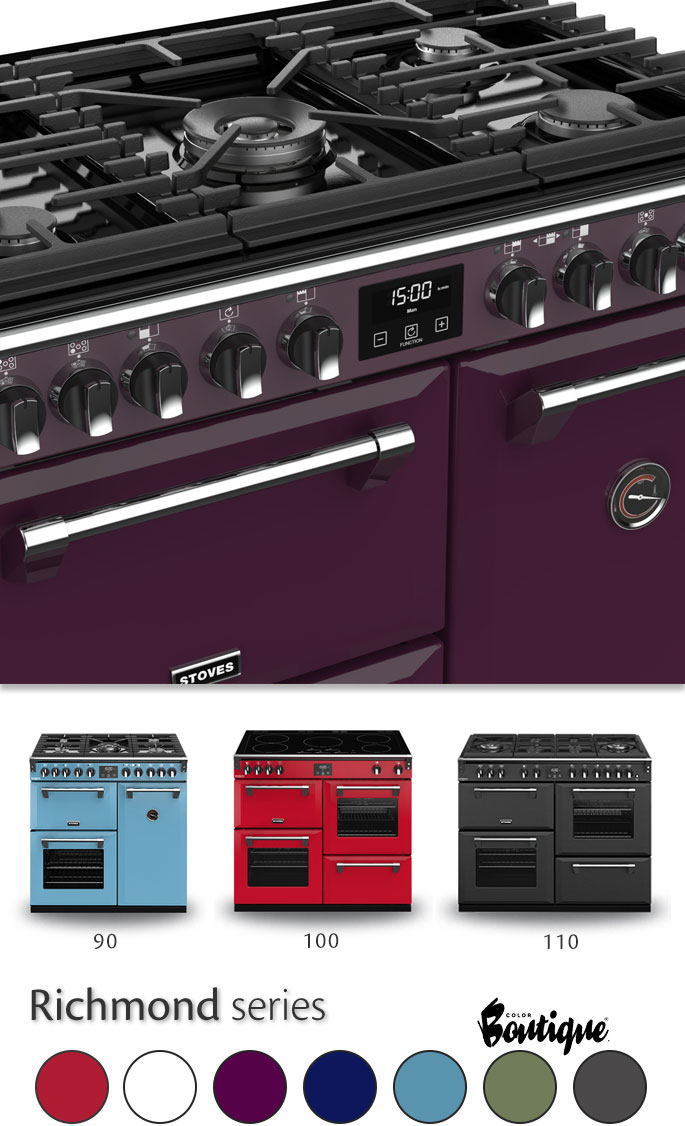 Enhanced Offering
The Richmond is available in 90, 100 and 110cm widths, and in dual fuel, all-gas or electric formats with induction hobs. There are now two levels of specification, a "core" spec or a Deluxe series with a few enhanced features. Many people will be very happy with the lower priced core offering which still gives you a feature-packed range cooker, with the Deluxe adding thicker shelving, Bluetooth connectivity, a Steam & Infuse accessory, wok support (for gas hobs) and, on 90cm models, a clever cavity splitter for the tall oven. Prices across the full product range currently go from
£1395 to £2395
* for the standard colours, with Deluxe Colour Boutique models from
£2095 to £2695
* - around £200 to £300 more than the standard colours, depending on size.
Tasteful Palette
Stoves Colour Boutique has been around for a while now, and works as a supplemental choice to the standard Black or Cream within the Stoves Richmond collection. For a little more money you can be somewhat more adventurous in your choice of colour with the plummy purple of
Wild Berry
, the enthusiastic red of
Hot Jalapeño
, the monochrome simplicity of
Icy Brook
, the sky-blue freshness of
Days Break
or more moody blue of
Midnight Gaze
, a very elegant
Soho Green
or the urban cool of
Anthracite
(a matte finish).
Anthracite for All
All of these are available on the Richmond Deluxe series only, with the exception of Anthracite, which is also available on the standard or "core" Richmond - a good indication of how popular Stoves expect this finish to be. Dark grey has been trending in range cookers for a little while now, and very much suits modern tastes for natural or neutral finishes. Slate, anthracite, charcoal - whatever the name, this is a finish which works beautifully well with monochrome kitchens and granite worktops or in unison with natural timbers and stone or terracotta floors. Lovely.
The Stoves Richmond continues to be one of the best-looking ranges on the market - a perfect balance of traditional character and modern edge, and with the new build and amazing features the higher prices it now commands seem very appropriate. Colour Boutique is an important string to Stoves' bow, adding some welcome flair that customers love. The addition of Anthracite to the collection is great to see, and we look forward to some further revision of the Colour Boutique palette further down the line.

*May 2019