Steel Range Collection Now in Le Creuset Colours
Buying a range cooker by premium Italian brand Steel has always been an excellent idea, but it is an even better one now. Gone are some rather brash continental colours and in their place are some gorgeous hues far better suited to British tastes, and which will look simply stunning in any cook's kitchen.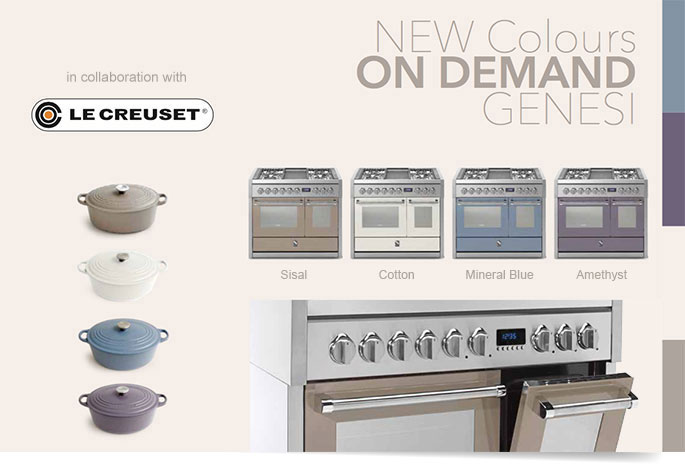 In a collaboration with aspirational cookware brand Le Creuset, the four new soft and subtle "On Demand" colours will sit alongside the standard palette of Stainless Steel, Black, Bordeaux red, Cream and Anthracite (matt). The new matt finish
Sisal, Cotton, Mineral Blue and Amethyst
are available on Steel's chunky and contemporary Genesi ranges and their more heritage-style Ascot ranges, as well as on their stunningly impressive built-in ovens, refrigerators and modular kitchen units - all styled to match your chosen look. The door colours work brilliantly in combination with the crisp, brushed stainless steel of the other panels.
Beauty with Engineering Heritage
If you are not aware of the Steel brand and are looking to upgrade your kitchen it would definitely be worth your while to take a closer look at these exceptionally good products and add them high on your wish-list. With build quality second-to-none, the engineering values and attention to detail exhibited by this small, family-run manufacturer really do stand out from the crowd. Great engineering design is backed up by a mixture of ultra-modern and traditional hand-finishing techniques by a small and incredibly loyal workforce in Carpi, northern Italy. Surrounded by a fertile mixture of famous industries (Ferrari are just down the road) and a rich source of some of the worlds most famous foods, the constantly inspired Po family have been building range cookers here since 1922.
The current product range looks and feels very special. From the chunky industrial chic of the Genesi series, the appealing heritage detailing of the Ascot to the more minimalist professionalism of the Sintesi series, every Steel range shares a solid chassis and a deep engineering integrity that ensures it performs as well as it looks over many years of enthusiastic cooking, and is a pleasure to use every time. Available in 70, 90, 100 and 120cm widths there should be a Steel range to suit every kitchen and, with the options on offer, every cook.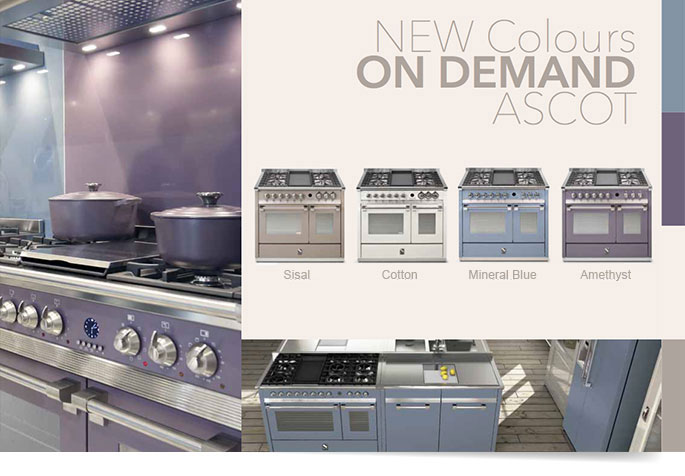 Versatile Cooking Machines - Choose Your Hob
One of the most compelling features of the range collection is the availability of choice when it comes to the hob. Different cooks will have different needs, and on 90 or 100cm models in addition to a standard six burner gas hob you could choose to include an integrated fry top (very useful), a deep fryer, a lava stone or barbecue grill, or two ceramic zones. A great option is to go for a five burner hob with a 4.6kW Mega-wok burner. There is also the option of a five zone induction hob should you prefer the ease and efficiency of electricity. Similar options are there for the 120cm model, which has room for even more flexibility.
Energy-efficient, A-rated multifunction main ovens are standard, but there is also a fantastic Combi-steam oven available on 70, 90, 100 and 120 models which combines multifunction cooking with the highly appealing use of steam, which gives you more flavoursome, more succulent and nutritious results - a range cooker feature currently unique to Steel but one which professionals have been using for years.
The new colours are available from Rangecookers.co.uk from
July 2015
. Prices are slightly higher than the standard colours, and range from
£2695
* for 70cm models to around
£7000
* for 120cm models - find out more by calling our expert team on
01244 402975
, or click the link below. You can also download Steel's 2015/2016 brochure
HERE
.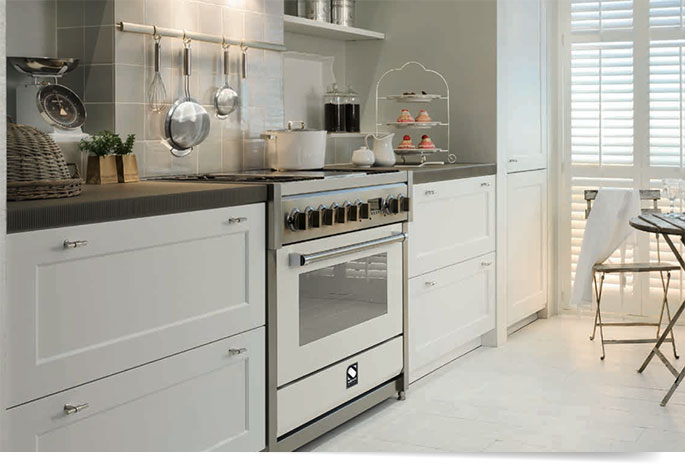 The Steel Genesi 90 shown in Cotton - solidity and engineering elegance every serious cook will love
As range cooking specialists we at rangecookers.co.uk love these superb range cookers, and they set the standard very high for the rest to follow. Value for money does not always mean cheap, and serious cooks or people who understand quality will recognise the wisdom of investing in a cooking appliance which not only lives up to its reputation but is built by talented, passionate people who really get what cooking is about. These beautiful new Le Creuset colours are a great addition to the collection, and should prove a hit with the UK consumer.
to see the full Steel range collection
*Prices correct as of July 2015